GET Stock

Quotes


Big Fan of India: A Donald Trump Speech Sans Scorn
Trump stayed away from his familiar scorn against immigrants or Asian countries where cheap labor robs American jobs. Instead he spoke of terror and India being a natural ally.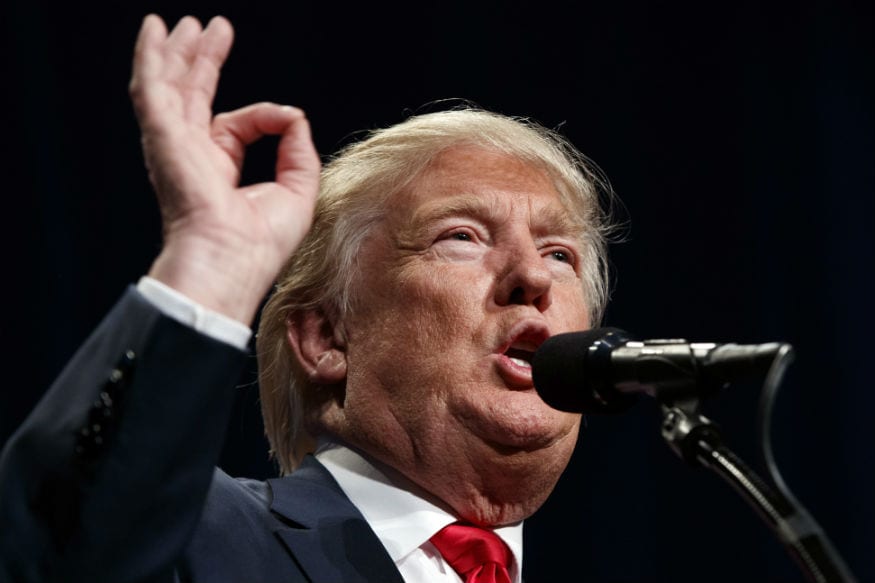 Republican presidential candidate Donald Trump at a campaign rally in Reno, Nevada on October 5. (PHOTO: ASSOCIATED PRESS)
Edison(New Jersey): It was one of the most simple, direct and normal speeches Donald Trump has given in a while. There was no mimicking, dismissing or insulating. He stuck to message--policy, trade, radical Islam, praise for "Hindus", India and a special mention for the energetic Prime Minister Modi. It helped that Mr. Trump was addressing a crowd more invested in the song and dance show than hearing the Republican nominee.
"I am a big fan of Hindu. I am a big fan of India," Trump said shortly after lighting a diya mixing the faith and the nation.
The event, titled Hindus United Against Terror was hardly a political stop. Just three weeks before an election, a Presidential nominee spending time in a non-battleground state, among a community that by most data counts leans Democratic is rare. It had all the appearance of a favor returned. Donald Trump made the stop for a man who has been one of the few large contributors to his campaign, the chairman of the Republican Hindu Coalition, Shalabh Kumar, a Chicago based businessman who structured the evening as a nightmarish mishmash of Bollywood-Tollywood spectacle, jihadists attacking dancers on stage only to be saved by Navy Seals and a showcase of his own family.
For Shashikant Mehta, a physician by profession, "it was nothing more than a nice thing to do on a Sunday evening. I am clear about my politics," he added. There were families with children and elderly parents in tow and a whole host of young professionals, H1B visa holders who had come eager to hear if the three letters would be mentioned. They weren't. Ahead of the Trump address, the RHC Chairman insinuated that Republicans/Trump would "help more Indians obtain green cards faster."
Trump stayed away from his familiar scorn against immigrants or Asian countries where cheap labor robs American jobs. Instead he spoke of terror and India being a natural ally.
"Mumbai is a place I love. It's a place I understand. The attack on Indian Parliament was just terrible," Trump said referencing the wrong attack.
"We will stand shoulder to shoulder with India in sharing intelligence and keeping our people safe mutually," he said, before blaming his opponent. "This is so important in the age of ISIS, the barbaric threat Hillary Clinton has unleashed on the entire world."
One of the loudest cheers of the evening was when the Republican nominee praised Narendra Modi. Many Trump supporters at the Edison event saw in him the embodiment of the same straight-talking, strongman brand of politics they admire in the Indian Prime Minister.
But it came with its own caveats. Harshad Mehta, occupying one of the front rows at the event reserved his support for Trump, "just on policy. I disagree with much of everything else. Mr. Modi said strong sharp things, but he has never been crass."
In a relief of sorts for Mr. Trump, the sexual misconduct allegations that dominated the week never became much of a talking point at Edison. Trump never brought it up in his speech. And for those supporting him, "all of it belonged to a bygone era." Amrit Grover, a social worker added, "She couldn't judge the nominee for the allegations that have surfaced after all these years." Earlier in the day the RHC chairman told CNN-News18 that he wouldn't think twice about hiring someone caught in a similar "locker room banter".
The fawning reception from his small band of supporters may have even surprised even the Trump camp to some extent. As polls indicate that his path to the White House maybe getting tougher the RHC chairman is still not giving up, trying to plan a three week surge of "Ab ki baar, Trump sarkar."
Also Watch
| Edited by: Mirza Arif Beg
Read full article