Brokenhearted Linkin Park Remember Bennington - And His Demons
Bennington (41) was the second American rock star to die by suicide in the last two months.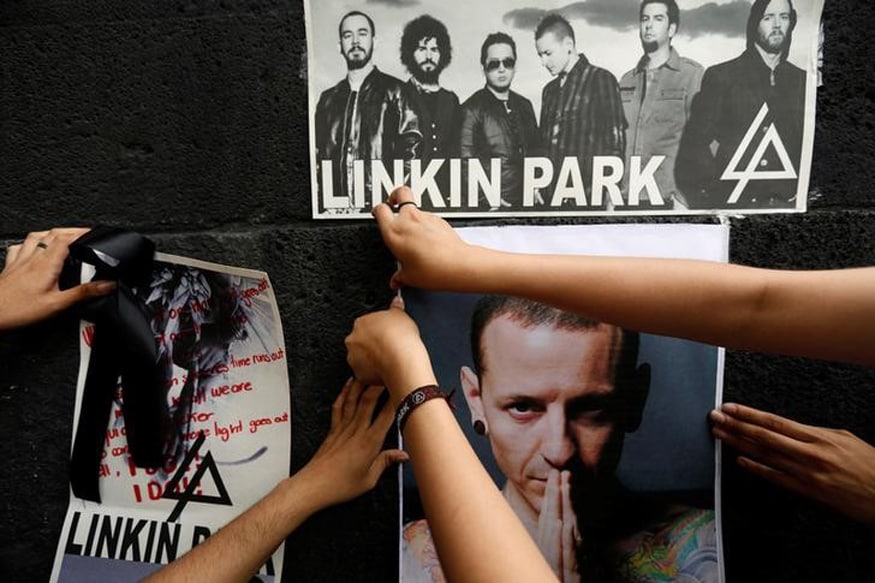 Fans stick posters as they gather at Revolucion monument to pay tribute to Chester Bennington, Linkin Park frontman, following the singer's death by suicide, in Mexico City, on July 23, 2017. (Photo: Reuters/Edgard Garrido)
Los Angeles: California rock band Linkin Park said on Monday the suicide of frontman Chester Bennington had left them brokenhearted but recalled it was Bennington's demons that had made fans fall in love with the band.
In their first statement since Bennington's suicide at his Southern California home last week, the remaining members of Linkin Park said they did not know "what path our future may take."
The alt-rock band on Friday canceled its North American tour that had been due to start on July 27.
Bennington (41) had a history of alcohol and drug abuse and depression and had spoken openly in the past about his struggles when Linkin Park first found fame in 2000 with their best-selling debut album "Hybrid Theory."
"Dear Chester, Our hearts are broken," the band said in a statement.
"Your absence leaves a void that can never be filled - a boisterous, funny, ambitious, creative, kind, generous voice in the room is missing. We're trying to remind ourselves that the demons who took you away from us were always part of the deal. After all, it was the way you sang about those demons that made everyone fall in love with you in the first place. You fearlessly put them on display, and in doing so, brought us together and taught us to be more human," the statement added.
Bennington, who was twice married, leaves six children. The band said they and the singer's wife Talinda and his family appreciated the love and support shown by fans and other musicians over his death.
Bennington was the second American rock star to die by suicide in the last two months. Soundgarden and Audioslave frontman Chris Cornell, 52, a close friend of Bennington, hanged himself in a Detroit hotel room in May.
Get the best of News18 delivered to your inbox - subscribe to News18 Daybreak. Follow News18.com on Twitter, Instagram, Facebook, Telegram, TikTok and on YouTube, and stay in the know with what's happening in the world around you – in real time.
| Edited by: Bijaya Das
Read full article