Catalan Leader in Last-Ditch Warning as Madrid Takeover Looms
The government "will create an even more serious, extraordinary situation by seizing Catalonia's political autonomy," Carles Puigdemont warned in a letter to the Senate Thursday.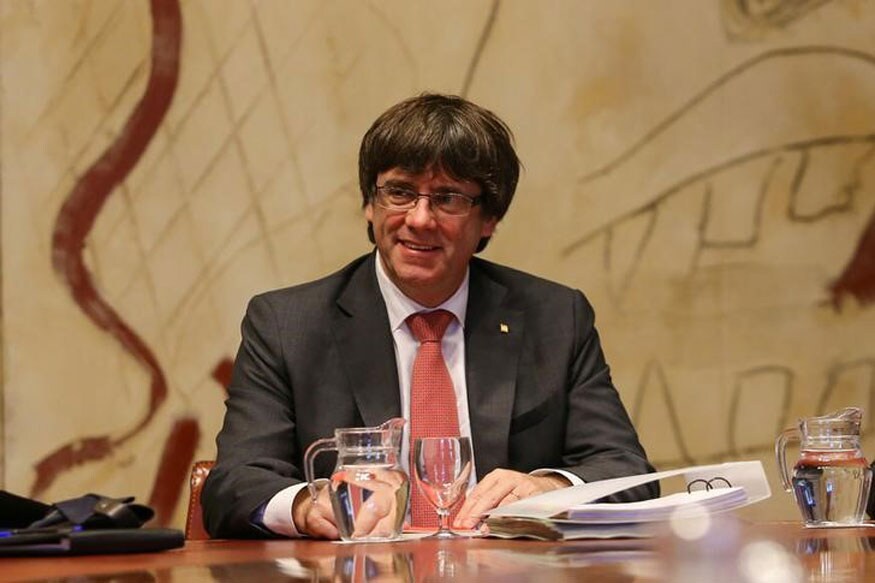 Catalan President Carles Puigdemont presides over a cabinet meeting at Generalitat Palace in Barcelona, Spain (REUTERS)
Barcelona: Catalonia's leader warned Thursday that the separatist crisis gripping Spain would escalate if Madrid follows through on its threat to seize the wealthy region's powers.

The crisis over an independence drive in Catalonia is coming to a head as regional lawmakers prepare to meet at 5:00 pm (1500 GMT) in a session in Barcelona which many fear will lead to a unilateral declaration to break away.

At the same time, a Senate committee will gather in the Spanish capital to work on a blueprint for seizing the region's institutions, police, and finances unless it backs off from its independence drive.

The upper house, where Prime Minister Mariano Rajoy's Popular Party holds a majority, is due on Friday to approve the measures proposed by the central government.

The government "will create an even more serious, extraordinary situation by seizing Catalonia's political autonomy," Carles Puigdemont warned in a letter to the Senate Thursday.

He was due to make an announcement at 1:30 pm (1130 GMT).

Anti-constitutional?
Puigdemont claimed that seizing Catalan powers was an "affront" to Spain's constitution.

The central government, though, accuses Catalan leaders of having breached the very same constitution by holding an independence referendum on October 1 -- an unrecognised and unregulated vote widely seen as the cause for the escalating stand-off between the region and Madrid.

The Constitutional Court ruled the vote illegal and contrary to the constitution, which states that Spain's unity is "unbreakable."

Regional authorities say a majority of those who voted chose to break away from Spain.

But only about 43 percent of eligible voters -- some 2.3 million -- turned out.

Independence or elections?
Polls have indicated that the region of 7.5 million people is deeply divided on independence.

But Catalans are also fiercely protective of their distinct language and culture and their autonomy -- which was restored after the repressive 1939-1975 rule of dictator Francisco Franco.

The semi-autonomous region accounts for 16 percent of Spain's population and 20 percent of its economic output.

As Madrid stands firm in its intention to seize Catalonia's political power, and finances, the world is eagerly awaiting Puigdemont's next move.

He could declare unilateral independence or call early regional elections -- an option many think is the only way of keeping Madrid at arm's length.

Some members of Puigdemont's executive urged him this week to avoid a full-on clash with Madrid by calling an early poll.

On Wednesday, though, Catalan vice-president Oriol Junqueras appeared to move towards declaring a break from Spain.

He told Spanish television the government's unyielding stance was "not giving us any option other than defending the civil liberties of citizens through the best institutional instruments."

'Resistance'
Spain's Economy Minister Luis de Guindos acknowledged Thursday there could be "resistance" to Madrid's move to seize regional powers.

Independence supporters took to the streets of Barcelona, with some raising the prospect of regional civil servants rebelling against Madrid's envoys.

"I hope that civil servants who are highly professional... will be conscious that any act against Catalan society will be negative," de Guindos warned on Spanish radio.

He added there had been "a drop in consumption and paralysis of investments" as a result of uncertainty sparked by the crisis.

Observers fear the standoff will spark unrest in the region.

Tourist bookings in Catalonia have declined and close to 1,500 companies have removed their legal headquarters since the referendum.

'General interests'
After the referendum on October 1, the stakes rose when Puigdemont announced -- and immediately suspended -- independence.

He defied various warnings and deadlines from Madrid, prompting the central government to turn to the never-before-used Article 155 of the constitution, designed to rein in rebel regions.

It gives the government vaguely-defined and untested powers to act when the country's "general interests" come under threat.

The measures are intended to remain in place for up to six months -- until elections are called and a new Catalan parliament sworn in.

Puigdemont on Wednesday turned down an invitation to address senators in Madrid, leaving little hope that a takeover can be avoided.

Catalonia is one of 17 regions, with varying degrees of autonomy, that make up Spain.
Read full article
Countdown To
Elections Results
To Assembly Elections 2018 Results