China Launches 10,000-tonne Monster Next Generation Destroyer
China's Navy on Wednesday launched its biggest new generation destroyer weighing 10,000 tonnes as part of a massive expansion to become a global naval power.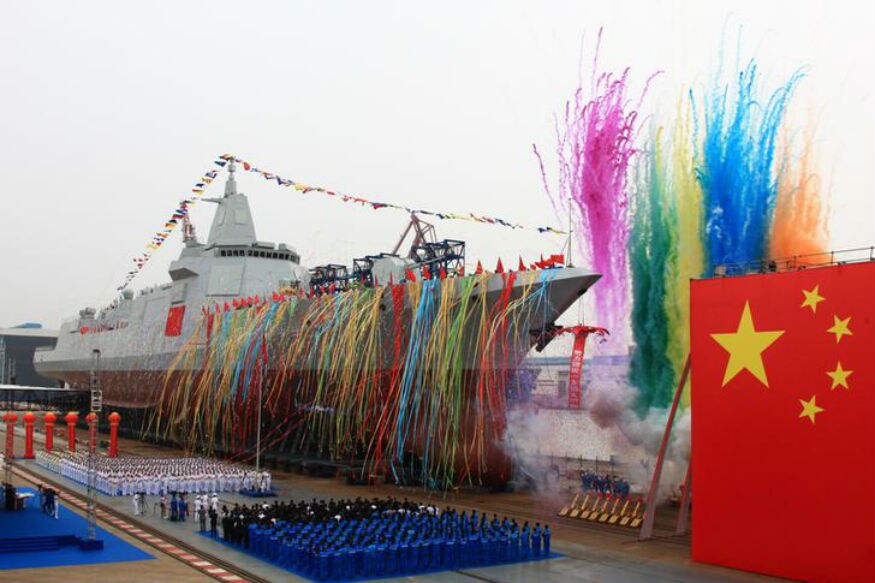 China's new type of domestically-built destroyer, a 10,000-tonne warship, is seen during its launching ceremony at the Jiangnan Shipyard in Shanghai, China on Wednesday. (REUTERS)
Beijing: China's military on Wednesday launched its biggest new generation destroyer weighing 10,000 tonnes as part of a massive expansion to become a global naval power. The Navy's new destroyer, a domestically designed and produced vessel, was launched at the Jiangnan Shipyard (Group), Shanghai.
The vessel is the first of China's new generation of destroyers. It is equipped with new air defence, anti-missile, anti-ship and anti-submarine weapons, state-run Xinhua news agency reported. The vessel marks a milestone in improving the nation's Navy armament system and building a strong and modern Navy.
The state-run Global Times newspaper said the ship was believed to be the first Type 055 destroyer, which is considered to be a successor class to the smaller Type 052D guided missile destroyers. China is still producing the latter and commissioned one, the Xining, in January.
ALSO READ | Chinese Media Warns India on 'Border Showdown', says US Support 'Superficial'
Chinese media showed photos of the new ship covered in streamers and flags and flanked by rows of sailors. According to the plan, tests will be carried on the vessel, including equipment operation, berthing and sailing. The biggest naval destroyer was an addition to two aircraft carriers which China is in the process of deploying to compete with other naval powers liked the US and India, specially in the India Ocean.
China is producing warships at a rapid clip as it modernises its navy, which has been taking an increasingly prominent role among the country's armed forces. State media has said that the navy commissioned 18 ships, including destroyers, corvettes and guided-missile frigates in 2016.
In April, China launched its first domestically built aircraft carrier, a conventionally powered ship that likely won't enter service until 2020. China's naval build-up, and it's increasingly assertive stance over disputed territory in the South China has unnerved other nations.
China claims almost all the South China Sea, believed to have huge deposits of oil and gas, through which about $5 trillion in ship-borne trade passes every year, and has been building up military facilities like runways on the islands it controls. Brunei, Malaysia, the Philippines, Taiwan and Vietnam also have claims.
ALSO READ | China Lodges diplomatic protests, Accuses Indian Troops of 'Crossing Boundary' in Sikkim Section
The Chinese Navy is currently trying to form battle groups that accompany the aircraft carriers when they set out on missions far from shores. The first aircraft carrier Liaoning has left with a flotilla of Chinese naval ships on June 25 on "routine training mission" from Qingdao in east China.
The naval formation includes destroyers Jinan and Yinchuan, frigate Yantai and a squadron of J-15 fighter jets and helicopters, a Chinese defence ministry statement said. The training mission, like the previous ones, is expected to strengthen coordination among the vessels and improve the skills of crew and pilots in different marine region.
This is the first exercise being carried out by Liaoning, a refurbished aircraft carrier, built from the hull of a Soviet ship bought from Ukraine after China had launched a home-made carrier in April this year. The new aircraft carrier was expected to be operational by 2019.
Liaoning has earlier carried out exercises in the disputed South China Sea as well as East China Sea along with its battle formation group.
(With agency inputs)
Get the best of News18 delivered to your inbox - subscribe to News18 Daybreak. Follow News18.com on Twitter, Instagram, Facebook, Telegram, TikTok and on YouTube, and stay in the know with what's happening in the world around you – in real time.
| Edited by: Swati Sharma
Read full article