China launches First Home-built Aircraft Carrier Amid regional tensions
The launch came three days after the 68th anniversary of the People's Liberation Army Navy on Sunday, and against the backdrop of a rising China's efforts to beef up its navy to project the world's second largest economy's growing clout abroad.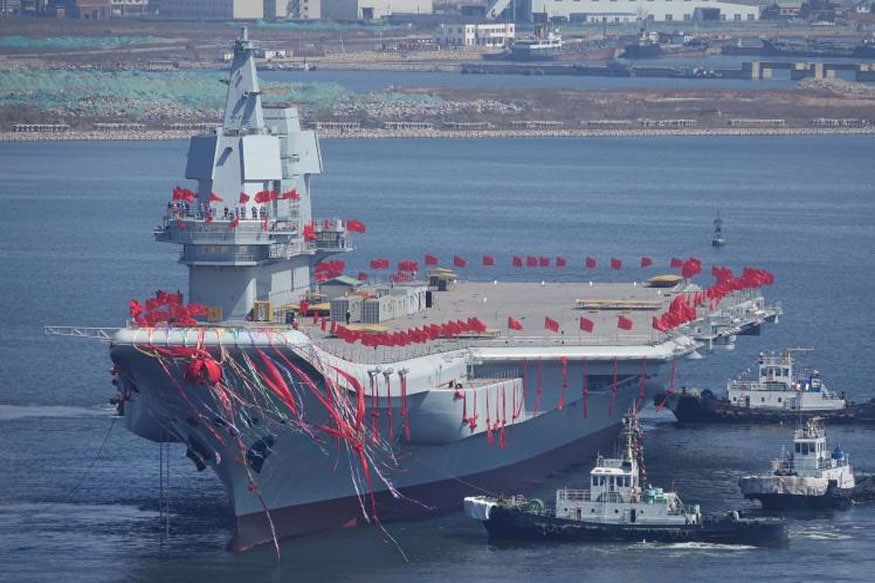 China's first domestically built aircraft carrier is seen during its launching ceremony in Dalian, Liaoning province, China, April 26, 2017. (REUTERS)
Beijing: China on Wednesday launched its first domestically-built aircraft carrier, boosting its blue-water naval capabilities amidst the Communist giant flexing its muscles in the strategic South China Sea and growing regional tension over nuclear-armed North Korea.
The 50,000-tonne new aircraft carrier, which will join an existing one bought from Ukraine in 1998, was transferred from a dry dock into the water at a launch ceremony in northeast Dalian shipyard of the China Shipbuilding Industry Corp (CSIC) amid streamers and champagne.
The as-yet unnamed vessel was towed from Dalian Shipyard, Liaoning, to a nearby wharf, China's Ministry of National Defence said.
The launch came three days after the 68th anniversary of the People's Liberation Army Navy on Sunday, and against the backdrop of a rising China's efforts to beef up its navy to project the world's second largest economy's growing clout abroad.
The carrier is touted to be a significant upgrade from the 'Liaoning', which was built more than 25 years ago and is a refurbished Soviet ship bought from Ukraine.
China began building its second carrier in November 2013. Dock construction started in March 2015. However, the carrier is not expected to enter active service until 2020.
Putting the carrier into water marked progress in China's efforts to design and build a domestic aircraft carrier, state-run Xinhua news agency commented.
After the launch, the new carrier will undergo equipment debugging, outfitting and comprehensive mooring trials, the defence ministry said.
A blue-water navy is a maritime force capable of operating globally across the deep waters of open oceans.
The launch was timed with US sending a naval battle group headed by aircraft carrier USS Carl Vinson to the Korean peninsula in a big show of strength. North Korea has been provoking the US and its neighbours like South Korea and Japan by conducting nuclear and missile tests.
The launch ceremony was attended by General Fan Changlong, Vice Chairman of the the powerful Central Military Commission, China's top military body.
China has the second largest military budget in the world, estimated at USD 148 billion after a seven per cent spending increase announced in March 2017.
China's new aircraft carrier is larger than India's INS Vikaramaditya which is already operational.
The launch of the aircraft carrier comes amid China's assertiveness in the resource-rich South China Sea.
China claims almost all of the South China Sea, despite objections from the Philippines, Malaysia, Brunei and Vietnam. China has also created artificial islands in the area, outfitting some of them with military features.
The launch also comes amid heated rhetoric between the US and North Korea in recent days. The US has deployed warships and a submarine to the Korean peninsula, prompting an angry reaction from North Korea. China, a close ally of Pyongyang, has urged for calm.
China's military is also eying more aircraft carriers to enhance its capabilities.
Recently state-run People's Daily quoted military experts as saying that the third aircraft carrier to be built in Shanghai may be nuclear-powered.
Earlier reports said Chinese navy which now has an expanded role among the military is set to raise its marine forces from 20,000 to one lakh as it started setting up logistic bases in Gwadar port in Pakistan and Djibouti in Africa.
China's military build-up has unsettled its neighbours and the US, particularly as Beijing has taken a more robust stance in territorial disputes in the South China Sea.
The new vessel still lags behind its US counterparts technologically, but senior fellow at Sydney's Lowy Institute Sam Roggeveen told CNN it is likely just a "stepping stone" to China's next generation of aircraft carriers.
"It's probably been designed to just get China in the aircraft carrier game, and while this design was just an incremental advance (on the country's first carrier), with the next carrier, which could already be under construction, it will be much closer to a US carrier," he said.
According to Yvonne Chiu, an assistant professor at the University of Hong Kong, China's navy is trying to enhance its ability to operate globally across open oceans.
"China seeks to become a major world power, and one of the hallmarks of such a status is blue-water capability and the ability to project military might globally," Chiu said.
Read full article
Countdown To
Elections Results
To Assembly Elections 2018 Results