Cot, Chair, Teapot, Lantern: What Nawaz Sharif and Maryam Will Get as 'B' Class Inmates of Adiala Jail
'B' class facilities are reportedly reserved for prisoners who "have been accustomed to a superior mode of living" either by "social status, education or habit of life".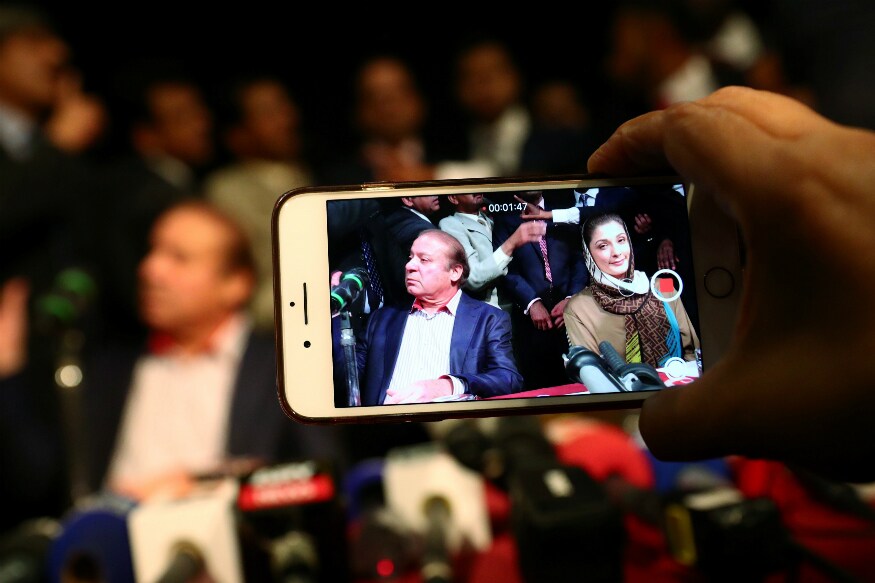 In this July 11, 2018 photo, ousted Pakistan PM Nawaz Sharif appears with his daughter Maryam at a news conference at a hotel in London. (Reuters)
New Delhi: Disgraced Pakistan prime minister Nawaz Sharif and his daughter Maryam Nawaz have been provided 'B' class facilities in Rawalpindi's Adiala Jail, Pakistani media quoted authorities as saying early on Saturday.
Sharif and his political heir Maryam were arrested on their return to Pakistan following their conviction in one of the three corruption cases against the powerful political family, weeks before the July 25 polls. Sharif and Maryam were shifted to Adiala jail in separate armoured vehicles escorted by police.
According to a report in The News International, authorities had decided to provide the power duo 'B' class facilities "on the basis of their social status and not on the grounds of offence under which they were convicted".
'B' class facilities are reportedly reserved for prisoners who "have been accustomed to a superior mode of living" either by "social status, education or habit of life".
The report further said that 'A' or 'B' class prisoners in Pakistani jails are normally roped in to impart education to 'C' class prisoners and are not assigned to hard labour.
Their rooms have a cot, chair, teapot, lantern and sanitary items. The News International further said that the expenses of facilities such as TV, air-conditioner, fridge and newspapers are borne by 'A' and 'B' class prisoners with permission from the jail department.
#WATCH: The Etihad flight carrying Nawaz Sharif & Maryam Nawaz, at Lahore airport. It was full of FIA, Rangers and NAB teams, to take Sharifs into custody. (13.07.2018) pic.twitter.com/HzHPmCRKbM

— ANI (@ANI) July 14, 2018
Maryam is expected to be moved later to Sihala Rest House which has been declared as sub-jail.
The plane carrying Sharif, the supremo of the Pakistan Muslim League – Nawaz (PML-N), and Maryam landed at Lahore's Allama Iqbal Airport at 9:15pm IST, nearly three hours late from the scheduled arrival.
According to an airport official, the father-daughter duo surrendered before a team of the country's anti-graft body , the The National Accountability Bureau (NAB), without any resistance.
A special plane later carried Sharif and Maryam to Islamabad.
The accountability court judge Muhammad Bashir issued judicial warrants against Sharif and Maryam without their mandatory presence in the court. The NAB had requested the court to condone their presence due to security reasons.
The judge accepted the argument and deputed a local magistrate to visit the convicts to record their arrest and allow NAB to hand them over to the jail authorities.
The Etihad Airways flight EY243 arrived in Lahore from Abu Dhabi. Earlier, Sharif and Maryam flew to the UAE capital from London, where Sharif's wife Kulsoom, suffering from throat cancer, is battling for her life.
Sharif reportedly refused to sit in the vehicle of the Rangers to get to the airport terminal. Federal Investigation Agency (FIA) officials took their passport for immigration.
According to media reports, dozens of security officials entered the plane after it landed and asked other passengers to leave. The duo's passports were seized by a three-member FIA team, and both were permitted to meet Begum Shamim Akhtar, Sharif's mother, in the Haj Lounge.
The two were convicted on July 6 in the Evenfield properties case linked to the Sharif family's ownership of four luxury flats in London.
Both Sharif, 68, and Maryam, 44, have been sentenced by an accountability court to 10 and seven years in prison, respectively.
The Sharif family is now facing two more corruption cases in the accountability court — Al-Azizia Steel Mills and Flagship Investments — in which they are accused of money laundering, tax evasion and hiding offshore assets.
Get the best of News18 delivered to your inbox - subscribe to News18 Daybreak. Follow News18.com on Twitter, Instagram, Facebook, Telegram, TikTok and on YouTube, and stay in the know with what's happening in the world around you – in real time.
| Edited by: Nitya Thirumalai
Read full article