In First Budget Proposal, Trump Wants $54 Billion Hike in Defence Spending
President Donald Trump's first budget proposal includes a substantial USD 54 billion dollar increase in defence spending, with corresponding cuts in foreign assistance and other non-military spending.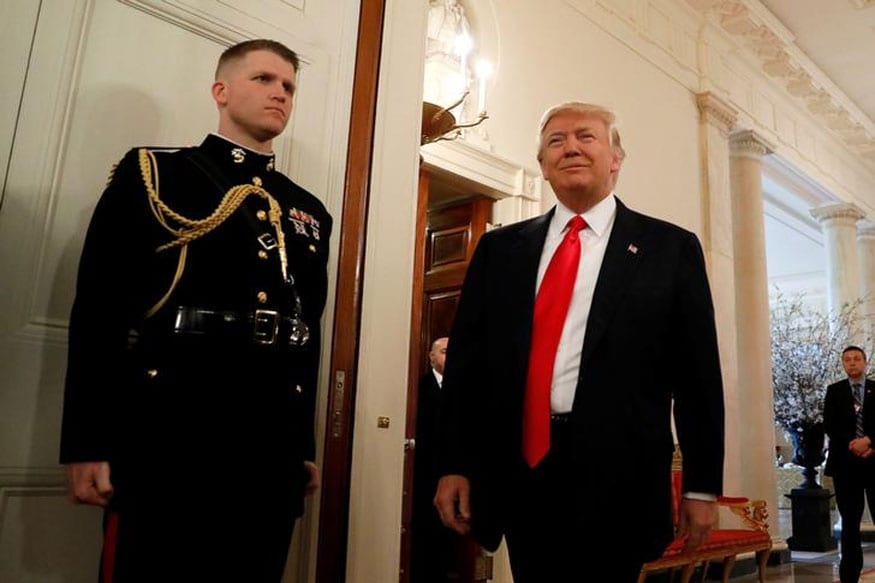 File photo of US President Donald Trump
Washington:
President Donald Trump on Monday teased a budget plan that includes a substantial increase in defence spending and cuts in foreign aid.
Previewing a plan that will attempt to translate campaign promises into dollars and cents, Trump promised a "public safety and national security budget".
An administration official said that Trump's plan would include a $54 billion increase in defence spending and a corresponding decrease in non-military programs.
"Most federal agencies will see a reduction as a result," the official said.
There will also be a "large reduction in foreign aid," he added, on condition of anonymity.
ALSO READ:
Donald Trump's Navy Secretary Nominee Philip Bilden Withdraws From Consideration
The proposal, which will be picked over and must ultimately be approved by Congress, would increase defence spending — already the largest in the world — by almost 10 percent.
Trump claimed that his budget "follows through on my promise on keeping Americans safe".
"It will include a historic increase in defence spending."
His comments come a day before he addresses a joint session of Congress, an important agenda setting event for new presidents.
ALSO READ:
How Bhagavad Gita 'Shaped Views' of Trump's Chief Strategist Steve Bannon
The initial outline did not include proposals for mandatory spending or tax proposals, which make up the bulk of outlays and receipts.
The budget is a keystone statement of Trump's priorities for the coming years.
The nearly four trillion dollar annual federal budget is a declaration of intent that puts the president's policy goals down in black and white.
It also separates affordable campaign promises from the fanciful and is the final arbitrator after turf wars between departments and powerful interest groups.
Trump has promised to cut waste and duplication in federal spending.
US president after US president has made similar promises on coming to office, before delving into a text that runs in the thousands of pages and tossing the plan into the thicket of Congress.
Trump has oodles of campaign promises to pay for, but faces a national debt set to hit $20 trillion on his watch and a deficit at 3.1 percent of GDP and rising.
ALSO READ:
Donald Trump Says he Won't Attend White House Correspondents Dinner This Spring
Trump's promises — from building a wall on the Mexican border to stepping-up the deportation of undocumented immigrants — carry an estimated price tag of $5.3 trillion, according to the non-partisan Committee for a Responsible Federal Budget.
ALSO READ:
Nasscom President Hopes Trump Administration Will Take 'Pragmatic' View on H1B Visa Issue
| Edited by: Huma Tabassum
Read full article
Countdown To
Elections Results
To Assembly Elections 2018 Results