Donald Trump's Visit to China 'Most Important Bilateral Event': Xi Jinping
Chinese President Xi Jinping met US Secretary of State Rex Tillerson in Beijing, amid mounting pressure from Trump on Beijing to rein in its close ally North Korea.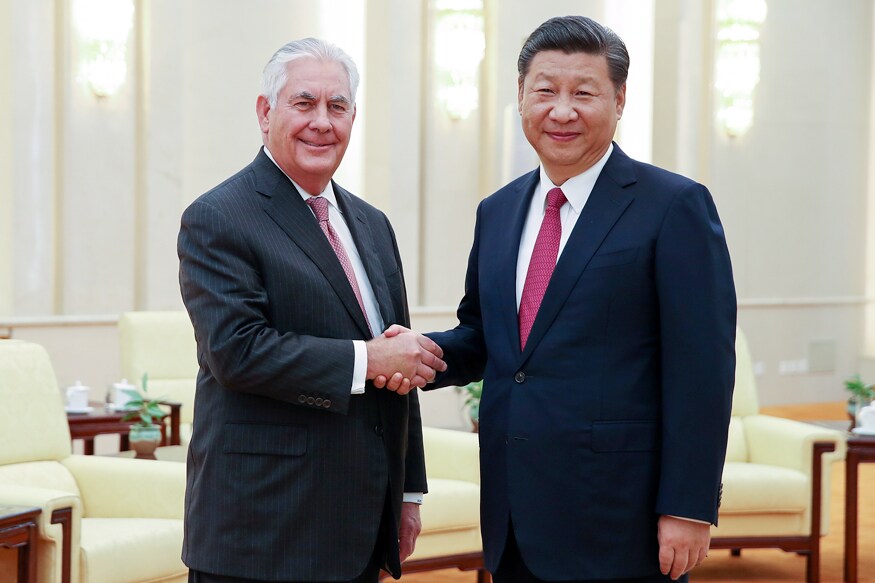 US Secretary of State Rex Tillerson (left) shakes hands with Chinese President Xi Jinping (right) before their meeting at the Great Hall of the People on September 30, 2017 in Beijing, China. (Photo: Reuters/Lintao Zhang)
Beijing: China regards US President Donald Trump's November visit as "the most important bilateral event", President Xi Jinping on Saturday said, as the two countries grappled to deal with deepening crisis over North Korea's nuclear and missile programmes.
Xi met US Secretary of State Rex Tillerson in Beijing, amid mounting pressure from Trump on Beijing to rein in its close ally Pyongyang.
"His (Trump's) visit will be a major opportunity for the development of China-US relations," Xi was quoted saying to Tillerson by the state-run Xinhua news agency.
Skirting any references to North Korea and the prevailing tensions in the Korean Peninsula where the US has deployed maximum number of air, naval and ground troops besides interceptor missiles to deal with threats from Pyongyang, he said that China attaches great importance to Trump's visit, and looking forward to work with him to advance the bilateral ties.
Both sides should work closely to make the visit "successful and special," the Chinese president said. He termed China-US ties as "generally stable" and said that he had maintained sound communication with President Trump.
"Chinese and US teams should implement consensus reached by the two heads of state, grasp the direction of bilateral relationship, respect each other, and focus on cooperation while dealing with differences properly," Xi said. Tillerson also conveyed Trump's greetings to the Chinese president, saying the US president was looking forward to his visit to China.
Hailing the progress made in the US-China relation under the two presidents, Tillerson said that the US values its relations with China and hopes to increase mutual trust and practical cooperation in various areas as well as to jointly tackle international and regional challenges.
Tillerson is visiting China at a time when it has stepped up implementation of UN resolutions by reducing oil supplies to North Korea, besides imposing a ban on the import of textiles from Pyongyang. China has also ordered closure of businesses connected with North Korea.
Before meeting the Chinese president, Tillerson met with China's top diplomats and held talks on restricting North Korea's nuclear programme and preparations for Trump's November visit.
Tillerson met State Councillor Yang Jiechi and Foreign Minister Wang Yi.
"Our two presidents have developed a very regular and close working relationship. I know President Trump is very much looking forward to the upcoming summit as is everyone on his team," the US Secretary of State told Yang. Yang said Trump's trip was of "great importance" for China-US relations.
"Let us concentrate on cooperation and properly manage our differences in the spirit of mutual respect and mutual benefit so that we can keep moving the China-US relationship forward in the right direction," he said.
During his meeting with Tillerson, Wang said that at present, China-US relations have a positive momentum and have arrived at an important opportunity to progress further. Tillerson was due to arrive in Beijing last night from Tokyo but his plane developed some technical problem which forced him to travel to China on a military transport aircraft on Saturday.
Get the best of News18 delivered to your inbox - subscribe to News18 Daybreak. Follow News18.com on Twitter, Instagram, Facebook, Telegram, TikTok and on YouTube, and stay in the know with what's happening in the world around you – in real time.
| Edited by: Bijaya Das
Read full article