Facing Off With Trump, Trudeau Dons The Cape of 'Captain Canada'
Trudeau triggered Trump's fury when he said that citing US national security interests as justification for slapping tariffs on Canadian steel and aluminum exports was "insulting."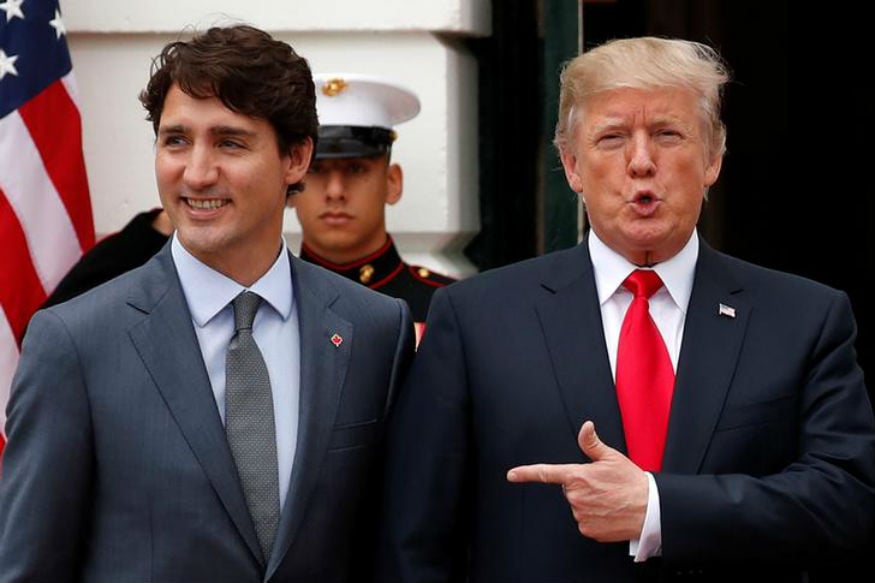 US President Donald Trump with Canada's Prime Minister Justin Trudeau. (Reuters File photo)
Montreal: Normally a conciliatory, charming figure, Justin Trudeau is being forced to transform himself into a kind of "Captain Canada" in order to fight a trade war with Donald Trump that has the potential to be as destructive as it is surprising.
A boxing enthusiast who dons his gloves to work off the stress of the job in his rare free time, the Canadian prime minister will have to carefully measure his punches against the US leader, who publicly accused him of weakness and dishonesty after the meeting of the G7 nations in Quebec at the weekend.
Trudeau triggered Trump's fury when he said that citing US national security interests as justification for slapping tariffs on Canadian steel and aluminum exports was "insulting."
"Canadians, we're polite, we're reasonable, but we also will not be pushed around," Trudeau said after the summit ended in controversy.
Trudeau was elected to head a Liberal Party government in October 2015, after his rivals underestimated him, sometimes condescendingly deriding him as a selfie-taking knock-off of his father, 1970s leader Pierre Trudeau.
Since Trump's election in 2016, Trudeau has tried to take a conciliatory approach to the populist Republican president and has been careful never to run him down in public.
He has been in regular telephone contact with Trump, calling him more than once a month, more frequently than he did his predecessor Barack Obama.
He has always turned a blind eye to his American counterpart's polarizing and polemical statements, stressing instead that both men were elected to defend the middle classes of their respective countries.
Sometimes described as a "mini-Obama," not least due to his omnipresent smile, Trudeau is clearly far closer in his political alignments to the US Democratic Party than Trump's Republicans.
Yet he worked to smooth over the ideological differences and to present himself as the best neighbor the United States could hope for.
He has striven to keep the nice-boy-next-door image even during the current diplomatic crisis, refusing to respond in kind to the personal jabs by Trump and his aides, and asked ministers to hit back without going below the belt.
"Canada does not believe that ad hominem attacks are a particularly appropriate or useful way to conduct our relations with other countries," Canada's Foreign Minister Chrystia Freeland said.
- The New Trudeau -
With just over a year to go before the next elections, the former teacher, who was born on Christmas Day 1971, could stand to gain politically from the trade war being unleashed by his southern neighbor.
Showing grit will help overcome criticism that he lacks the substance of his father, who ran the country with a firm hand in the 1970s.
Despite his conservative rivals snapping at his heels in polls, Trudeau has seen Canadian politicians from across the spectrum close ranks around him after Trump threatened to slap tariffs on the automobile sector, which would mark a dramatic escalation in the trade spat.
Mocked for cultural gaffes on a recent trip to India, and slammed by others for his efforts in renegotiating the North America Free Trade Agreement at Trump's behest, Trudeau has also been attacked by the left-wing for his decision to nationalize an oil pipeline that had bogged down in protest and controversy.
Now with Trump piling in with his own attempt to humiliate the Canadian leader, the Globe and Mail newspaper said the US leader's comments "couldn't have been better measured to raise Canadians' national sense of injustice."
Commentators saw a parallel in past tensions between Trudeau's father and Richard Nixon, when the then-leader of the United States called Trudeau senior, in private conversations, a "pompous egghead" and a "clever son of a bitch."
"The new Trudeau has arrived," one analyst told Radio Canada on Monday, noting that thanks to the public and political support building behind him, "Trudeau can think of himself as the great defender of his country and that he can don the cape of "Captain Canada" which served his farther so well."
Get the best of News18 delivered to your inbox - subscribe to News18 Daybreak. Follow News18.com on Twitter, Instagram, Facebook, TikTok and on YouTube, and stay in the know with what's happening in the world around you – in real time.
Subscribe to Moneycontrol Pro and gain access to curated markets data, trading recommendations, equity analysis, investment ideas, insights from market gurus and much more. Get Moneycontrol PRO for 1 year at price of 3 months. Use code FREEDOM.
| Edited by: Naqshib Nisar
Read full article