FBI Translator Married ISIS Terrorist She Was Investigating
Daniela Greene, lied to the agency about her travel plans and went to the war-torn country to get married to Denis Cuspert, a German rapper turned IS pitchman.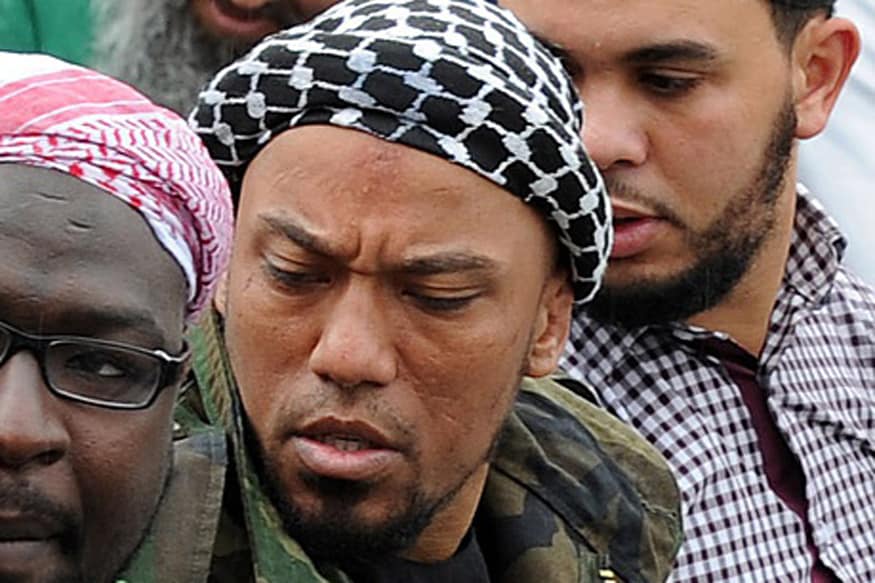 Former German rapper Denis Cuspert (C), who rapped under the name Deso Dogg but took on the name Abu Talha al-Almani in Syria. (Photo: Henning Kaiser/ AFP/ Getty Images)
New Delhi: The FBI - an agency tasked with rooting out Islamic State (IS) sympathizers across the USA - is facing a major embarrassment after CNN reported that an FBI translator with a top-secret security clearance travelled to Syria in 2014 and married a key IS operative she had been assigned to investigate.
Daniela Greene, lied to the agency about her travel plans and went to the war-torn country to get married to Denis Cuspert, a German rapper turned IS pitchman.
The entire affair was kept hush-hush by the Justice Department and the FBI.
There are questions being raised on the two-year sentence being handed out to the former-translator as usually even a failed attempt to travel to Syria is met with a much stringent sentence.
The official line held by the agency, which asked for a reduced sentence to Greene, is that the 38-year-old has been extremely cooperative and does not deserve a full sentence.
Cuspert aka Deso Dogg is known in Syrian circles as Abu Talha al-Almani. The former rapper turned to religion from his American gangsta rap avatar after a near-fatal car accident.
Greene, a German-born American, joined the FBI as a contract linguist in 2011, a post which comes with top level security clearance and requires going through a gruelling application and rigorous vetting process.
Greene was assigned to the bureau's Detroit office in January 2014 when she was put to work "in an investigative capacity" on the case of a German terrorist referred to in court records only as "Individual A."
CNN identified "Individual A" as Cuspert using court documents, newspaper articles about him, government bulletins, videos and other sources. His identity was ultimately confirmed by a source familiar with the investigation.
On June 11, 2014, Greene filled out a Report of Foreign Travel form—a document FBI employees and contractors with national security clearances are required to complete when traveling abroad – claiming to want to go meet her family and then boarded a plane to Istanbul.
Greene, who was still married to her American husband (a US soldier) at the time, travelled to the city of Gaziantep, about 20 miles from the Syrian border.
Cuspert had moved to Syria and had been issuing propaganda/threat videos for the terrorist group for some time now.
After Greene reached Gaziantep, she contacted Cuspert and with the assistance of a third party arranged by him, crossed the border into Syria. Once there, according to the court records, she married him.
Shortly after, Greene started having second thoughts about her actions and sent emails, from inside Syria, to an unidentified person in the US indicating that she was breaking the law.
While Greene was expressing regrets, Cuspert was actively fighting IS's battles.
After about a month in Syria, Greene somehow was able to leave the war-torn country and returned to the United States. She was arrested on August 8, 2014.
Reacting to the report, the FBI, in a statement to CNN, said as a result of Greene's case it "took several steps in a variety of areas to identify and reduce security vulnerabilities. The FBI continues to strengthen protective measures in carrying out its vital work."
@media only screen and (max-width:740px) {
.quote-box{font-size:18px; line-height:30px; color:#505050; margin-top:30px; padding:22px 20px 20px 70px; position:relative; font-style:italic; font-weight:bold}
.special-text{font-size:24px; line-height:32px; color:#505050; margin:20px 40px 20px 20px; border-left:8px solid #ee1b24; padding:10px 10px 10px 15px; font-style:italic; font-weight:bold}
.quote-box img{width:60px; left:6px}
.quote-box .quote-nam{font-size:16px; color:#5f5f5f; padding-top:30px; text-align:right; font-weight:normal}
.quote-box .quote-nam span{font-weight:bold; color:#ee1b24}
}
| Edited by: Aditya Nair
Read full article
Countdown To
Elections Results
To Assembly Elections 2018 Results