Female-Led Investor Group Scraps Deal for Weinstein Assets
The Weinstein Company, which fired Harvey Weinstein in October on allegations of sexual misconduct, had been planning to file for bankruptcy when Contreras-Sweet struck the deal last week.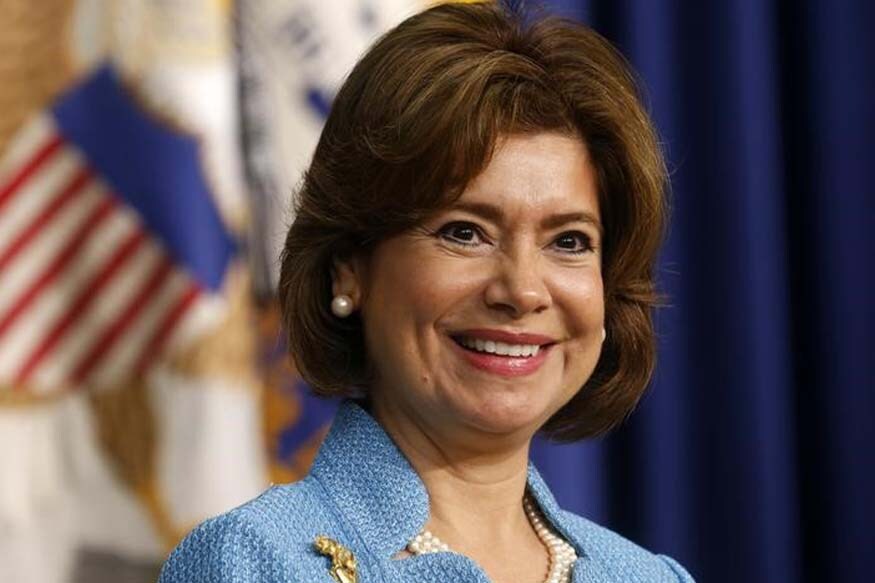 Maria Contreras-Sweet listens to remarks during her ceremonial swearing-in as Administrator of the Small Business Administration at the White House in Washington April 7, 2014. (Photo: Reuters/Kevin Lamarque)
Washington: The female-led investor group that had agreed to buy The Weinstein Company's assets pulled its offer on Tuesday, after discovering the Hollywood studio's liabilities were higher than previously disclosed, two sources familiar with the matter told Reuters.
Former Obama administration official Maria Contreras-Sweet announced in a statement on Tuesday that the deal reached just last week was now off.
The Weinstein Company board responded that it would keep working to "determine if they are any viable options outside of bankruptcy."
Contreras-Sweet said that she still believed in the vision of a studio led by women and will consider buying assets if they become available in bankruptcy court.
More than 70 women accused The Weinstein Company's co-founder Harvey Weinstein, then one of Hollywood's most influential men, of sexual misconduct, including rape. Weinstein has denied having non-consensual sex with anyone.
The Weinstein Company, which fired Harvey Weinstein in October, had been planning to file for bankruptcy when Contreras-Sweet struck the deal last week.
The investors found that the company's debt was $280 million rather than the $225 million previously disclosed, one of the sources told Reuters. A second person said that there were previously undisclosed obligations for royalties and other outstanding work payments, accounts payable and a commercial arbitration award.
"After signing and entering into the confirmatory diligence phase, we have received disappointing information about the viability of completing this transaction," Contreras-Sweet said in the statement.
"We will consider acquiring assets that may become available in the event of bankruptcy proceedings, as well as other opportunities that may become available in the entertainment industry," she added.
In its own statement, The Weinstein Company board said the claim that investors discovered new information was an "excuse", that it believed that the buyer had never any intention of following through, and that the company had been transparent about its financial condition.
"We will continue to work tirelessly - as we have for months - to determine if there are any viable options outside of bankruptcy," the board said. "In the meantime, we continue to pursue an orderly bankruptcy process to maximize the company's value."
A representative for Harvey Weinstein did not immediately respond to a request for comment.
Contreras-Sweet, who headed the Small Business Administration under former President Barack Obama, last week said her investor group had reached an agreement, with help from the New York State Attorney General's office, to buy assets from The Weinstein Company to launch a new firm with a majority-female board.
Launched in October 2005, the studio produced and distributed critically acclaimed hits including "The King's Speech" and "Silver Linings Playbook," as well as TV series such as long-running fashion reality competition "Project Runway."
New York Attorney General Eric Schneiderman said at the time that he had received commitments that a well-funded victims compensation fund would be created, that new policies would protect employees, and that "bad actors" would not be unjustly rewarded.
"We'll be disappointed if the parties cannot work out their differences and close the deal," Amy Spitalnick, a spokeswoman for Schneiderman, said on Tuesday.
Schneiderman has filed a lawsuit against the company and brothers Bob and Harvey Weinstein, who co-founded the studio, alleging that Harvey Weinstein sexually harassed employees and the company failed to respond. The lawsuit remains active, Spitalnick said.
Get the best of News18 delivered to your inbox - subscribe to News18 Daybreak. Follow News18.com on Twitter, Instagram, Facebook, Telegram, TikTok and on YouTube, and stay in the know with what's happening in the world around you – in real time.
| Edited by: Ahona Sengupta
Read full article