GET Stock

Quotes


Fidel Castro's Ashes Begin a Four-day Journey Across Cuba from Havana
Fidel Castro's ashes began a four-day journey across Cuba on Wednesday from Havana to their final resting place in the eastern city of Santiago.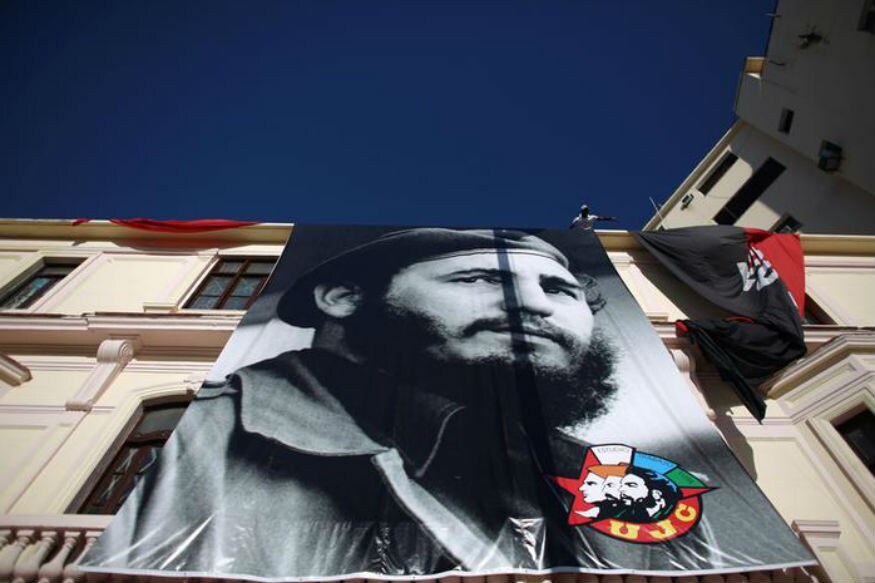 A man hangs a photograph of Cuba's former President Fidel Castro in Havana, Cuba on August 11, 2016. (REUTERS)
Havana: Fidel Castro's ashes began a four-day journey across Cuba on Wednesday from Havana to their final resting place in the eastern city of Santiago.
A small, Cuban-flag covered cedar coffin containing the remains of the 90-year-old leader was taken out of Cuba's Defence Ministry just after 7 am and placed into a flower-bedecked trailer pulled by a green military vehicle for the more than 800-kilometre procession.
The ashes will be interred Sunday, ending the nine-day mourning period for the man who ruled the country for nearly 50 years.
The route traces in reverse the victory tour Castro and his bearded rebels took after overthrowing the forces of strongman Fulgencio Batista in 1959.
Carpenter Rene Mena, 58, said his mother had taken him out of his Havana home as a baby to see Castro arrive.
"It's an irreparable loss," said Mena, who was waiting on the Malecon coastal boulevard holding a Cuban flag. "He fought for us, prepared us, educated us."
Outside Havana, the caravan will pass through rural communities significantly changed by social and economic reforms he adopted. Many residents now have access to health care and education. But many of those towns are also in a prolonged economic collapse, the country's once-dominant sugar industry decimated, the sugar mills and plantations gone.
Thousands of Cubans lined the streets of Havana, some sleeping on sidewalks overnight, to bid goodbye to Castro.
Many had attended a massive rally yesterday night at Havana's Revolution Plaza, where the presidents of Cuba, Mexico, Ecuador, Bolivia, Venezuela and South Africa, along with leaders of a host of smaller nations, offered speeches paying tribute to Castro, who died Friday night.
The crowds at the rally and along today's procession route were a mix of people attending on their own and groups of Cubans organised by government workplaces, where attendance was not strictly obligatory but with strong pressure to attend.
Some groups of government workers slept on the streets because all public transport had been commandeered to move people to Castro-related activities.
"We love the comandante and I think it's our obligation to be here and see him out," said Mercedes Antunez, 59, who was bused in by the state athletics organisation from her home in east Havana along with fellow employees.
Yesterday's rally began with black-and-white revolution-era footage of Castro and other guerrillas on a big screen and the playing of the Cuban national anthem. Raul Castro closed the rally with a speech thanking world leaders for their words of praise for his brother, whom he called the leader of a revolution "for the humble, and by the humble."
For two days, lines stretched for hours outside the Plaza of the Revolution, the heart of government power. In Havana and across the island, people signed condolence books and an oath of loyalty to Castro's sweeping May 2000 proclamation of the Cuban revolution as an unending battle for socialism, nationalism and an outsize role for the island on the world stage.
Also Watch
Read full article