Former US President George HW Bush, World War II Hero Who Steered America Through Cold War, Dies at 94
"Jeb, Neil, Marvin, Doro and I are saddened to announce that after 94 remarkable years, our dear Dad has died," his son, former president George W. Bush, said in a statement released on Twitter by a family spokesman.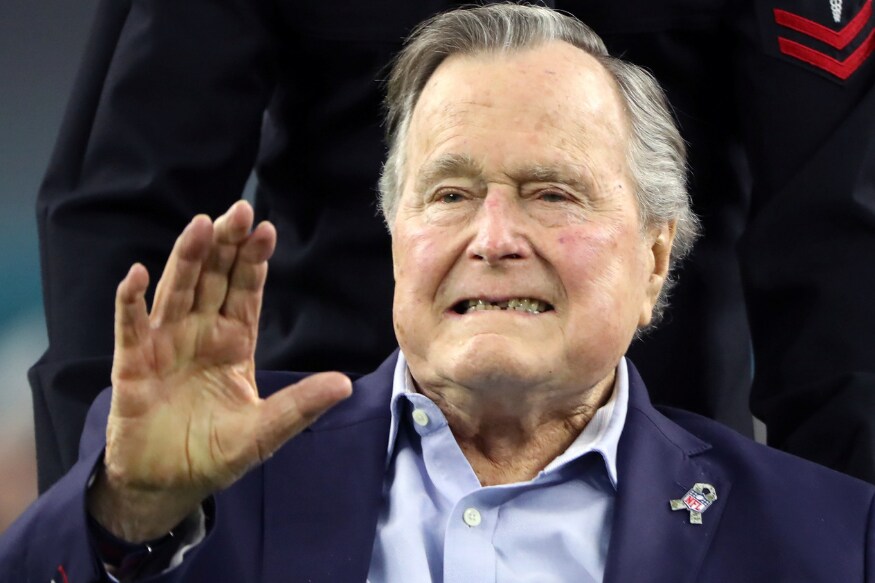 File photo of Former US President George H.W Bush (Reuters)
George H.W. Bush - the upper-crust war hero-turned-oilman and diplomat who steered America through the end of the Cold War as president and led a political dynasty that saw his son win the White House - died Friday. He was 94.
George W. Bush called his father a "man of the highest character and the best dad a son or daughter could ask for," in a statement announcing his death.
"The entire Bush family is deeply grateful for 41's life and love, for the compassion of those who have cared and prayed for Dad, and for the condolences of our friends and fellow citizens."
Bush's passing comes just months after the death in April of his wife and revered first lady Barbara Bush -- his "most beloved woman in the world" - to whom he was married for 73 years.
The 41st American president was a foreign policy realist who navigated the turbulent but largely peaceful fall of the Soviet Union in 1989 and assembled an unprecedented coalition to defeat Iraqi strongman Saddam Hussein two years later.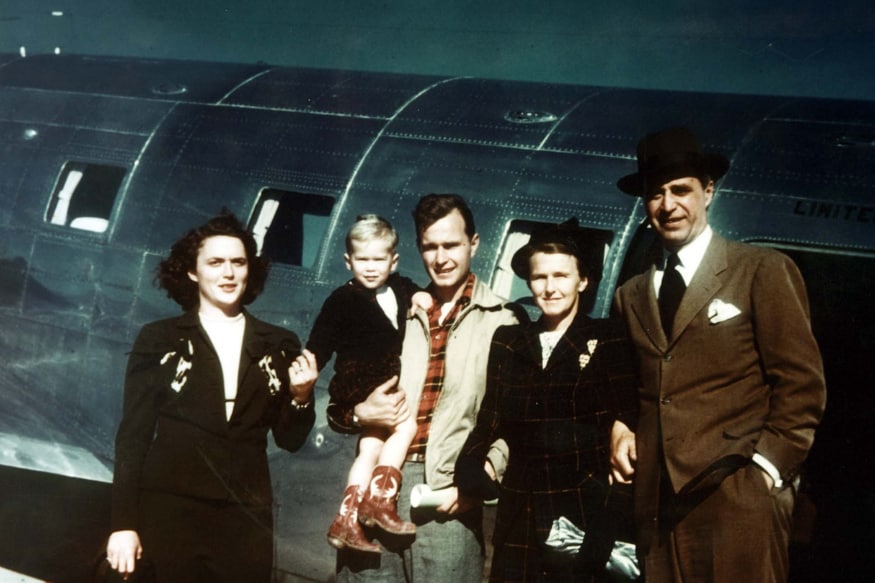 George W. Bush with his mother Barbara Bush, father, George Bush, and grandparents, Prescott and Dorothy Bush in Midland, Texas.
But the decorated war pilot and former CIA chief suffered the ignominy of being a one-term president, denied a second term over a weak economy when he lost the 1992 election to upstart Democrat Bill Clinton.
His favoring of stability and international consensus stands in sharp contrast to the provocative bluster of fellow Republican and current White House occupant Donald Trump, a man whom Bush did not vote for in 2016.
Bush presided over economic malaise at home, and infuriated his fellow Republicans during a budget battle with rival Democrats by famously breaking his vow: "Read my Lips: No new taxes."
But he was the respected patriarch of a blue-blood political dynasty - son George spent eight years in the White House, and son Jeb served as governor of Florida.
At the time of his death, Bush was the American president to have lived the longest. Jimmy Carter was born a few months later, so he could quickly reset the record.
"America has lost a patriot and humble servant in George Herbert Walker Bush. While our hearts are heavy today, they are also filled with gratitude," former president Barack Obama said in a statement.
War, oil, politics
George Herbert Walker Bush was born on June 12, 1924 in Milton, Massachusetts into a wealthy New England political dynasty - the son of Prescott Bush, a successful banker and US senator for Connecticut.
Bush had a pampered upbringing and attended the prestigious Phillips Academy in Andover, but delayed his acceptance to Yale in order to enlist in the US Navy on his 18th birthday and head off to war.
He flew 58 combat missions during World War II. Shot down over the Pacific by Japanese anti-aircraft fire, he parachuted out and was rescued by a submarine after huddling in a life raft for four hours while enemy forces circled.
Bush married Barbara Pierce in January 1945, shortly before the war ended, and the couple went on to have six children, including one, Robin, who died as a child.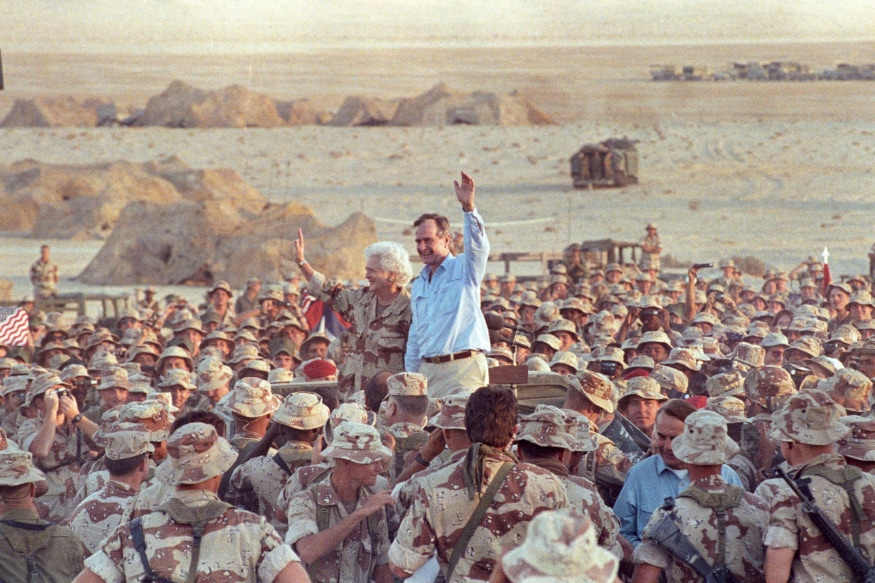 U.S. President George H. W. Bush waves goodbye to U.S. Marines and members of the British 7th Armoured Brigade in this file image from November 22, 1990.
Instead of joining his father in banking upon graduation from Yale University, Bush headed to bleak west Texas to break into the rough-and-tumble oil business.
He surprised many with his success, and by 1958 had settled in Houston as president of an offshore drilling company.
In the 1960s, Bush, now independently wealthy, turned to politics.
He was a local Republican Party chairman, and in 1966 won a seat in the US House of Representatives. He served there until 1970, when he lost a bid for the Senate.
Over the next decade, he held several high-level posts that took him and Barbara around the world: head of the Republican National Committee, US ambassador to the United Nations, envoy to China and director of the Central Intelligence Agency, where he was praised for restoring morale after revelations of widespread illegal activity.
He served as vice president to Ronald Reagan after losing to him in the 1980 Republican primary, an eight-year period of hands-on training for the top post he would go on to win by a solid margin in 1988, as the Cold War was coming to an end.
'This will not stand'
In a major test of the post-Cold War order, Saddam's million-man army invaded Kuwait in 1990 and looked set to roll into Saudi Arabia, which would have given the Iraqi strongman more than 40 percent of the world's oil reserves.
Bush famously vowed: "This will not stand, this aggression against Kuwait."
He assembled a coalition of 32 nations to drive Iraqi forces out in a matter of weeks with a lightning air and ground assault.
Some 425,000 US troops backed by 118,000 allied soldiers took part in Operation Desert Storm, decimating Saddam's military machine without ousting him from power -- a task that would be accomplished 12 years later by Bush's son.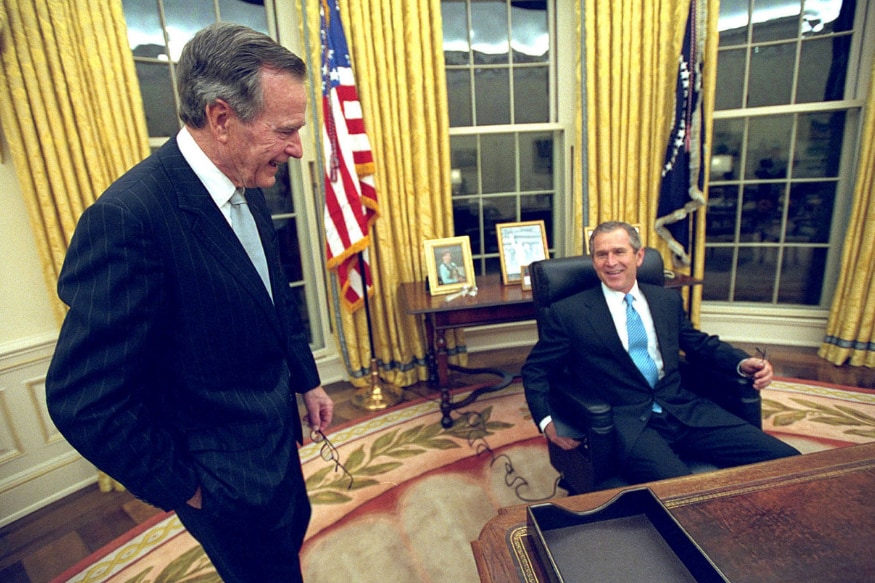 U.S. President George W. Bush sits at his desk in the Oval Office for the first time on Inaugural Day, in this January 20, 2001 file photo, as his father, former President George H.W. Bush looks on.
Buoyed by his victory in the Gulf, Bush and his hard-nosed and widely respected secretary of state James Baker cobbled together the 1991 Madrid Conference to launch the Arab-Israeli peace process.
The conference was mainly symbolic, but it set the stage for the Oslo Accords two years later.
In late 1989, Bush sent US troops to Panama to oust strongman Manuel Noriega. He also set the groundwork for the North American Free Trade Agreement.
Domestically, however, the economy stalled and Bush broke his pledge not to raise taxes in order to reach a budget deal with Democrats - a cardinal sin in the eyes of Republicans.
In 1992, Bush lost his re-election bid to Clinton - whose aide coined the now famous slogan "It's the economy, stupid" - as eccentric third-party candidate Ross Perot syphoned off conservative votes.
The elder Bush's cautious realpolitik would later be contrasted to his son's far more costly ambition to transform the Middle East, but "Bush 41" refused to weigh in on the debate, insisting he was proud of the presidency of "Bush 43."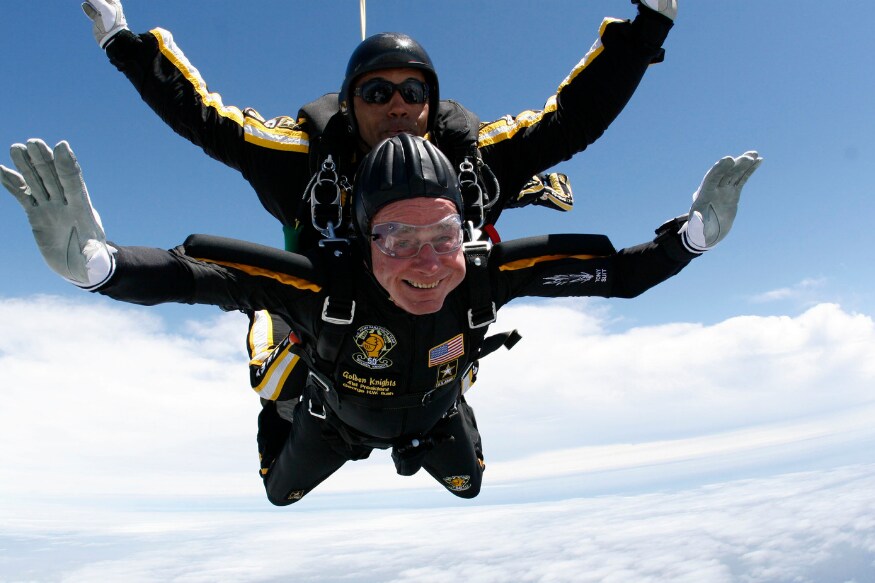 Former U.S. President George H.W. Bush (bottom) celebrates his 85th birthday by jumping with the Army's Golden Knight parachute team in a tandem jump with SFC Michael Elliott in Kennebunkport, Maine.
Active post-presidency
After retiring from public life, Bush fulfilled a wartime pledge to one day jump out of a plane for fun and famously went skydiving on his 75th, 80th, 85th and 90th birthdays.
He joined Clinton to raise funds for victims of the 2004 Asian tsunami and the 2010 Haiti earthquake. In 2011, Obama awarded Bush the highest US civilian honor, the Medal of Freedom.
He worked with Carter, Clinton, Obama and son George to raise money for hurricane victims in Texas in 2017. In 2001, Bush became just the second US president after John Adams to see his son become president.
Son Jeb made his own presidential run in 2016, but fell short in the Republican primaries against Trump.
Get the best of News18 delivered to your inbox - subscribe to News18 Daybreak. Follow News18.com on Twitter, Instagram, Facebook, TikTok and on YouTube, and stay in the know with what's happening in the world around you – in real time.
Subscribe to Moneycontrol Pro and gain access to curated markets data, trading recommendations, equity analysis, investment ideas, insights from market gurus and much more. Get Moneycontrol PRO for 1 year at price of 3 months. Use code FREEDOM.
Read full article