From Multimillionaire to Trump Backer, a Look at the Winners in US Senate Races
The US midterm poll results are so far turning out to be the most diverse midterm polls ever.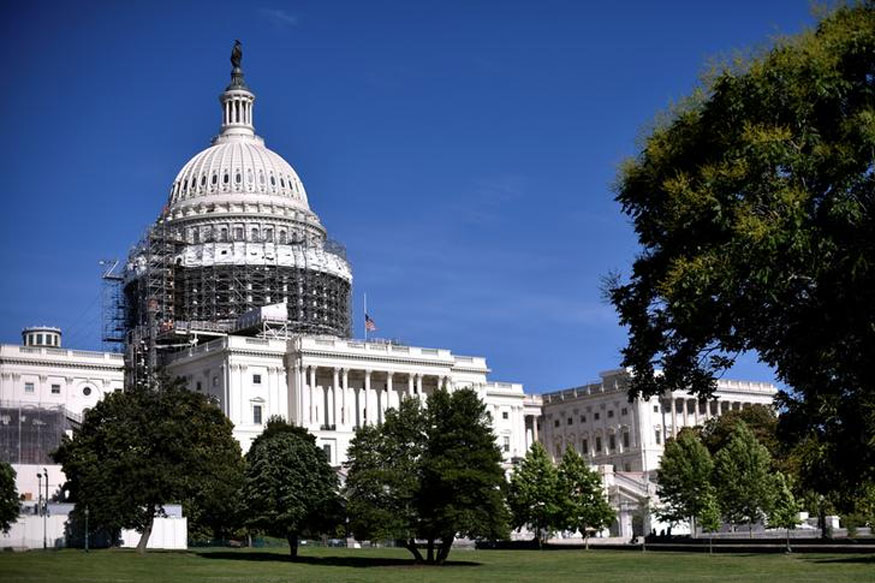 The US Capitol building.
Washington: The Senate is getting several new members as Republicans retain control. A look at some of the new senators, each a Republican from a state where President Donald Trump remains popular:
Mike Braun (Indiana Republican)
Indiana's next senator is a little-known Republican businessman previously elected to two sleepy terms in the state Legislature, where one of his most notable actions was a vote to increase taxes.
But what multimillionaire auto parts magnate Mike Braun may lack in name recognition, he more than made up for by lending more than $10 million of his own fortune to his campaign.
That enabled him to beat two sitting congressmen, Luke Messer and Todd Rokita, in a bitter GOP primary, and then topple Democratic Sen. Joe Donnelly in Tuesday's general election.
Donnelly was one of the most vulnerable Democrats up for re-election in a state Trump carried two years ago.
Worth somewhere between $37 million and $95 million, Braun came to politics after building a business empire that includes a trucking company and a national auto parts distribution business, Meyer Distributing. It has more than 800 employees and 70 locations across the US.
Braun is a graduate of Wabash College and Harvard Business School, where he earned an MBA in 1978. He married his wife, Maureen, in 1976. They have four children.
Before launching his political career as a Republican, Braun voted in Democratic primaries until shortly before he first ran for the statehouse in 2014. He previously served as a member of a local school board.
Kevin Cramer (North Dakota Republican)
Kevin Cramer's admirers call it reckless honesty — an unfiltered way of thinking and talking that can be refreshing while sometimes getting him in trouble.
It was on display late in his Senate campaign when he minimized Christine Blasey Ford's allegation of sexual assault by Supreme Court nominee Brett Kavanaugh by characterizing them as "teenagers who evidently were drunk." As with some other statements during his career, Cramer found himself explaining and defending the remark — but eventually riding out the damage.
The 57-year-old Cramer's free-speaking style comes with remarkable accessibility, too. He employs his wife, Kris, as his campaign manager but most often fields questions himself, routinely sharing his cell number with reporters and rarely turning down an interview.
The former chairman of the state Republican Party has done a little bit of everything in his long career: state tourism director, state economic development director, Public Service Commission member. On the powerful PSC, Cramer regulated everything from oil pipelines and utilities to auctioneers, and left no doubt about his strong pro-oil and pro-coal outlook.
Cramer ran three times for the US House before finally breaking through in 2012.
Marsha Blackburn (Tennessee Republican)
Tennessee is replacing Bob Corker, one of the Senate GOP's most outspoken critics of President Donald Trump — at least at times — with a close ally of the president in Marsha Blackburn.
Blackburn is a firm backer of Trump's US-Mexico border wall, has sung the praises of his tax cuts, and came out in support of Brett Kavanaugh's confirmation to the Supreme Court the day Trump nominated him.
Blackburn, who was first elected to the House in 2002, has aligned with the tea party movement and regularly appeared on Fox News. She opened her campaign by dubbing herself a "hardcore, card-carrying Tennessee conservative."
Before that, she made a name for herself as a state senator who helped lead the revolt against a failed Tennessee income tax proposal in the early 2000s. She also served as executive director of the state's Film, Entertainment, and Music Commission.
The 66-year-old from the Brentwood suburb of Nashville attended college on 4-H scholarship and worked her way through school selling books as the first woman ever hired by her company. She then worked for a regional department store chain as director of retail fashion and special events, and later founded a marketing company focused on retail.
​
Read full article