GET Stock

Quotes


Harvey Rampage Continues Ahead of Second Landfall, 10 Dead
According to the National Weather Service (NWS), up to three inches of rainfall was expected in eastern Harris, eastern Galveston and eastern Montgomery counties by Thursday morning.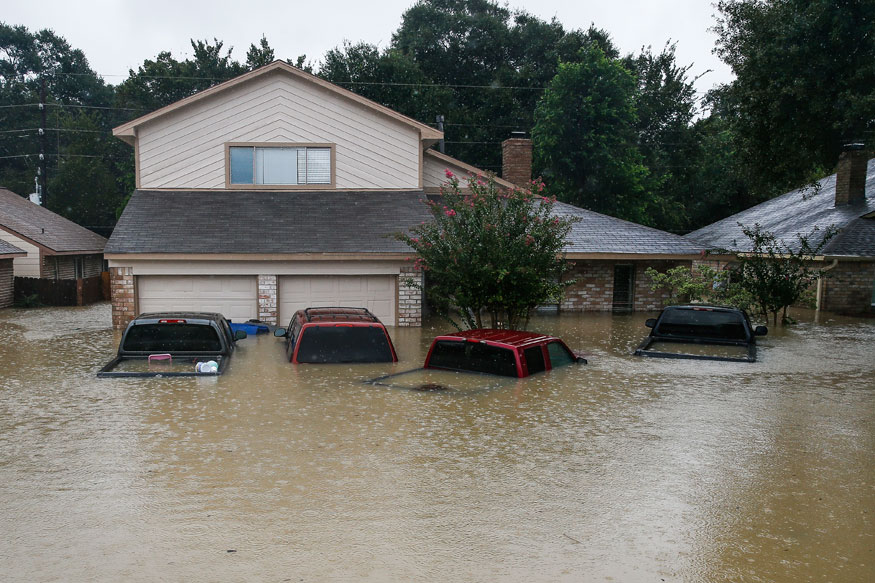 Trucks are submerged on Pine Cliff Drive as Addicks Reservoir nears capacity due to near constant rain from Tropical Storm Harvey Tuesday, Aug. 29, 2017 in Houston. ( Michael Ciaglo/Houston Chronicle via AP)
Houston:
Harvey, one of the most destructive storms in US history, battered Texas for the fourth day on Wednesday even as more heavy rains were expected to lash the region, lowering hopes of relief from the deluge that has submerged homes, turned neighbourhood streets into lakes and killed 10 people.
The first responders to the catastrophic flooding took to boats to rescue thousands of stranded residents. Authorities warned that more than 30,000 people across the region could be forced from their homes when the skies clear later this week.
Ten people have died in storm-related incidents, six of them drowned in a van, trying to escape the floods. The six - including four children - were unable to get out through the back door of the van as flood water resisted their efforts.
According to the National Weather Service (NWS), up to three inches of rainfall was expected in eastern Harris, eastern Galveston and eastern Montgomery counties by Thursday morning.
Harder hit in the coming days will be counties further east, including those along the Texas-Louisiana border, likely to be inundated with up to 15 more inches of rainfall. According to CNN Weather Centre, Harvey was gearing up for another landfall tomorrow morning near the Texas-Louisiana border.
Houston, the fourth-largest city in the US and the most populous in Texas, was still conducting emergency operations, with multiple road closures and no access to area hospitals for ambulances, after Hurricane Harvey, a Category 4 storm, made landfall on Friday night.
Harvey has since lost its intensity, leaving behind a trail of destruction that could take years to overcome. Desperate residents have taken to social media to plead for help, posting images of their families stranded at home. President Donald Trump and and First Lady Melania today visited Texas to show his support to the storm-ravaged people in the face of the "terrible tragedy".
Wearing a white USA baseball cap, Trump landed in Corpus Christi and received briefings with state leaders and local and federal officials.
"Nobody's ever seen anything likethis and I just want to say thatworking with the governor andhis entire team has been anhonour for us ... We don't want to congratulate. We'll congratulate each other when it's all finished, but you have been terrific," he said after the meetings.
Ahead of his travel, he said: "Right now every American heart sends its love and support to those whose lives have been upended." "We will get through this. We will come out stronger."
The president and the first lady will sidestep Houston, where flood waters were still rising. Instead, they will visit the Corpus Christi area, where Harvey made landfall, packing 130 mile-an-hour winds.
The US Department of Labour has approved a USD 10 million National Dislocated Worker Grant to help with cleanup and recovery efforts in Texas, the Houston Chronicle reported.
On Monday non-stop rains crippled Houston. Emergency teams aided by citizen-rescuers plunged into waist-deep water seeking the people stranded by the historic flooding.
Two Indian students were critical after they nearly drowned in Lake Bryan while they were reportedly swimming. The Consul General of India in Houston, Anupam Ray, tweeted a contact number (+18322311988) for Indians in distress in the aftermath of the hurricane.
More than 100,000 Indian-Americans living in and around Houston have also been badly hit by the monstrous hurricane. The community members have either voluntarily abandoned their homes or have been evacuated to safer places, after flood water dangerously entered their homes, in a few cases touching the roof.
Over 200 Indian students stranded in their homes had ran out of food. They were being helped by the Indian Consulate. As many as 13 million people from Houston to New Orleans were under flood watches and warnings. Many residents climbed to the upper stories of their homes. Some even pitched tents on roofs, waiting it out until a boat or helicopter swooped in.
"Harvey has in many ways turned southeast Texas into an inland lake...the size of Lake Michigan," said Brad Kieserman, vice president of disaster operations and logistics for the American Red Cross.
According to the NWS, another 24 inches of rain, the return of tropical storm force winds and high flood waters were expected.
It has issued flood watches and warnings from near San Antonio to New Orleans, an area which is home to more than 13 million people.
Houston Mayor Sylvester Turner said there were already 5,500 people in shelters and that number is expected to rise. Schools, airports and office buildings remained closed. Texas Governor Greg Abbott activated his state's entire National Guard, deploying 12,000 service members to respond to the devastation.
In addition, 16 aircraft are conducting day and night wide area search and rescue missions along the Texas coast from Corpus Christi to Houston.
Texas was in the early stages of turning back on power restoration of power is one of its biggest needs.
Two reservoirs wereopened to release waterto relieve the stress the downpour has caused in the region, which has seen as much rain in a few days as it averages in an entire year.
Officials said Houston, a major centre for the nation's energy industry, had suffered billions of dollars in damage and would take years to fully recover.
Oil and gas companies have shut down about a quarter of their production in the Gulf of Mexico. Spot prices for gasoline are expected to jump, but the full extent of damage will not be clear for days, companies and experts said.
Also Watch
Read full article