How Mongolia Meets the Challenge of Getting Nomads to Vote
Polling stations are set up to accommodate herders, who move with the changing seasons to find the best pastures for their goats, horses and yaks.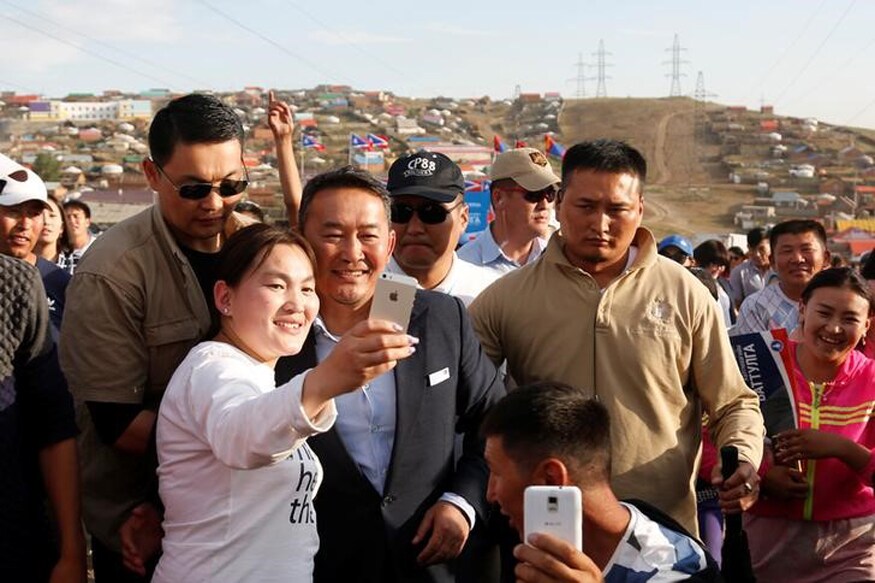 A woman takes a picture with presidential candidate Khaltmaa Battulga (C) of the Democratic Party after a rally in Mongolia. (Photo: Reuters)
Erdene Sum, Mongolia: At 6:55 am on Monday, a man in rural Mongolia stood outside a yurt and looked down at his watch.
Five minutes remained until presidential election polls opened in the country of just three million wedged between Russia and China. Clad in a bright green traditional "deel" gown, Sharkhuu Gerelt-Od was ready.
The 39-year-old public servant was the chief organiser of a mobile polling station in Erdene Sum, a small city situated in Mongolia's sprawling steppes, where nomadic herders parked their yurts - circular, collapsible tents - and let their livestock graze among the rolling hills.
The polling station was set up to accommodate these herders, who move with the changing seasons to find the best pastures for their goats, horses and yaks.
"We have to provide the conditions for the herders to vote," said Gerelt-Od. "We have to give them access – it's their constitutional right." Soon he was joined inside the yurt by other polling booth officials, all garbed in colourful traditional outfits.
At the centre of the tent was a tall stack of bread carrying curd sweets, cheese pieces and a thick cream. It is Mongolian tradition to offer guests with the best food that one has on hand. Among herding communities, that food is often dairy.
"The voters are our guests in this yurt," Gerelt-Od said with a smile. The first voters, a husband and wife herder pair whose yurt was stationed in the area, arrived wearing a suit and a printed dress.
Dressing Up
Voting is a special event in the young democracy, which started holding elections in 1990 after decades of Soviet control. The day of the presidential elections is a national holiday, and Mongolians dress up for the occasion.
Aside from Western-style business casual and traditional Mongolian attire, several voters also came clad in fedoras and tall leather boots.
Gerelt-Od and the other officials greeted many of the arrivals with a small bottle containing a mixture of herbs and tobacco powder, which the voters passed around and sniffed in turn - another traditional form of greeting.
This year's election campaign, however, was mired in corruption scandals plaguing all three candidates: Mieygombo Enkhbold of the parliament-ruling Mongolian People's Party, Khaltmaa Battulga of the outgoing president's opposition Democratic Party and Sainkhuu Ganbaatar of the Mongolian People's Revolutionary Party.
Searching Greener Pastures
Although the national statistics office estimates that herders make up about a third of Mongolia's population, their nomadic way of life is increasingly threated by "dzuds" - summer droughts followed by severe winters.
The growing frequency of the extreme weather phenomenon, which causes livestock to freeze to death, is attributed to climate change.
Gerelt-Od's full-time job for the Erdene Sum government involves monitoring the environmental impact of local businesses.
"I wanted to protect my country's natural environment," he said, "and to preserve the land as it was". Environmental issues were foremost on voters' minds at the yurt polling station.
Vanganjal Tsendmaa drove 13 kilometres from her yurt to vote for Enkhbold. "This year has been very dry," said Tsendmaa, 60.
"The government can help herders by making sure there are enough wells, especially in remote areas. The most important thing for raising animals is water."
Sundui Nemekhtuya, 58, said the next president should prioritise "issues concerning pasture land." "If you respect the environment, nature will revive itself," she said.
After the voters filled out their ballots and placed them into a machine, they sat under a canopy and ate snacks with the election officials, who poured them salty Mongolian milk tea.
By 10 am, more than 50 people had passed through the station - about 12 percent of the 443 who were registered for that location. More voters were expected to arrive at noon, after most herders had finished tending to their animals.
When the polls close later that night, the voting machine will be transported to the city centre for ballot counting.
Until then, Gerelt-Od will tip his fedora at voters, sip his milk tea, and wait.
| Edited by: Aakarshuk Sarna
Read full article
Countdown To
Elections Results
To Assembly Elections 2018 Results