'I Was Almost Killed': How Sri Lanka's Political Crisis Became Arjuna Ranatunga's Worst Nightmare
Arjuna Ranatunga was stopped at the main gate by some union leaders loyal to Rajapaksa, who demanded that he should go back as he is no longer their minister.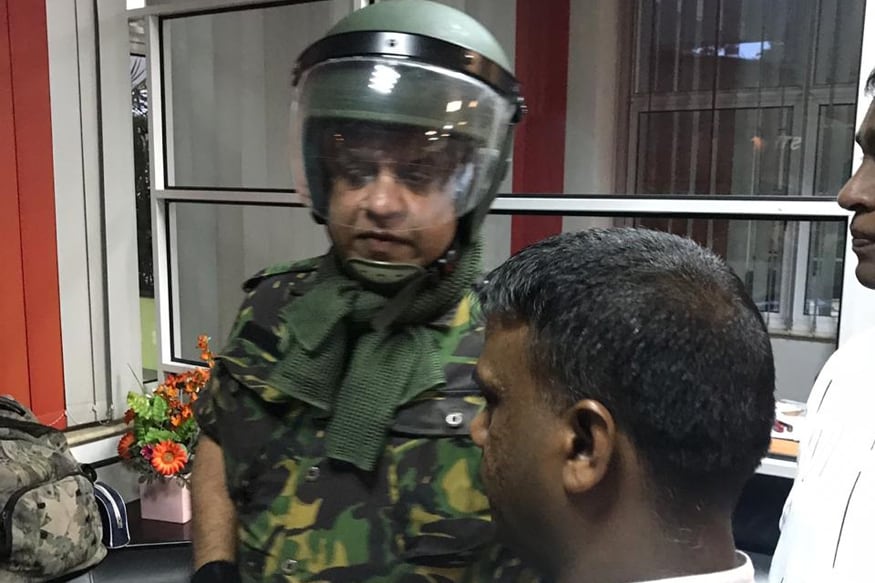 The panicked bodyguards of Arjuna Ranatunga fired at the attackers to save the minister (News18)
Bengaluru: He has fought several battles on field and emerged victorious. But this one was different. Arjuna Ranatunga, Sri Lanka's Petroleum minister and the 1996 World Cup winning captain, had a narrow escape from death and survived to share his story on Sunday.
When President Maithripala Sirisena staged a "coup", dismissing Prime Minister Ranil Wickremesinghe and appointing former President Mahinda Rajapaksa as the new Prime Minister on Friday, Ranatunga was in London.
A shocked former skipper and a senior minister flew back to Sri Lanka on Saturday morning.
On Sunday afternoon, he went to his office at the Ceylon Petroleum Corporation (CPC) building in Dematagoda, in eastern part of Colombo. He was accompanied by some of his close aides and security detail.
Ranatunga was stopped at the main gate by some union leaders loyal to Rajapaksa, who demanded that he should go back as he is no longer their minister.
Terming the dismissal of the government illegal and maintaining that he is still Petroleum minister of Sri Lanka, Arjuna entered the office.
A few minutes later, hundreds of people had gathered outside the tall building of the CPC and the union members loyal to Rajapaksa laid a siege to the ministry. During the stand-off, a union leader entered Arjuna's office on the fourth floor with a few supporters and tried to shoot at him, claims one of his aides.
The panicked bodyguards of Ranatunga fired at them to save the minister. The union leader, with the gun in hand, died and two others injured severely. Later his bodyguards closed the entrance to the office and fired a few more rounds to scare the mob.
The Special Security Force and Sri Lankan police commandos rushed to CPC building to rescue Ranatunga and his aides from the mob carrying lethal weapon.
"I was with Arjuna. It was horrible. We almost got killed. They tried to kill Ranatunga and me. Left with no other option, his bodyguards opened fire on the goons, killing one," one of his close aides said while speaking to News18.
According to him, they were held hostage for almost six hours and the alleged goons of Rajapaksa had surrounded the building threatening to kill Arjuna Ranatunga and his staff. Finally he was led out of the building in riot police uniform and wearing a bulletproof vest and helmet.
After his dramatic rescue, Arjuna rushed to Prime Minister Ranil Wickremesinghe's official residence "Temple Trees" and held a long meeting with him about their future strategy.
Speaking to News18 over phone from Colombo, Arjuna Ranatunga described the situation as grave and urged Sirisena to restore Wickremesinghe government.
"I am alive today only because of god's grace and bravery of my bodyguards. They wanted to kill me. They almost got me. Where is the rule of law or democracy in our country? My life is under threat. The people of Sri Lanka won't tolerate this anymore," Ranatunga said.
According to his friends, he has been advised to stay at home for the next few days.
Arjuna Ranatunga, a vocal critic of Rajapaksa, had played an important role in defeating him in the 2015 Presidential election. Before that he had quit as Rajapaksa's Tourism minister and had campaigned against his authoritarian rule.
Later, he joined Sirisena-Wickremesinghe government as Ports and Shipping minister with additional charge of Civil Aviation. One and a half year ago, he was shifted to Petroleum ministry.
He has been a Member of the Parliament for the past 18 years. Two of his brothers Prasanna Ranatunga and Ruwan Ranatunga are also MPs.
Prasanna is a close confidante of Rajapaksa and was the chief minister of most important Western Province during his regime. He is expected to get an important portfolio in Rajapaksa Cabinet.
| Edited by: Sumedha Kirti
Read full article
Countdown To
Elections Results
To Assembly Elections 2018 Results