Indonesia Quake-Tsunami Death Toll Rises to 1,234; Desperate Survivors Held for Looting Ration Shops
Rescue efforts have been hampered by a lack of heavy machinery, severed transport links, the scale of the damage, and the Indonesian government's reluctance to accept foreign help.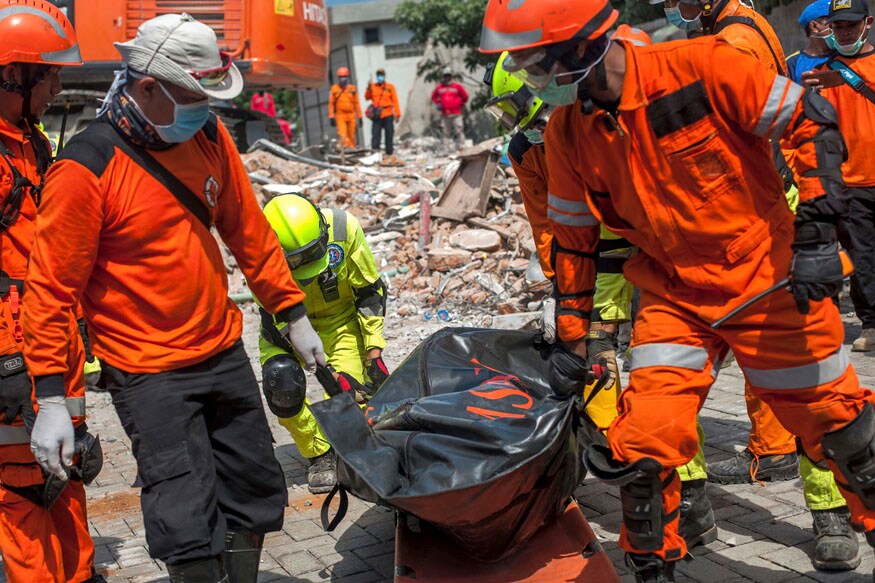 Rescuers recover the body of an earthquake victim from the ruins of the collapsed Roa Roa Hotel in Palu, Indonesia on Oct. 2, 2018. ( Representative Image: AP Photo)
Palu (Indonesia): Indonesian disaster agency spokesman Sutopo Purwo Nugroho says death toll from Friday's earthquake and tsunami is now at 1,234.
The bodies of dozens of students have been pulled from their landslide-swamped church in Sulawesi as an international effort to help nearly 200,000 increasingly desperate Indonesian quake-tsunami victims ground into gear.
The discovery adds to the already-high death toll from Friday's disaster, when a powerful earthquake triggered a tsunami that smashed into the seaside city of Palu.
Survivors are battling thirst and hunger, with food and clean water in short supply, and local hospitals are overwhelmed by the number of injured. Some survivors clambered through detritus hunting for anything salvageable, some crowded around daisy-chained power strips at the few buildings that still have power, others queued for water, cash or petrol being brought in via armed police convoy.
"The government, the President have come here, but what we really need is food and water," Burhanuddin Aid Masse, 48, told AFP.
Police have arrested dozens of people for looting on the island of Sulawesi, where survivors have raided shops for water, food and other goods. "On the first and second day clearly no shops were open. People were hungry. There were people in dire need. That's not a problem," said deputy national police chief Ari Dono Sukmanto.
"But after day two, the food supply started to come in, it only needed to be distributed."
However, Sukmanto said that people grabbing food would still be tolerated.
Police in Palu have largely stood by, unable or unwilling to stop the looting.
AFP reporters on the ground have witnessed locals also looting clothes shops.
"If they take laptops, if they take money etc, we are going to act," Sukmanto said. "We have detained 35 people."
"There are ATMs. They are open," he added. "If people steal, we catch and investigate."
Rescue efforts have been hampered by a lack of heavy machinery, severed transport links, the scale of the damage, and the Indonesian government's reluctance to accept foreign help.
As if to remind the world of the tectonic fragility of Indonesia, a series of quakes rocked the country Tuesday morning, albeit hundreds of kilometres from Palu.
The Indonesian military is leading the rescue effort, but following a reluctant acceptance of help by President Joko Widodo, international NGOs also have teams on the ground in Palu.
At a church in central Sulawesi that had been hit by a landslide, the Red Cross made a grim discovery.
"A total of 34 bodies were found by the team," Indonesia Red Cross spokeswoman Aulia Arriani told AFP, adding that 86 students had initially been reported missing from a Bible camp at the Jonooge Church Training Centre.
Arriani said rescuers faced an arduous trek to reach the mudslide and retrieve the victims.
"The most challenging problem is travelling in the mud as much as 1.5 hours by foot while carrying the bodies to an ambulance," she said.
Mountainous Sigi Biromaru district is one of those more remote regions, lying to the southeast of Palu city.
Indonesia is the world's most populous Muslim-majority nation but there are small pockets of religious minorities, including Christians, across the archipelago of 260 million people.
Get the best of News18 delivered to your inbox - subscribe to News18 Daybreak. Follow News18.com on Twitter, Instagram, Facebook, Telegram, TikTok and on YouTube, and stay in the know with what's happening in the world around you – in real time.
Read full article