ISI Angry as ex-CIA Contractor's Book Exposes 'Blood Money' Deal
Davis made headlines this week when his book exposed the alleged role of Pakistan's former spy chief Shuja Pasha in quashing a murder trial against the CIA contractor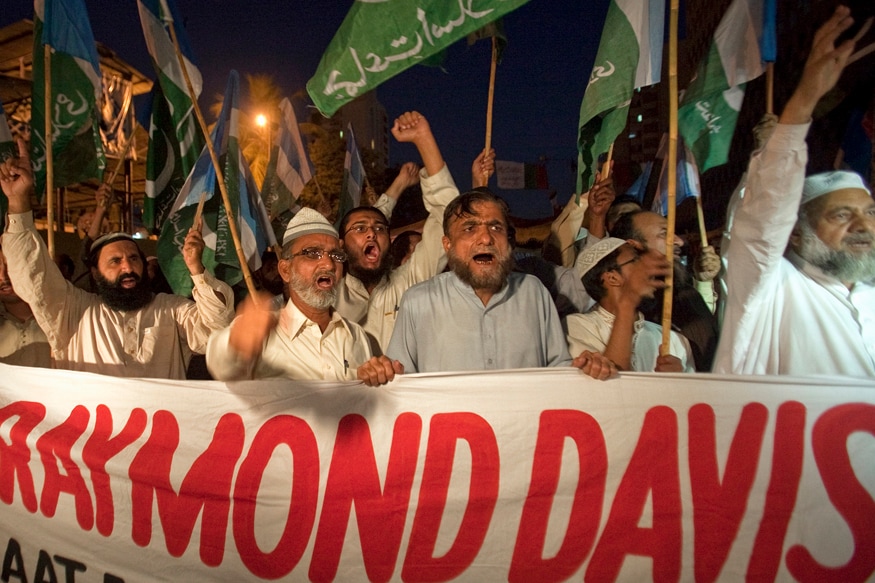 File photo of Pakistan's Jamaat-e-Islami taking part in a protest against the release of CIA contractor Raymond Davis in Karachi. (Reuters)
Islamabad: Pakistan intelligence and security officials reacted angrily on Monday to the release of a memoir by ex-CIA contractor, Raymond Davis, saying his 2011 acquittal in a high-profile murder case and subsequent return to the US was an arrangement between Pakistan and the US, not among individuals.
Davis made headlines this week when his book exposed the alleged role of Pakistan's former spy chief Shuja Pasha in quashing a murder trial against the CIA contractor by paying $2.4 million to the families of two men Davis killed while working for the CIA in Pakistan in 2011.
The incident triggered a diplomatic crisis when police arrested Davis for the killings. But, seven weeks later, the families of the slain men told a court that they pardoned Davis, ending a tense showdown between the US and Pakistan, America's ally in the war on extremism.
Monday's reaction came after Davis released "The Contractor: How I Landed in a Pakistani Prison and Ignited a Diplomatic Crisis." In the book, Davis says he considered the two Pakistanis a threat when they rode their motorcycle near his car and one of them had a gun in his hand.
"I had never killed anyone before," he writes. "Thankfully, all ten rounds I fired found their intended targets."
A Pakistani intelligence official acknowledged the country's spy agency helped the CIA to remove Davis from Pakistan, but said that no such help would be given the CIA in the future. The intelligence official spoke on the condition of anonymity in accordance with agency policy.
"(Davis') release was an arrangement between two states and not two individuals. It was based on goodwill between two agencies or two states and it helped the CIA get their man out through legal means, but in a confidential arrangement," said the official.
A security official familiar with the interrogation of Davis after his arrest confirmed that Pakistan helped to facilitate Davis' release. He said he was also angry over the publication of the "scandalous memoir." He, too, spoke on condition of anonymity as he was not authorized to speak to the media on the record.
"If the objective was to turn Pakistani and (its spy agency's) favour into a vilification campaign, then Raymond Davis and his sponsors achieved it for a short period. But Pakistan and its intelligence agencies will not be obliged to repeat such favours in future," the intelligence official told The Associated Press.
Get the best of News18 delivered to your inbox - subscribe to News18 Daybreak. Follow News18.com on Twitter, Instagram, Facebook, TikTok and on YouTube, and stay in the know with what's happening in the world around you – in real time.
| Edited by: Aditya Nair
Read full article