GET Stock

Quotes

Rajasthan
Poll in 1 seat deferred
Jaish-e-Mohammed, the terror group behind the attack on Pathankot IAF base
JeM terrorists were also responsible for the December 13, 2001 attack on Indian Parliament in New Delhi which almost led to a war with Pakistan.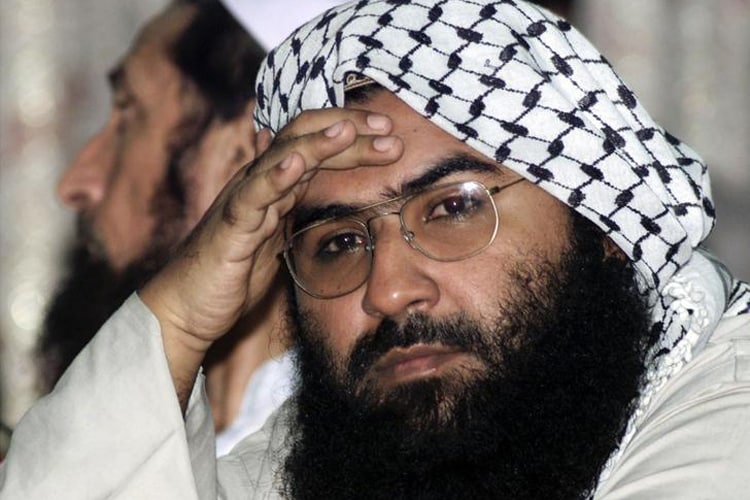 JeM terrorists were also responsible for the December 13, 2001 attack on Indian Parliament in New Delhi which almost led to a war with Pakistan.
Once again a Pakistani terror group has tried to create mayhem in India by launching an attack. A group of heavily armed Jaish-e-Mohammed (JeM) terrorists are behind the surprise attack on the Indian Air Force base in Pathankot, which is the first line of air defence against a Pakistani attack and where MiG 21 Bison fighters are stationed.
JeM terrorists were also responsible for the December 13, 2001 attack on Indian Parliament in New Delhi which almost led to a war with Pakistan. The Pakistan-funded terror outfit has launched several attacks in India and is also designated as a foreign terrorist organistation by the United States of America.
According to the reputed South Asia Terrorism Portal (SATP), which maintain an exhaustive list of terror groups active in the Indian subcontinent, JeM was formed by Pakistan which also controls it and provides armed recruits to the outfit. Pakistani intelligence agency The Directorate for Inter-Services Intelligence (ISI) has used the JeM to target India on several occasions.
JeM was launched on January 31, 2000, by Maulana Masood Azhar in Karachi after he was released from an Indian jail during the terrorists for hostage swap of December 31, 1999, following the hijacking of the Indian Airlines Flight IC 814.
JeM's formation was endorsed by three religious school chiefs, Mufti Nizamuddin Shamzai of the Majlis-e-Tawan-e-Islami (MT), Maulana Mufti Rashid Ahmed of the Dar-ul Ifta-e-wal-Irshad and Maulana Sher Ali of the Sheikh-ul-Hadith Dar-ul Haqqania, claims SATP.
Maulana Masood Azhar was the general secretary of another terror group Harkat-ul-Ansar (HuA) in 1994 and was on a 'mission' in Jammu and Kashmir when he was arrested on February 11 in the same year. When he was released, the HuA had been included in the US list of Foreign Terrorist Organisations which had compelled the outfit to rename itself as the Harkat-ul-Mujahideen (HuM).
However, Masood Azhar decided to float the new outfit JeM rather than rejoin his old outfit. He was also reported to have received assistance in setting up the JeM from Pakistan's Inter-Services Intelligence (ISI), the then Taliban regime in Afghanistan, Osama bin Laden and several Sunni sectarian outfits of Pakistan.
JeM, like other terrorist outfits in J&K, claims to using violence to force a withdrawal of Indian security forces from the state. The outfit claims that each of its offices in Pakistan would serve as schools of jihad. In its fight against India, he boasted that the outfit would not only "liberate" Kashmir, but also would take control of the Babri Masjid in Ayodhya, Amritsar and Delhi.
Masood Azhar, the amir (chief) of the outfit was arrested by Pakistani security forces on December 29, 2001, after pressure from India and other foreign countries following the December 13, 2001 attack on India's Parliament. However, a three-member Review Board of Lahore High Court ordered on December 14, 2002, that Azhar be released.
Maulana Masood Azhar – Amir
Maulana Qari Mansoor Ahmed – Nazim Propaganda Wing (he is a resident of Bhurewala, Punjab)
Maulana Abdul Jabbar – Nazim, Military Affairs (Former Nazim military affairs, (HuM)
Maulana Sajjad Usman – incharge, Finance (Former HuM Nazim Finance)
Shah Nawaz Khan alias Sajjid Jehadi & Gazi Baba – Chief Commander J&K (Former Supreme Commander HuM, J&K)
Maulana Mufti Mohd. Asghar – Launching Commander (Former Launching Commander of HuM)
JeM usually launches fidayeen (suicide terrorist) attacks. Its cadres are heavily armed, carry ration for a few days, are highly trained and instructed to inflict maximum casualty. The terrorists pick a high security target, including security forces' bases, camps and convoys, and launch the attack. After storming, they either fortify themselves within the target, killing as many security force personnel and civilians as possible before they are killed by retaliatory action.
Although JeM is largely confined to J&K but it launched an audacious attack in New Delhi on December 13, 2001 when its terrorists tried to storm Indian Parliament.
The outfit is closely linked, through the Binoria Madrasa in Karachi, with the former Taliban regime of Afghanistan and its portege Osama bin Laden and his al-Qaeda. Masood Azhar was released by India in Kandahar and has reportedly met Taliban and al-Qaeda leaders in Afghanistan on various occasions.
The JeM is also reported to have links with Sunni terrorist outfits operating in Pakistan such as the Sipah-e-Sahaba Pakistan (SSP) and Lashkar-e-Jhangvi (LeJ).
(Get detailed and live results of each and every seat of the state Assemblies in Madhya Pradesh, Rajasthan, Telangana, Chhattisgarh and Mizoram to know which candidate/party is leading or trailing and to know who has won and who has lost and by what margin. Our one-of-its-kind Election Analytics Centre lets you put on the psephologist's hat. Know interesting facts and trivia about the elections. Elections = News18)
Read full article
Countdown To
Elections Results
To Assembly Elections 2018 Results