Japan Foreign Minister to Voice North Korea Concerns in Rare Seoul Visit
Foreign minister Taro Kono will meet with his South Korean counterpart Kang Kyung-wha in the morning.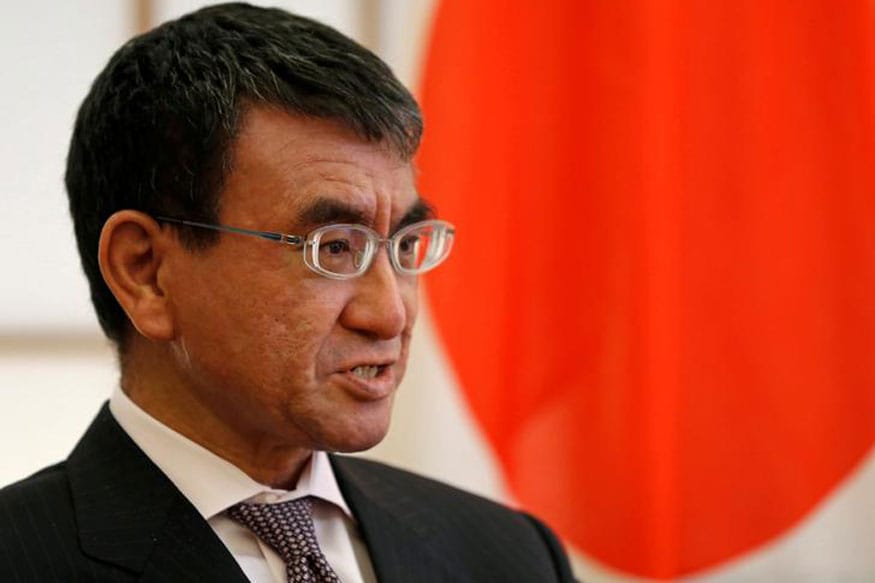 File Photo of Japanese Foreign Minister Taro Kono. (Image: Reuters)
Seoul: Japan's foreign minister was in South Korea for a rare visit on Wednesday, armed with a list of issues Tokyo wants to push onto the agenda of a looming summit between North and South Korea.
The first such visit in more than two years comes at a time of frenetic diplomatic activity in Northeast Asia, ahead of the North's planned summits with South Korean President Moon Jae-in and US President Donald Trump.
North Korea's young leader Kim Jong Un met Chinese President Xi Jinping in his first overseas trip last month.
Japan has largely remained on the sidelines, with suggestions last month of a third summit between Kim and Japanese Prime Minister Shinzo Abe quickly petering out.
Instead, Tokyo has found itself forced to rely on the US and South Korea to tackle its concerns regarding the North, which last year test-fired several missiles that flew over Japan, sparking security concerns.
Tokyo's top government spokesman Yoshihide Suga said "it is extremely important that Japan, the US and South Korea share information and coordinate closely" ahead of the two summits.
Foreign minister Taro Kono will meet with his South Korean counterpart Kang Kyung-wha in the morning.
As well as Pyongyang's "nuclear and missile issues", Kono has said he will try to ensure that "the abduction issue will be talked about in the North-South summit".
He was referring to Japanese citizens abducted by the North's agents in the 1970s and 80s in a bid to train spies in Japanese language and customs before overseas missions.
The North regularly excoriates Japan over its brutal 1910-45 colonial rule of the Korean peninsula.
But ties between the South and Japan have also remained sour for years due to controversy over historical issues left unresolved -- including Korean women forced into sexual slavery for Japanese troops during World War II.
Seoul has urged Tokyo to take legal and moral responsibility, while Japan says that the issue was resolved when the two nations reached a controversial deal in 2015 to offer compensations to the victims.
Suga said Japan's foreign minister would seek to boost a "forward-looking" bilateral relationship despite the row.
Kim is set to meet Moon on April 27 for a third-ever summit between the two neighbours, and is expected to talk with Trump in May or early June.
Get the best of News18 delivered to your inbox - subscribe to News18 Daybreak. Follow News18.com on Twitter, Instagram, Facebook, Telegram, TikTok and on YouTube, and stay in the know with what's happening in the world around you – in real time.
| Edited by: Ahona Sengupta
Read full article