Kenyan Election Official Flees Country Ahead of Presidential Poll
The opposition is likely to say the resignation of Roselyn Akombe, one of seven election board commissioners, is further evidence that the repeat election is illegitimate.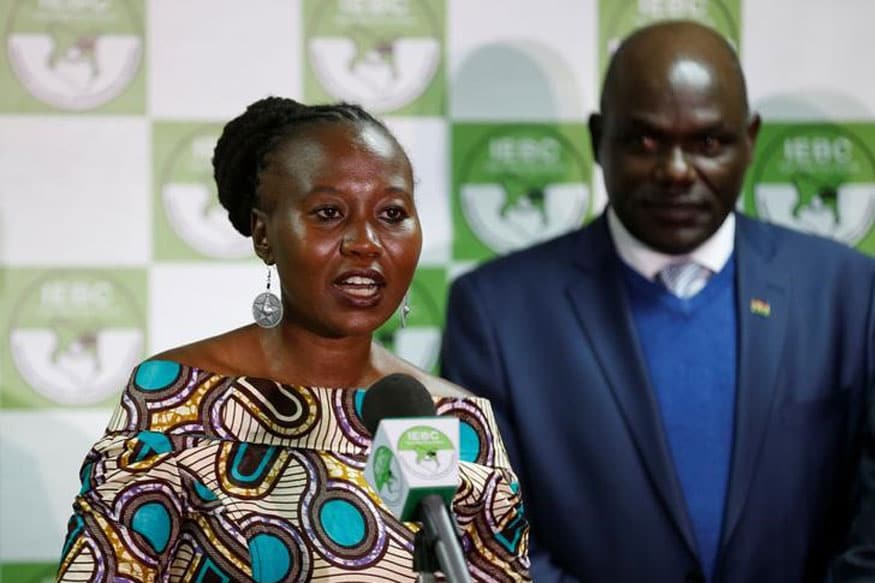 Kenyan Independent Electoral and Boundaries Commission (IEBC) commissioner Roselyn Akombe flanked by chairman Wafula Chebukati, addresses a news conference. Image: Reuters
Nairobi: A top Kenyan election commissioner has quit and fled the country ahead of an October 26 presidential election saying the vote would not be credible but incumbent Uhuru Kenyatta restated his commitment to the poll.
The opposition is likely to say the resignation of Roselyn Akombe, one of seven election board commissioners, is further evidence that the repeat election is illegitimate.
The Supreme Court last month nullified the Aug. 8 vote on procedural grounds following a petition by opposition leader Raila Odinga against Kenyatta's victory.
Odinga withdrew from the repeat poll last week, saying the election board had not carried out reforms including the firing of key officials he blames for the mistakes of Aug. 8.
The resignation heightens uncertainty over a vote that some independent observers say Kenyatta looks set to win.
Political uncertainty has blunted Kenya's economy. The central bank sold dollars on Wednesday in the foreign exchange market after the shilling currency weakened on news of Akombe's resignation.
Kenya is East Africa's richest country and a hub for diplomacy and security in a region that faces conflict in Somalia and South Sudan.
At least 37 people have died in violence since the August vote, including four killed in confrontations between police and protesters in the past week. Youths have also broken up meetings by election officials in the opposition stronghold of western Kenya this week.
The election board said it has conducted some reforms and the vote will go ahead with seven candidates including Odinga on the ballot.
"We walk towards the declared date of the 26th of October both as a God-fearing leadership and government," Kenyatta said in a televised speech on Wednesday.
Akombe said the election would not be credible and warned Kenyans to remember violence that followed a disputed 2007 poll when more than 1,200 people were killed. She told BBC radio she fled to New York after receiving numerous threats that she said came from both sides.
"The commission has become a party to the current crisis. The commission is under siege," she said in a statement dated Tuesday. She said commissioners were serving partisan interests and legal advice was being skewed for political reasons.
A week before the August poll, the election commission's head of IT was found tortured and murdered in Nairobi, raising fears of a possible hack of the commission's computer systems.
ROLL THE DICE
Kenyan law requires that the new election be held within 60 days of the nullification of the original vote but Odinga says his withdrawal should trigger a new election cycle 90 days from his announcement.
The ruling party has used its parliamentary majority to pass electoral amendments saying the remaining candidate wins if the other candidate pulls out. They also curtail the grounds on which the Supreme Court can nullify an election.
Odinga has called daily demonstrations to protest against the election body and draft law, which the president is yet to sign. The protests have mostly been small and police have used tear gas to quash them.
This week, police raided homes belonging to wealthy opposition financier Jimi Wanjigi and said they found a cache of weapons. Wanjigi said in an emotional interview the firearms were licensed and he was being persecuted.
On Tuesday, Deputy President William Ruto said Odinga pulled out of the race to avoid a "humiliating defeat".
Some independent observers say the opposition, which has been issuing urgent appeals for donations, was likely to lose if it competes next week.
"There is probably a NASA judgment that if they go back to a poll, they are going to lose," said one senior Western diplomat, referring to Odinga's National Super Alliance. "So there's a NASA judgment to roll the dice ... reset the situation."
Efforts by diplomats, religious leaders and civil society leaders have so far failed to bridge the divide.
| Edited by: Ashish Yechury
Read full article