Key US Senators Criticize Donald Trump for Mocking Accuser of Court Pick Brett Kavanaugh
At a political rally in Mississippi on Tuesday night, Trump mocked Ford's testimony about the alleged assault in Maryland in 1982 when she was 15 and Kavanaugh was 17.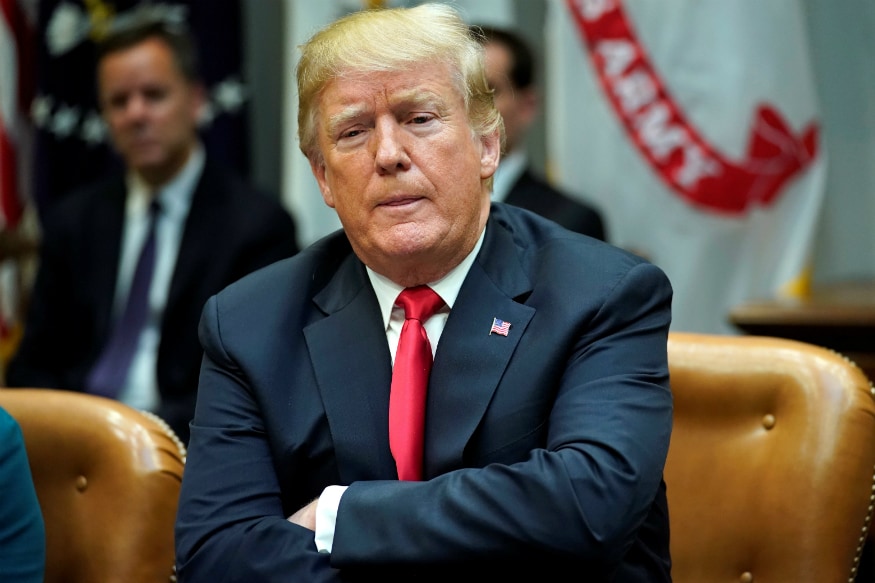 File photo of US President Donald Trump.
Washington: Two moderate Republicans who could be pivotal in determining whether the Senate confirms U.S. Supreme Court nominee Brett Kavanaugh criticized President Donald Trump on Wednesday for mocking a woman who has accused the judge of sexual assault.
Senators Jeff Flake and Susan Collins were among the lawmakers who took issue with comments Trump made regarding Christine Blasey Ford, a university professor from California who detailed her sexual assault allegation against Kavanaugh at an extraordinary Senate Judiciary Committee hearing last week.
At a political rally in Mississippi on Tuesday night, Trump mocked Ford's testimony about the alleged assault in Maryland in 1982 when she was 15 and Kavanaugh was 17.
Ford testified that she could not remember the precise date or location of the alleged assault or how she got home afterward, but offered a detailed account of the incident in which she said a drunken Kavanaugh pinned her down, tried to remove her clothing and covered her mouth when she screamed.
"What neighborhood was it in? I don't know. Where's the house? I don't know. Upstairs, downstairs, where was it? I don't know. But I had one beer. That's the only thing I remember," Trump, who was himself accused during the 2016 presidential race of sexual misconduct with numerous women, said in his imitation of Ford's testimony.
"And a man's life is in tatters," Trump added.
Appearing on NBC's "Today" show, Flake said that "there's no time and no place for remarks like that, that discuss something this sensitive at a political rally."
"It's just not right. I wish he hadn't ... done it. I just say it's kind of appalling," Flake said.
Speaking briefly to reporters, Collins said, "The president's comments were just plain wrong." She did not respond when asked if his comments would affect her vote on Kavanaugh's confirmation.
Trump's fellow Republicans control the Senate by a 51-49 margin. That means if all the Democrats vote against Kavanaugh, Trump could not afford to have more than one Republican oppose his nominee, with Vice President Mike Pence casting a tie-breaking vote. So far, no Republicans have said they would vote against Kavanaugh.
Senator Dianne Feinstein, the committee's top Democrat, called Trump's comments "cruel," adding, "He sent a clear message to victims of sexual assault that they should not be believed.
A day after the hearing, Trump had called Ford "a very credible witness" who provided "very compelling" testimony.
Flake was instrumental in getting Trump last Friday to initiate an FBI investigation into the allegations against Kavanaugh, a conservative federal appeals court judge nominated by the president for a lifetime job on the top U.S. court. Kavanaugh has denied Ford's accusation as well as allegations by two other women, all dating from the 1980s.
Trump limited the investigation to no more than a week.
Opposition among Americans to Kavanaugh has increased in the wake of last week's hearing, Reuters/Ipsos polling data showed on Wednesday.
In the latest seven-day average in a survey of 4,057 U.S. adults, 41 percent of respondents opposed Kavanaugh, 33 percent supported him and 26 percent said they did not know. Opposition to Kavanaugh grew 4 percentage points after the hearing, apparently driven by people who previously were undecided.
'VICIOUS AND DESPICABLE'
In a Twitter post on Wednesday, Trump did not back away from his comments at the rally, instead attacking Kavanaugh's Democratic critics. Trump said when he goes to political rallies, which are organized by Republicans, he sees that voters are angry at the "vicious and despicable" way Democrats are treating his nominee.
White House adviser Kellyanne Conway told Fox News that "the president is pointing out factual inconsistencies. By Ford's own testimony, there are gaps in her memory."
Senate Majority Leader Mitch McConnell has said the Senate will vote on Kavanaugh's confirmation this week after each senator is given a report on the ongoing FBI investigation.
Republican Senator John Kennedy said the FBI report should be made public.
The Kavanaugh confirmation battle comes against the backdrop of the #MeToo movement fighting sexual harassment and assault that has toppled a succession of powerful men. Voters will cast ballots in Nov. 6 elections in which Democrats are trying to seize control of Congress from Trump's party.
Speaking on the Senate floor, McConnell again took aim at Kavanaugh opponents.
"We will not be intimidated by these people," McConnell said. "This is all part of the organized effort to delay, obstruct and intimidate, including those of us who will be voting this week."
Several people with information related to the allegations against Kavanaugh have said they have tried in vain to speak with the FBI. Ford's lawyers said on Tuesday she offered her full cooperation with the FBI but received no reply.
Get the best of News18 delivered to your inbox - subscribe to News18 Daybreak. Follow News18.com on Twitter, Instagram, Facebook, TikTok and on YouTube, and stay in the know with what's happening in the world around you – in real time.
Subscribe to Moneycontrol Pro and gain access to curated markets data, trading recommendations, equity analysis, investment ideas, insights from market gurus and much more. Get Moneycontrol PRO for 1 year at price of 3 months. Use code FREEDOM.
Read full article