London Fire: 12 Dead, 74 Injured in Tower Blaze, Toll Likely to Rise
One woman dropped her baby from the ninth or tenth floor. A man ran forward and managed to grab the baby safely.
Smoke billows as firefighters deal with a fire in a tower block at Latimer Road in West London, Britain. (REUTERS/Toby Melville)
London: A fast-moving fire engulfed a 24-storey apartment tower in London on Wednesday, killing at least 12 people and injuring 74 others, police said. Desperately trying to avoid the flames, residents threw one baby and other small children from high windows to people down on the sidewalk, witnesses said.
The inferno lit up the night sky and spewed black smoke from the windows of the Grenfell Tower in North Kensington, where more than 200 firefighters battled the blaze. The smoke stretched for kilometers across the sky after dawn, revealing the blackened, flame-licked wreckage of the building, which was still burning over 12 hours later.
People trapped by the advancing flames and thick smoke banged on windows and screamed for help, witnesses and survivors said. One resident said the fire alarm did not go off — bolstering the arguments of a community group, which only months ago had warned of a potential catastrophe at the subsidized housing block.
"The flames — I have never seen anything like it, it just reminded me of 9/11," said Muna Ali, 45. "The fire started on the upper floors ... oh my goodness, it spread so quickly. It had completely spread within half an hour."
ALSO READ | London Mayor: Questions Need to be Answered After Deadly Tower Block Fire
"This is an unprecedented incident," Fire Commissioner Dany Cotton told reporters. "In my 29 years of being a firefighter, I have never, ever seen anything of this scale."
She said she feared more victims would be found still inside the tower, where up to 600 people lived in 120 apartments. The London Fire Brigade said it rescued 65 people.
By 5 pm London time, it was still not clear how many people were able to escape the fire and how many others were still missing. Firefighters carried out systematic searches throughout the charred wreckage and officials urged tower residents to call a hotline to help them get a handle on the number of missing.
There was no immediate word on the cause of the blaze, but angry residents said they had warned local authorities about fire issues at Grenfell Tower. The housing block, built in 1974, was recently upgraded at a cost of 8.6 million pounds (approximately Rs 70 crore), with work finishing in May 2016, according to the Royal Borough of Kensington and Chelsea.
Samira Lamrani, a witness, said one woman dropped a baby from a window on the ninth or 10th floor to people on the sidewalk.
"People were starting to appear at the windows, frantically banging and screaming" and one woman indicated she was going to drop the baby, Lamrani told Britain's Press Association news agency. "A gentleman ran forward and managed to grab the baby."
Joe Walsh, 58, said he saw someone throw two children out of a window from the fifth or sixth floor. Tiago Etienne, 17, said he spotted about three children between the ages of four and eight being dropped from an apartment around the 15th floor.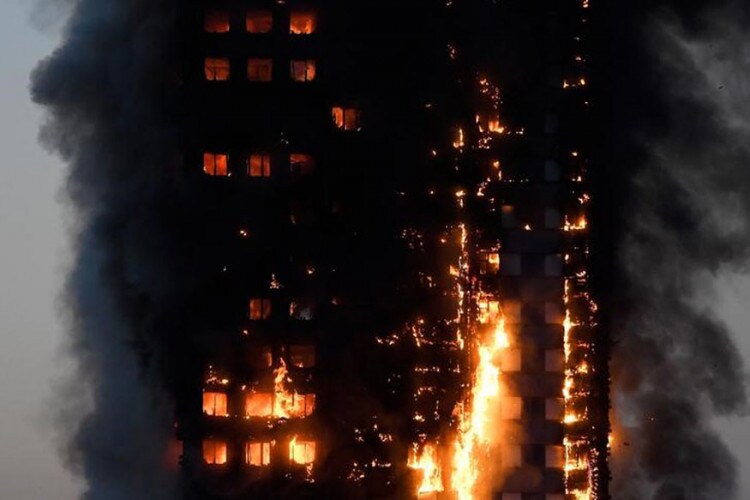 More than 200 firefighters battled the blaze that lasted for over 12 hours, with smoke spreading kilometres across the sky.
Police commander Stuart Cundy gave the death toll of 12 but added the figure was likely to rise "during what will be a complex recovery operation over a number of days."
Paul Woodrow, head of operations for the London Ambulance Service, said 20 of the 74 injured were in critical condition.
The London Fire Brigade received the first reports of the fire at 12:54 am local time and the first engines arrived within six minutes, Cotton said.
Witnesses described a white, polystyrene-type material falling like snow from the building as it burned. Some feared the charred tower block might collapse, but a structural engineer said the building was not in danger, according to the London Fire Brigade, which added "it is safe for our crews to be in there."
Ruks Mamudu, 69, escaped from her first floor apartment wearing only her purple pajamas and bathrobe. She and her grandson sat outside the building, helplessly watching those trapped on higher floors.
"I sat there watching my house burn down and watching people cry for help who couldn't come down," she said.
People at the scene spoke of being unable to reach friends or family inside the building or seeing people using flashlights and mobile phones to try to signal for help from the building's higher floors.
Nassima Boutrig, who lives opposite the building, said she was awakened by sirens and smoke so thick that it filled her home as well.
"We saw the people screaming," she said. "A lot of people said 'Help! Help! Help!' The fire brigade could only help downstairs. It was fire up, up, up. They couldn't stop the fire."
The disaster occurred 10 days after a terror attack at London's Borough Market. Some residents initially feared the fire was also terror-related, although authorities discounted that possibility.
Edward Daffarn, a 55-year-old who lived on the building's 16th floor, said the fire alarm didn't ring. Daffarn said residents had complained for years to Kensington and Chelsea Council about the building's safety, to no avail.
"I'm lucky to be alive. A neighbor's smoke alarm went off and another neighbor phoned and told me to get out," he said. "I consider this mass murder."
The Grenfell Action Group, a community organization formed to oppose a nearby redevelopment project, has been warning about the risk of fire at Grenfell Tower since 2013. The group has raised concerns about testing and maintenance of firefighting equipment and blocked emergency access to the site.
ALSO READ | Fire In High-Rises: Things to Look For While Buying an Extinguisher
In a blog on Nov. 20, the activist group predicted that only "a catastrophic event" leading to "serious loss of life" would bring the outside scrutiny needed to make conditions safe for residents.
"All our warnings fell on deaf ears and we predicted that a catastrophe like this was inevitable," the group said after the fire broke out.
The Kensington and Chelsea Council, which oversees the area where the fire occurred and is Grenfell's landlord, said in a statement its immediate focus was helping victims and their families. It said the cause of the blaze would be "fully investigated."
A July 2014 newsletter for residents said the tower building was designed "according to rigorous fire safety standards" and recommended that residents stay inside their apartments in the case of a fire.
The British company that carried out the tower's 2016 refurbishment, Rydon, said in a statement that its work "met all required building control, fire regulation and health and safety standards."
London Mayor Sadiq Khan said many questions now need to be answered about safety for the scores of tower blocks around the British capital.
"There will be a great many questions over the coming days as to the cause of this tragedy, and I want to reassure Londoners that we will get all the answers," Khan said.
Prime Minister Theresa May's Downing Street office said she was "deeply saddened by the tragic loss of life" in the fire.
Get the best of News18 delivered to your inbox - subscribe to News18 Daybreak. Follow News18.com on Twitter, Instagram, Facebook, Telegram, TikTok and on YouTube, and stay in the know with what's happening in the world around you – in real time.
| Edited by: Aakarshuk Sarna
Read full article