London Police Say No Evidence Shots Fired on Oxford Street
Two London underground stations on Oxford Street — Oxford Circus and Bond Street — have now been reopened after being shut over reports of shots being fired.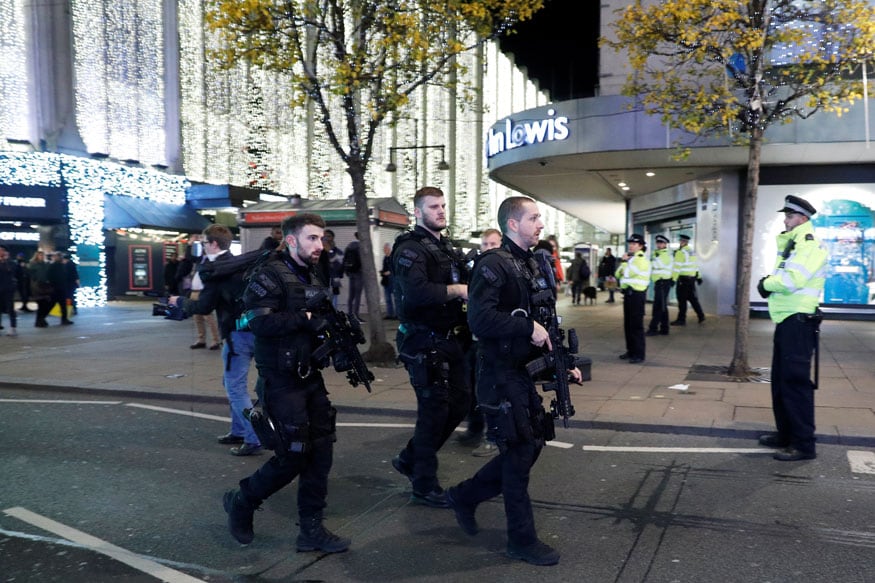 Armed police officers walk along Oxford Street, London, Britain November 24, 2017. REUTERS/Peter Nicholls
London: London police said there was no evidence of shots having been fired nor of any casualties in an incident that sparked panic in the city's Oxford Circus shopping district early on Friday evening.
Police had earlier said they were responding to reports of shots fired as if they could be terrorist-related.
"Our response on #OxfordStreet has now been stood down," the Metropolitan Police said on its official Twitter account.
"Given the nature of the info received we responded as if the incident was terrorism, including the deployment of armed officers," police added.
The police said they had found no evidence of previously reported gunshots, and that there were no casualties.
Police called at 16:38 to a number of reports of shots fired on #OxfordStreet & underground at Oxford Circus tube station. Police have responded as if the incident is terrorist related. Armed and unarmed officers are on scene and dealing along with colleagues from @BTP

— Metropolitan Police (@metpoliceuk) November 24, 2017
London police say they have responded to reports of gunfire on Oxford Street and are responding to it as if it was a potential terrorist incident; @PhilBlackCNN is nearby https://t.co/SXhu3KW4CF pic.twitter.com/ARSDNsMcp8

— CNN International (@cnni) November 24, 2017
"Oxford Circus and Bond Street stations now both reopened and all trains are stopping normally," the city's transport authority said on one of its official Twitter accounts.
| Edited by: Mayur Borah
Read full article