Malaria Vaccine That Took 30 Years to Develop to be Available in Three African Countries
The malaria vaccine, known as RTS,S that was developed by GlaxoSmithKlein with the non-profit organization PATH over a 30-year period with support from the Bill & Melinda Gates Foundation and a network of African research centers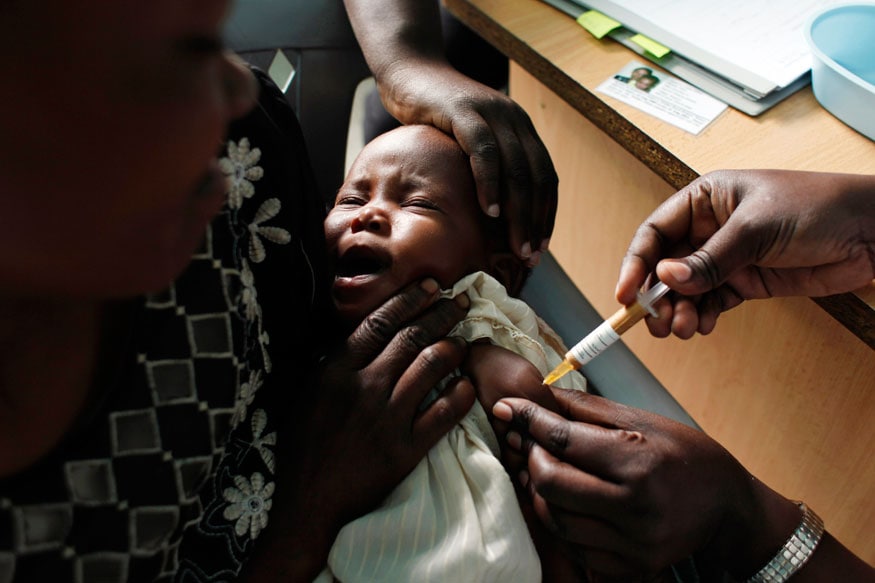 Representative Image (AP)
A malaria vaccine that took more than 30 years to be developed and almost USD 1 billion in investment will now be available in three African countries — Malawi, Ghana and Kenya, as part of children's routine immunisation schedules.
There has been an estimated 219 million cases and 435,000 deaths across 87 countries, with more than 90% of these in Africa, Forbes reported.
The vaccine, known as RTS,S that was developed by GlaxoSmithKlein with the non-profit organization PATH over a 30-year period with support from the Bill & Melinda Gates Foundation and a network of African research centers, is the world's first malaria vaccine showing promise in protection against malaria in young children.
According to the World Health Organization (WHO), the vaccine prevented approximately 39 percent cases of malaria over 4 years and 29 percent cases of severe malaria among children aged 5–17 months who received 4 doses of RTS,S.
"While the new vaccine will reduce mortality in children in high-risk malaria areas, there are limitations because of issues and difficulties in maintaining durable protection after a child has been vaccinated," Dr Dave Knight, an Occupational Health and Public Health physician at International SOS, told Forbes.
Dr Knight reveals that RTS,S is a subunit vaccine targeting specific surface proteins on the malaria parasite and efficacy is around 50 percent of the children vaccinated. Furthermore, the protective efficacy also wanes with time.
The former health minister of Guinea and current CEO of the RBM Partnership to End Malaria, one of a number of global organizations committed to a world free of malaria, Dr Abdourahmane Diallo further commented that he sees the significance of the vaccine as part of a suite of solutions rather than being the cure adding that the RTS,S vaccine, will help in bringing cases of malaria down, particularly when used in tandem with other malaria prevention methods.
International discussions now talk of complete global eradication of malaria within a generation. The Lancet medical journal describes eradication in this timeframe this as "ambitious, achievable, and necessary" something that Dr. Abdourahmane Diallo also emphasizes. He emphasises a timely eradication into a reality.
Get the best of News18 delivered to your inbox - subscribe to News18 Daybreak. Follow News18.com on Twitter, Instagram, Facebook, Telegram, TikTok and on YouTube, and stay in the know with what's happening in the world around you – in real time.
Read full article