Mechanic Latest to Die in Fight Against California Fires
Andrew Brake, 40, was assigned to the Carr Fire burning around Redding in Northern California and died in a crash on Highway 99 in nearby Tehama County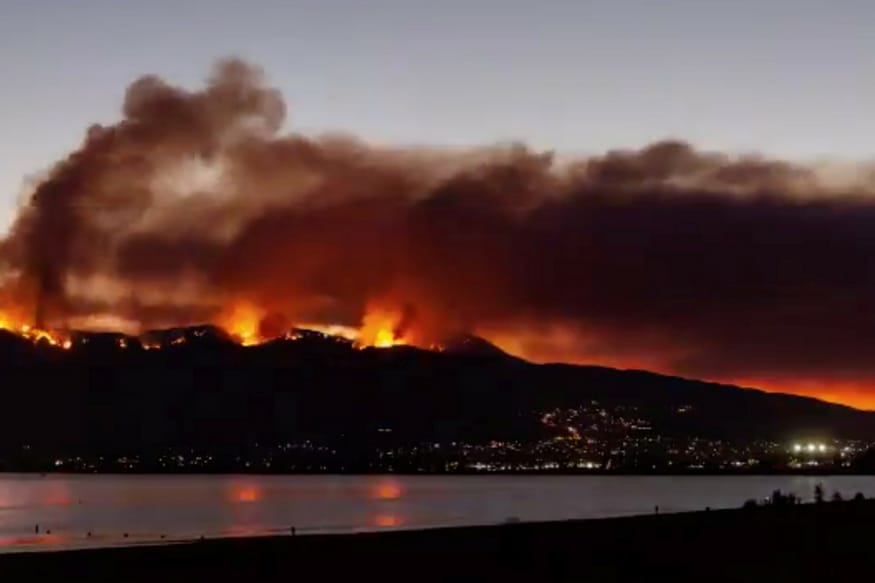 Smoke rises as the Holy Fire spreads along Lake Elsinore, California, the U.S. August 7, 2018 (Image source: Reuters)
Los Angeles: A mechanic helping to fight one of several major wildfires in California died in a traffic collision on Thursday, bringing the death toll from that blaze to eight, officials said.
Andrew Brake, 40, was assigned to the Carr Fire burning around Redding in Northern California and died in a crash on Highway 99 in nearby Tehama County, the California Department of Forestry and Fire Protection (CalFire) said.
"On behalf of all Californians, we honour Andrew and the many other brave firefighters and emergency responders who have risked their lives to protect others," California Governor Jerry Brown said in a statement. The 177,000-acre (71,629-hectare) Carr Fire, roughly 200 miles (320 km) north of San Francisco, has killed two other firefighters along with three members of one family and has destroyed nearly 1,100 homes. It was 48 percent contained with firefighters struggling in steep terrain to control the blaze, CalFire said.
Several major fires burning in California have displaced tens of thousands of people. The Mendocino Complex, two fires close to each other that are being treated as one event, now ranks as the largest fire on record in the state.
A force of more than 4,000 firefighters made progress overnight in controlling the Mendocino Complex Fire, which has burned more than 304,400 acres (123,000 hectares) in three counties north of San Francisco, CalFire said on Thursday.
Two firefighters have been injured and 119 homes destroyed by that fire.
HOLY FIRE
In the Cleveland National Forest area of Southern California's Orange County, the 9,600-acre (3,885-hectare) Holy Fire is 5 percent contained, officials said.
A 51-year-old man, Forrest Clark, arrested on Tuesday on suspicion of setting the fire was charged with multiple criminal counts including aggravated arson and making criminal threats, the Orange County District Attorney Office said in a statement on Thursday.
Clark, who faces a maximum sentence of life in prison if convicted, was held on bail of $1 million. His arraignment was rescheduled from Thursday to Friday.
Jeffrey Kirk, a deputy district attorney in Orange County, said in video posted by Los Angeles television station KTLA that more charges could be filed against Clark, because the fire and investigation are continuing.
"The sky's the limit," Kirk said, according to KTLA.
The Holy Fire has displaced 20,000 people, the Orange County Sheriff's Office said.
Read full article