Mechanical Failures, Crashes Prompt China to Develop New Fighter Jets for Aircraft Carriers: Report
Many of China's home-grown fighter jets have had problems with their engines, aircraft design and modifications, said a report.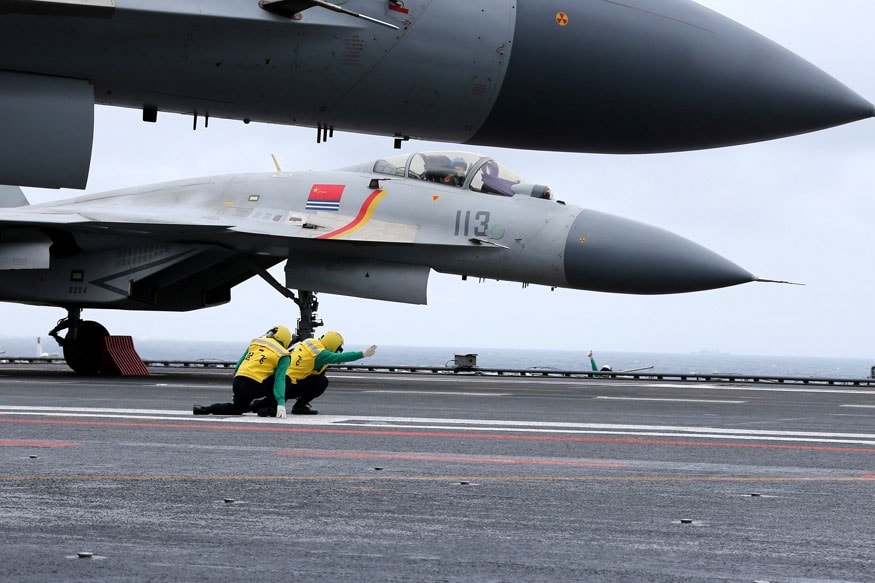 File photo: J-15 fighters from China's Liaoning aircraft carrier conduct a drill in an area of South China Sea. (Image: Reuters)
Beijing:
China is developing a new fighter jet for aircraft carriers, which will replace its J-15 planes after a series of mechanical failures and crashes, as it pursues global navy ambitions, a media report said on Thursday.
China is currently building a third aircraft carrier after launching the second aircraft carrier for sea trials.
Under the new military strategy, China has been ramping the strength of its navy to expand its global influence and feverishly building aircraft carriers in the last few years.
A late entrant to the use of aircraft carriers, China has been making use of its first aircraft carrier Liaoning, a refit of the former Soviet Union vessel to carry out extensive experiments including operating the aircraft from the deck. The Liaoning was launched in 2012.
Many of China's home-grown fighter jets have had problems with their engines, aircraft design and modifications, according to a report by Hong Kong-based South China Morning Post.
With restrictive access to high tech military products of the US, EU and Russia, China had developed the J-15 planes, based on a prototype of the fourth-generation Russian Sukhoi Su-33 twin-engine fighter aircrafts.
The design of the J-15 planes developed by Shenyang Aircraft Corporation, a unit of state-owned Aviation Industry Corporation of China, is over 30 years old. With a maximum take-off weight of 33 tonnes, the aircraft is the heaviest active carrier-based fighter jet in the world.
The need to develop a new fighter jet has become more pressing after a series of unpardonable mechanical failures that have killed one top PLA pilot and injured another, the report said.
The report also quoted Lieutenant General Zhang Honghe, deputy head of the PLA Air Force, as saying that a new carrier-based fighter to replace the J-15 was being developed.
Beijing-based naval expert Li Jie said China needs to develop the new fighter jet as it plans to create at least four aircraft carrier groups to fulfil its global navy ambitions and defend its growing overseas interests.
In order to improve the combat effectiveness of the Chinese aircraft carrier strike groups, it is necessary to develop a new carrier-based fighter, he said, adding that the FC-31 stealth fighter could be used as a model to replace the J-15.
China's FC-31 is a newer generation stealth fighter that made its first flight in 2012, and is smaller and lighter than the J-15.
The Post quoted two sources close to the military as saying that there had been at least four crashes involving the J-15, although only two of them have been reported by state media.
The J-15 is a problematic aircraft its unstable flight control system was the key factor behind the two fatal accidents two years ago, one of the sources said.
Pilot Zhang Chao, 29, died in a crash in April 2016 as he tried to save his J-15 fighter jet, whose flight control system was breaking down during a mock landing on an aircraft carrier, according to state media reports.
Three weeks later, his colleague Cao Xianjian, believed to be in his 40s, was seriously injured as he tried to deal with the same problem on a J-15. It took him more than a year to recover.
All the J-15s were grounded for three months after the crashes, which undermined morale in the air force and navy, the report said.
The aviation experts at first refused to acknowledge that the J-15 has design problems...They only agreed there were problems after Cao encountered the same trouble, the report quoted one of the sources as saying.
| Edited by: Huma Tabassum
Read full article
Countdown To
Elections Results
To Assembly Elections 2018 Results