GET Stock

Quotes


Michelle Wolf Draws Laughs, Gasps at White House Dinner; Trump's Staffers Walk Out
As he did last year, Trump flew to a Republican-friendly district to rally supporters on the same night as the dinner. In Washington Township, Michigan, the president assured his audience he'd rather be there than in that other city by that name.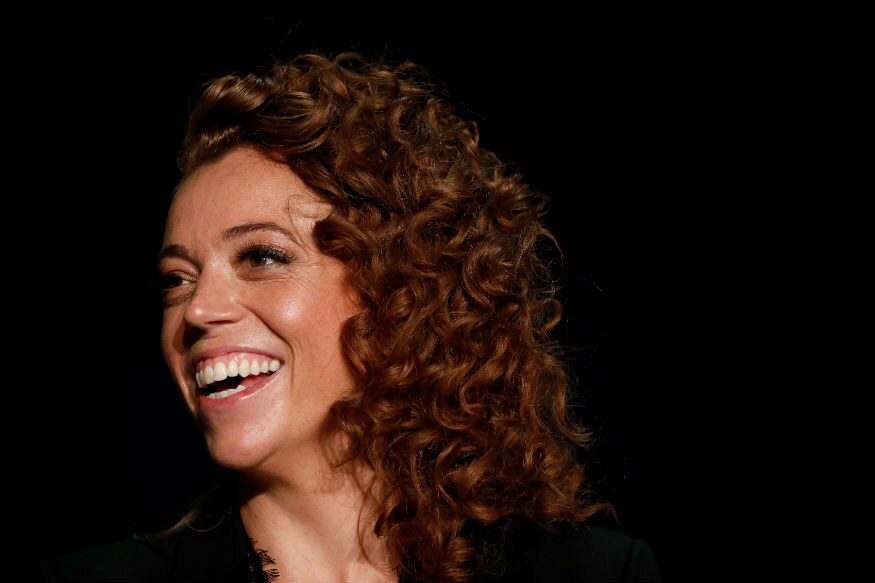 Comedian Michelle Wolf is seen at the White House Correspondents' Association dinner in Washington, U.S., April 28, 2018. REUTERS/Aaron P. Bernstein
Washington:
Members of Donald Trump's administration walked out of the White House Correspondents' Dinner after comedian Michelle Wolf ripped into them, including Press Secretary Sarah Huckabee Sanders, in the absence of the US President who didn't attend.
A year after the White House boycotted the annual dinner, the Director of Strategic Communications, Mercedes Schlapp, and her husband, conservative activist Matt Schlapp, were among those who marched out of the ballroom on Saturday night at the Washington Hilton long before Wolf's keynote routine was over, reports Politico news.
Footage broadcast live on cable TV networks showed Sanders sitting at the head table on stage stone-faced, wincing and at times raising her eyebrows as Wolf compared her to a character on the dystopian
Handsmaid's Tale
and to an
Uncle Tom
for white women.
"I actually really like Sarah. I think she's very resourceful. But she burns facts and then she uses that ash to create a perfect smokey eye," Wolf joked about Sanders. "Like maybe she's born with it, maybe it's lies. It's probably lies."
Among Wolf's less off-color one-liners:
—"Just a reminder to everyone, I'm here to make jokes, I have no agenda, I'm not trying to get anything accomplished, so everyone that's here from Congress you should feel right at home."
—"It is kinda crazy that the Trump campaign was in contact with Russia when the Hillary campaign wasn't even in contact with Michigan."
—"He wants to give teachers guns, and I support that because then they can sell them for things they need like supplies."
Wolf laced into Trump and repeatedly brought up his comments from the "Access Hollywood" tape where he spoke of groping women.
Wolf opened her act with the line: "Good evening, here we are at the White House Correspondents' Dinner; like a porn star says when she's about to have sex with Trump, let's get this over with."
Wolf's other targets included Vice President Mike Pence, White House counsellor Kellyanne Conway and the president's personal lawyer, Michael Cohen, Politico reported.
Former White House Press Secretary Sean Spicer deemed the evening a "disgrace" in a tweet, to which Wolf replied: "Thanks!"
Tonight's #WHCD was a disgrace

— Sean Spicer (@seanspicer) April 29, 2018
Echoing Spicer, former White House Chief of Staff Reince Priebus called Wolf's set "R/X rated" and said the performance left Trump as the clear winner.
An R/X rated spectacle that started poorly and ended up in the bottom of the canyon. Another victory for @realDonaldTrump for not attending and proving his point once again. The room was uncomfortable. Trump lovers and even a large number of Trump haters were pretty miserable.

— Reince Priebus (@Reince) April 29, 2018
New York Times reporter Maggie Haberman, who was honoured during the dinner for her reporting, said Sanders' refusal to walk out amid the barbs was "impressive".
Besides the administration, Wolf also hit out at the media but excluded the print media, because "it's illegal to attack an endangered species".
For the second year in a row, Trump avoided one of the annual highlights for a profession he has routinely called "the enemy of the American people".
On Saturday, he was at a campaign rally in Michigan where he said a possible meeting between him and North Korea's Kim Jong-un would take place in the next "three or four weeks".
Begun in 1921, the White House Correspondents' Association annual dinner has been attended by every President at least once during their term in office, beginning with President Calvin Coolidge in 1924.
(With agency inputs)
Read full article