GET Stock

Quotes


Sharif Invites Trump to Pakistan, Gets Assurance of Full Support
Earlier, Trump had said that if elected, he d like to mediate between India and Pakistan. But like the Obama administration, Trump also said that he would only mediate if both countries asked him to do so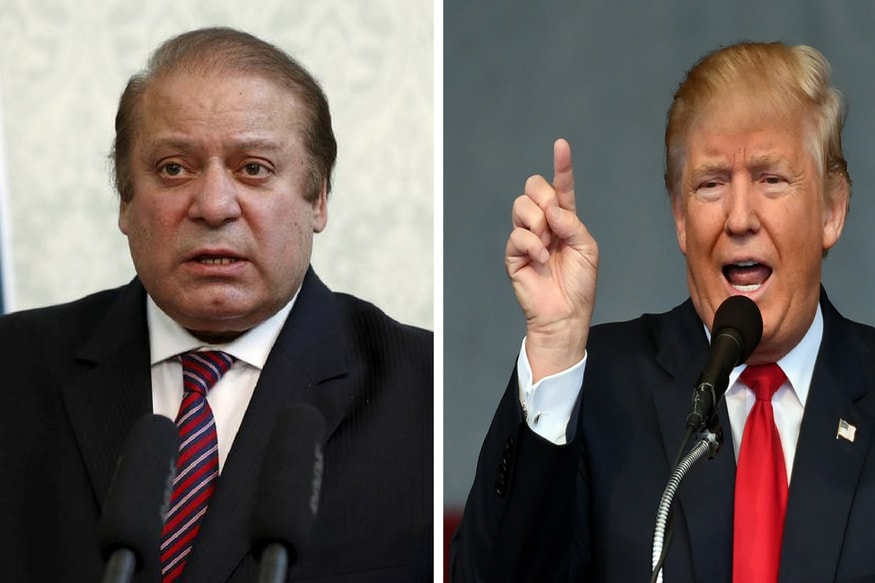 File image of Pakistan Prime Minister Nawaz Sharif and US President-elect Donald Trump
Islamabad: US President-elect Donald Trump on Wednesday told Prime Minister Nawaz Sharif that he is willing to play any role that Pakistan wants to find solutions to its outstanding problems.
Trump who recieved an invite from Sharif to visit Pakistan made these remarks as Sharif called him to congratulate on his recent victory.
"I am ready and willing to play any role that you want me to play to address and find solutions to the outstanding problems. It will be an honour and I will personally do it.
Feel free to call me any time, even before 20th January, that is before I assume my office," Trump was quoted as saying in a statement released by the Prime Minister's Office.
During the telephone conversation, Trump also praised Sharif and expressed his desire to meet the prime minister soon, Radio Pakistan reported.
In his reply, Trump said he would love to visit the country and meet its people.
Earlier, Trump had said that if elected, he d like to mediate between India and Pakistan. But like the Obama administration, Trump also said that he would only mediate if both countries asked him to do so.
India opposes any third party involvement in the bilateral disputes with Pakistan.
Last month, in an interview to the Hindustan Times, Trump had called the situation between India and Pakistan "very, very hot tinderbox" and offered to "mediate or arbitrate", if asked to.
Earlier, Trump had been critical of Pakistan for allowing some terrorist groups to operate from its soil and ridiculed President Barack Obama's administration for not being able to help the jailed doctor who helped the US track down and kill al-Qaida leader Osama bin Laden, who was sheltering in Pakistan.
After Trump's election, Islamabad's foreign policy adviser Sartaj Aziz had said that his country was willing to work with him in fighting terrorism.
Also Watch
Read full article