Nawaz Sharif, Maryam Arrested After Landing at Lahore Airport; Face Jail in Poll-bound Pakistan
Ousted Pakistani Prime Minister Nawaz Sharif and his daughter Maryam Nawaz, both sentenced to lengthy jail terms in absentia, are due to return to Pakistan today in a high-stakes gamble to galvanise their beleaguered party ahead of a July 25 general election.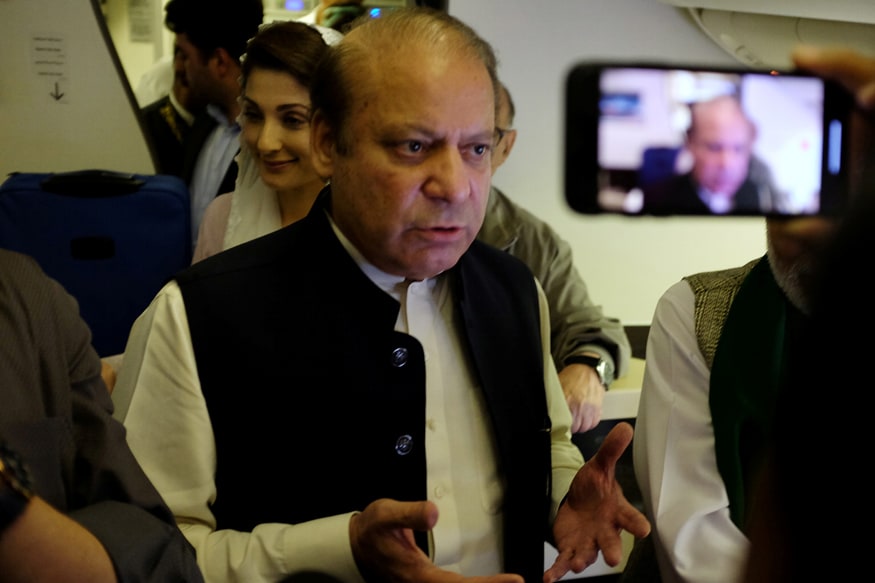 Ousted Pakistani Prime Minister Nawaz Sharif gestures as he boards the Lahore-bound flight at Abu Dhabi Airport. (REUTERS)
New Delhi:
Former Pakistan Prime Minister Nawaz Sharif and his daughter Maryam Nawaz Sharif were arrested on Friday immediately after they landed at the Allama Iqbal Airport in Lahore. While Sharif faces 10 years in jail after being convicted in a corruption case, his heir apparent Maryam faces seven years in the same case.
The Etihad flight carrying the two PML-N leaders landed at 9:15 pm (IST), nearly three hours behind schedule. The flight schedule in itself was shrouded in mystery as just hours after they reached Pakistan airspace, reports started coming in of it being diverted to Islamabad over security concerns in Lahore.
According to an airport official, they surrendered before a team of the country's anti-graft body, the National Accountability Bureau, without any resistance. However, he refused to sit in the vehicle of the Rangers to get to the airport terminal. Federal Investigation Agency (FIA) officials took their passport for immigration.
According to media reports, dozens of security officials entered the plane after it landed and asked other passengers to leave. The Sharifs' passports were seized by a three-member FIA team, and both were permitted to meet Begum Shamim Akhtar, Sharif's mother, in the Haj Lounge.
As Sharif and Maryam were taken to Islamabad and then Rawalpindi, police put Lahore on lockdown in anticipation of clashes and violence. Thousands had gathered outside the Lahore airport on Friday night even though authorities had imposed a curfew in the area fearing clashes and a law and order situation. There were also reports of Pakistan Police firing tear gas at the crowd that had gathered at the airport.
The two were in London visiting Sharif's ailing wife when a Pakistani court convicted them of corruption and sentenced them to prison. Sharif's son-in-law is currently serving his one-year prison sentence on the same charge, which stems from the purchase of luxury apartments in Britain that the court said were bought with illegally gotten money. Sharif is expected to appeal his conviction and seek bail.
Ahead of his return, police swept through Lahore, arresting at least 378 people, most of them PML-N supporters in order to prevent them from adding to the chaos at the airport.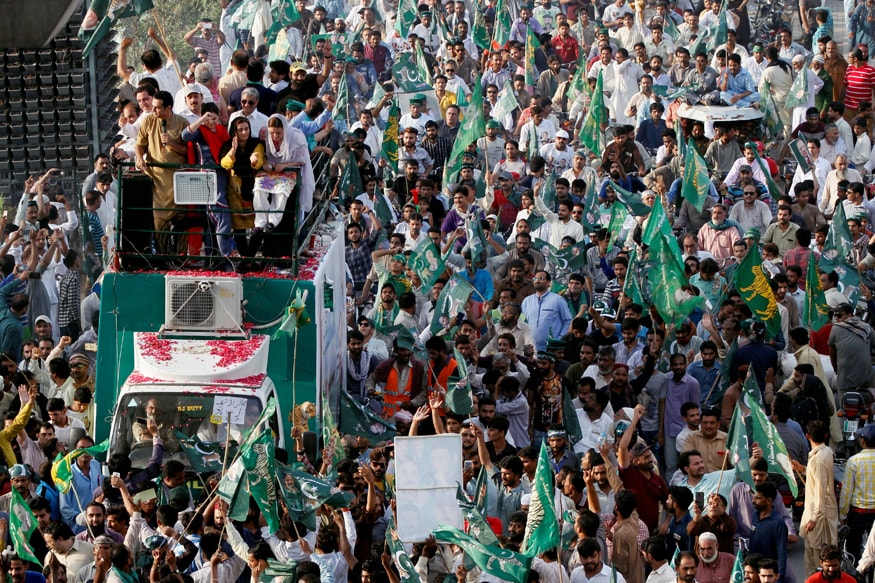 PML-N supporters march towards the airport to welcome Nawaz Sharif and Maryam in Lahore on Friday. (Image: REUTERS/Mohsin Raza)
Around 10,000 police officers have been deployed across the city to maintain law and order. The Punjab government has suspended mobile and internet services in Lahore.
In a video message from aboard the aircraft en route to Pakistan, Sharif had said that he was returning knowing that he would be taken directly to prison.
The two were convicted on July 6 in the Evenfield properties case linked to the Sharif family's ownership of four luxury flats in London.
Their return could shake up an election race marred by accusations against Pakistan's powerful military of working behind the scenes to skew the contest in favour of ex-cricket hero Imran Khan, who describes Sharif as a "criminal" and deserves no support.
Nawaz Sharif decried the tactics ordered by the caretaker government that took over in June ahead of the general election, as Pakistan's constitution requires.
"What credibility will these elections have when the government is taking such a drastic action against our people and this crackdown is taking place all over the country?" he told Reuters at the airport in Abu Dhabi as he waited for a connecting flight to Lahore.
Pakistan's third major political movement, the Pakistan Peoples' Party, joined the criticism of the crackdown, with its prime ministerial candidate Bilawal Bhutto Zardari questioning why Sharif's supporters would be prevented from gathering.
Earlier in the day, the country's media regulator warned local news channels to abstain from airing statements "by political leadership containing defamatory and derogatory content targeting various state institutions specifically judiciary and armed forces".
Meanwhile, adding to the tension surrounding the upcoming elections on July 25, a suicide bomber hit an election rally of a regional party in southwestern Pakistan, killing 85 people. The bombing was the biggest attack in Pakistan in more than a year and the third incident of election-related violence this week.
As Pakistan heads towards a high-stakes gamble after a week, the courts have barred Sharif from heading the PML-N party he founded. His brother Shehbaz became PML-N's president, but Sharif remains the power behind the throne.
Maryam, too, has been barred from contesting the elections for which she was being projected as the heir of Sharif's political lineage.
In such times, the kind of support Sharif was shown on the streets of Lahore will be viewed carefully in Pakistan, where political popularity is often measured by the size of rallies that politicians can attract.
| Edited by: Sanchari Chatterjee
Read full article
Next Story
Next Story
Also Watch

India Will 'Stop' Flow of Our Share of Water to Pakistan, Says Nitin Gadkari
Countdown To
Elections Results
To Assembly Elections 2018 Results