North Korea Has Been Hiding 13-20 Nuclear Missile Bases, US Researchers Say
The bases, which are scattered across the country, are located in underground facilities tunneled in narrow mountain valleys, according to the researchers.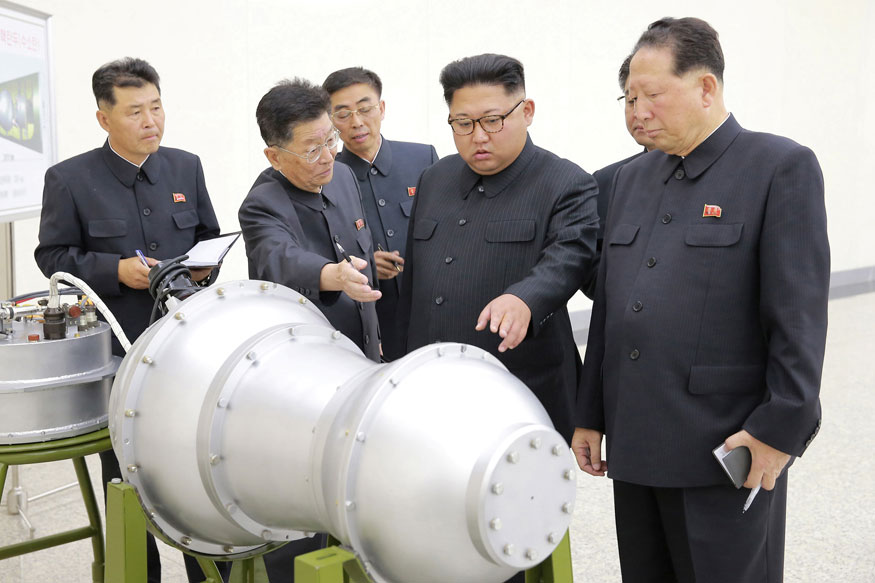 North Korean leader Kim Jong Un provides guidance on a nuclear weapons program in this undated photo released by North Korea's Korean Central News Agency (REUTERS)
Washington: North Korea is operating at least 13 undeclared bases to hide mobile, nuclear-capable missiles, a new study released Monday has found, raising fresh doubts over US President Donald Trump's signature foreign policy initiative.
Trump has hailed his July summit with North Korean leader Kim Jong Un as having opened the way to denuclearization of the divided peninsula, defusing tensions that less than a year ago brought the two countries to the brink of conflict.
Since the summit in Singapore, North Korea has halted nuclear and missile tests, dismantled a missile test site and promised to also break up the country's main nuclear complex.
But researchers at the Center for Strategic and International Studies in Washington said they have located 13 missile operating bases that have not been declared by the government, and that there may be as many as 20.
"It's not like these bases have been frozen," Victor Cha, who leads CSIS's North Korea program, told The New York Times, which first reported on the study.
"Work is continuing. What everybody is worried about is that Trump is going to accept a bad deal -- they give us a single test site and dismantle a few other things, and in return they get a peace agreement." Cha had been in line for appointment as US ambassador, but was dropped because of disagreement with the Trump administration's approach.
While US sanctions on North Korea remain in place, enforcement by traditional trading partners China and Russia has relaxed since the summit, US officials have acknowledged.
The bases, which are scattered across the country, are located in underground facilities tunneled in narrow mountain valleys, according to the researchers.
They are designed so that mobile missile launchers can quickly exit the underground facilities and move to previously prepared launch sites.
The bases are arranged in three belts across North Korea, according to the report, with those for strategic missiles deep inside the country.
Medium-range missiles capable of striking Japan and all of South Korea reportedly are deployed in an operational belt 55 to 100 miles (90 to 150 kilometers) north of the demilitarized zone.
Shorter range missiles fit into a tactical belt 30 to 55 miles from the DMZ.
The report included a detailed profile of one such tactical missile operating base, illustrated with commercial satellite imagery, that is just 84 miles northwest of Seoul.
Led by Joseph Bermudez, an authority of North Korea, the researchers' findings were based on satellite imagery, defector interviews and interviews with intelligence and government officials.
Get the best of News18 delivered to your inbox - subscribe to News18 Daybreak. Follow News18.com on Twitter, Instagram, Facebook, Telegram, TikTok and on YouTube, and stay in the know with what's happening in the world around you – in real time.
Read full article