Pakistan Could Lose 'Major Non-NATO Ally Status', Rex Tillerson
Secretary of State Rex Tillerson comments came after Trump announced his Afghan policy and the path forward to the US engagement in South Asia, India and Pakistan in particular.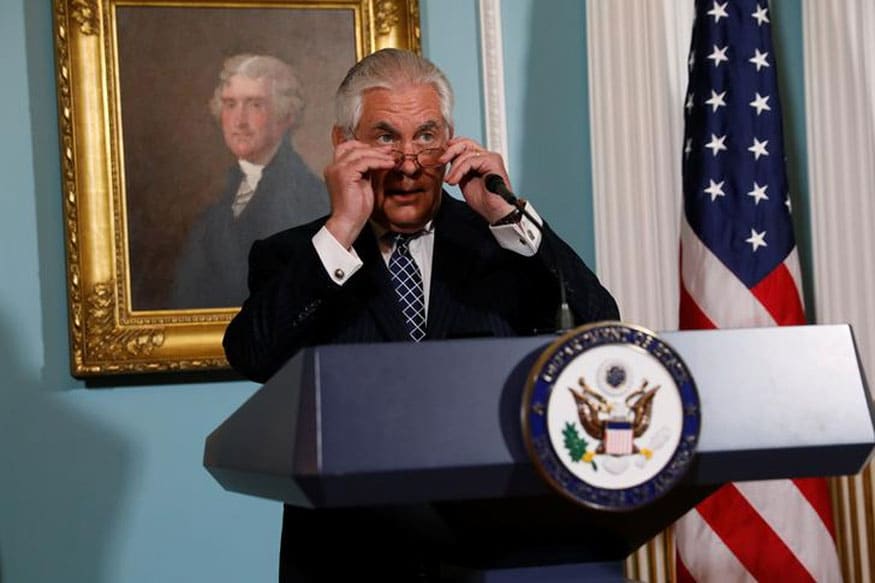 File photo of US Secretary of State Rex Tillerson (Reuters)
Washington: Secretary of State Rex Tillerson on Tuesday warned that the US could consider punishing Pakistan by cutting off its status as a major non-NATO ally if it does not crack down on militants.
Tillerson echoed President Donald Trump's tough rhetoric on Pakistan in his address laying out a new strategy for the war Afghanistan.
"We stand ready to help Pakistan address terrorist organisations inside of their country, but they must adopt a different approach themselves," Tillerson told reporters at a news conference.
His comments came after Trump announced his Afghan policy and the path forward to the US engagement in South Asia, India and Pakistan in particular.
"Pakistan and the US historically had very good relationships. But over the last few years, there's been a real erosion in the confidence between our two governments.
"There's been an erosion in trust because we have witnessed terrorist organisations being given safe haven inside of Pakistan to plan and carry out attacks against US servicemen, US officials, disrupting peace efforts inside of Afghanistan," Tillerson said.
Noting that the new Afghan policy is a regional approach, the Secretary of State said it also included a fairly comprehensive review of the US' ties with Pakistan and India.
"We see this approach as requiring an integration of all three of those strategies and use Pakistan and India to also bring pressure to bear on the situation in Afghanistan," he said.
Tillerson said that the Trump Administration is adopting conditions-based diplomacy.
"We're going to condition our efforts along with the progress we see being made by the Afghan government who must continue the reform efforts that we've been working on for some time, and in particular, much more rigorous efforts around anti-corruption," he said.
Trump, he said, in his speech was clear that this entire effort is intended to put pressure on the Taliban to have the Taliban understand they will not win a battlefield victory.
"We're going to attack terrorists wherever the live and we have put people on notice that if you're harbouring and providing safe haven to terrorists, be warned, be forewarned that we're going to engage with those who are providing safe haven and ask them to change what they're doing and help us help them," Tillerson said.
Tillerson also acknowledged that Pakistan's status as a non-NATO ally is now in question.
"We have some leverage that's been discussed in terms of the amount of aid and military assistance we give them; their status as a non-NATO alliance partner. All of that can be put on the table. But at the end of the day, Pakistan has to decide what is in Pakistan's best long-term interest from a security standpoint for themselves and for their people," he said.
He said the Taliban and other organisations inside of Pakistan seem to be growing their numbers and their presence to the point that at some point they would become a real threat to the stability of the Pakistani government itself.
"I think they need to be thinking about what is in their best long-term interest and how can we work with them to achieve a safer, more stable Pakistan in the next decades to come as well. I think it really is up to them. They've got to ask themselves that question," Tillerson said.
Get the best of News18 delivered to your inbox - subscribe to News18 Daybreak. Follow News18.com on Twitter, Instagram, Facebook, Telegram, TikTok and on YouTube, and stay in the know with what's happening in the world around you – in real time.
| Edited by: Ananya Chakraborty
Read full article