Pakistan Court to Take Up Sharif Family's Appeals Challenging Corruption Verdict Tomorrow
Nawaz Sharif and his daughter Maryam were arrested in Lahore on July 13 on their arrival from London after an accountability court found them guilty over his family's ownership of four luxury flats in London.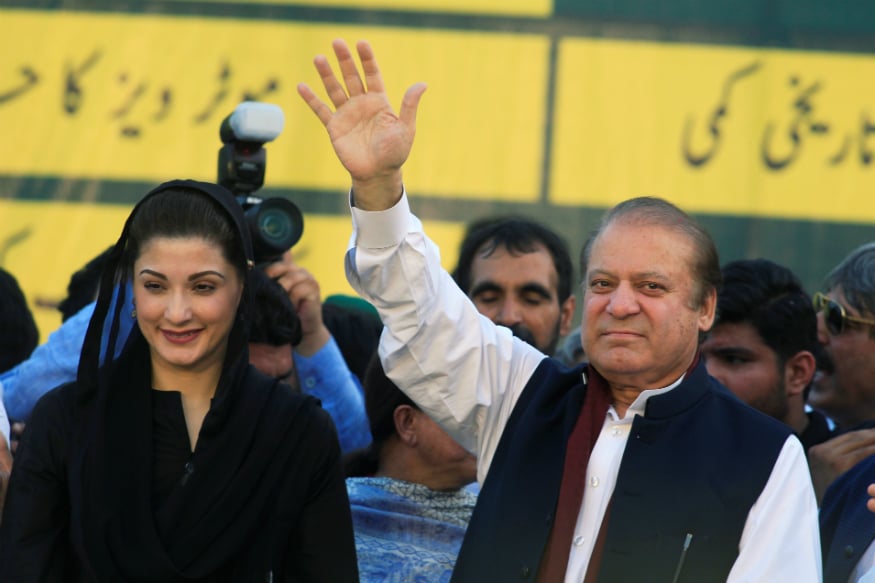 Former Pakistan PM Nawaz Sharif gestures to supporters as his daughter Maryam Nawaz looks on during party's workers convention in Islamabad, Pakistan on June 4, 2018. (File photo/REUTERS)
Islamabad: ailed former Pakistan prime minister Nawaz Sharif, his daughter and son-in-law on Monday filed separate appeals challenging the verdict in a corruption case and the Islamabad High Court will hear them on Tuesday, according to a media report.
Sharif, 68, and his daughter Maryam, 44, were arrested in Lahore on July 13 on their arrival from London after an accountability court found them guilty over his family's ownership of four luxury flats in London. They were later taken to Adiala Jail in Rawalpindi.
Sharif's son-in-law, Capt (retd) Muhammad Safdar, who was arrested on July 8, is also lodged in the same Adiala Jail.
Seven separate appeals were filed in the Islamabad High Court by the three convicts' lawyers - three on behalf of Sharif, and two each on behalf of Maryam and Safdar - on the corruption cases against them, according to Dawn News.
The Islamabad High Court will hear on Tuesday the appeals filed by Sharif, Maryam and Safdar challenging the Avenfield verdict against them, Geo News reported.
The appeal highlighted the legal flaws in the Avenfield verdict and pleaded to nullify the Islamabad Accountability Court's verdict. Moreover, it (the appeal) further sought the release of three convicts on bail.
A appeal was also filed against conducting the proceedings of the remaining two corruption cases within the Adiala jail premises, it added.
A separate appeal was filed to request the transfer of the case to another accountability court as the defence counsel argued that Judge Mohammad Bashir of the accountability court had already made public his opinion on multiple aspects of the case. The same appeal had been filed earlier and were instructed by the court to pursue the matter in the relevant high court.
The Islamabad Accountability Court had sentenced Sharif to a total of 10 years in prison and imposed a fine of 8 million pounds ($10 million) in the corruption case. His daughter Maryam was sentenced to seven years in prison along with a 2 million pounds ($2.6 million) fine.
In addition, Sharif's son-in-law Captain (retired) Safdar was given a one-year sentence without any fine.
They were also disqualified to contest election or to hold public office for a period of 10 years.
Maryam's legal counsel Amjad Pervaiz stated that the accountability court's verdict in the Avenfield case was not in compliance with the law.
"The accountability court's verdict is in contradiction with the law and declaring it void would serve justice," Pervaiz was quoted as saying by the report.
"Our case is very strong and on merit. We are right and we hope to get some relief," he said.
Maryam's appeal was drafted on Saturday, however, her legal counsels who were in Adiala Jail to get the power of attorney signed by their client were unable to file the petition before the court hours ended, the report said.
On July 6, after four extensions in the original six-month deadline to conclude all three cases, the court announced its verdict in the Avenfield case.
Nawaz and his sons, Hussain and Hasan, are accused in all three corruption cases whereas Maryam and Safdar are accused in the Avenfield case only.
Get the best of News18 delivered to your inbox - subscribe to News18 Daybreak. Follow News18.com on Twitter, Instagram, Facebook, Telegram, TikTok and on YouTube, and stay in the know with what's happening in the world around you – in real time.
| Edited by: Naqshib Nisar
Read full article