Poland Defies EU, Passes Bill That Puts Supreme Court Under Political Control
European Union says reforms would put courts under direct government control, urges President to veto judicial independence bill.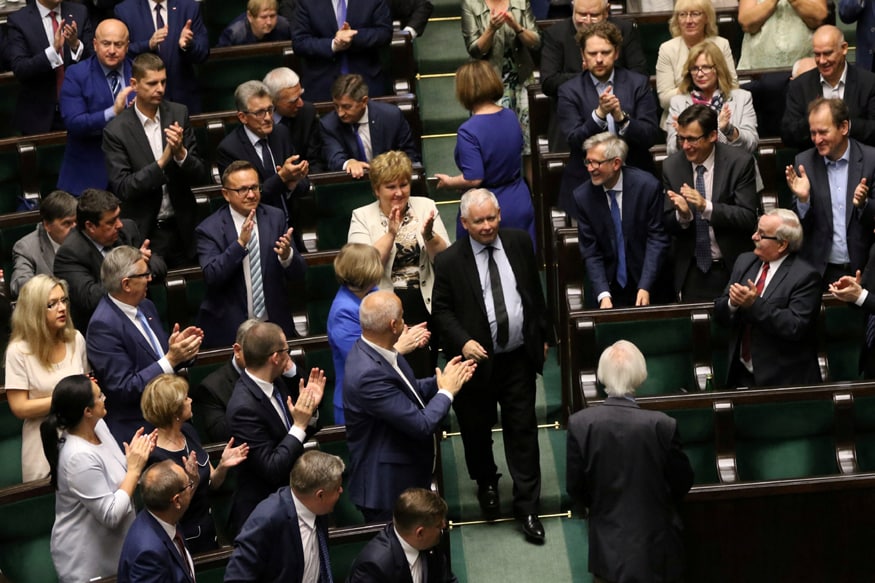 Law and Justice (PiS) party leader Jaroslaw Kaczynski walks to applause in the parliament as the bill that calls for an overhaul of the Supreme Court gets passed. (Photo: Reuters)
Warsaw: Polish lawmakers passed a bill on Thursday that would allow parliament to appoint Supreme Court judges, defying objections from lawyers, opposition leaders and the European Union that the move undermines democracy and the rule of law.
The vote came a day after the EU gave its largest formerly communist member state a week to shelve judicial reforms that Brussels says would put courts under direct government control.
If Warsaw's ruling nationalist-minded conservatives do not back down, they could face fines and even a suspension of voting rights, although other eurosceptics in the EU, notably Hungary, will likely veto strict punishment.
In the best-case scenario, Poland will see its clout in Brussels wane further, damaged by mounting frustration among its EU peers about disagreements over issues such as migration, nature conservation and EU reforms.
The bill submitted by the ruling Law and Justice party (PiS) was passed by parliament's lower house after three days of rowdy debate and protests that drew thousands of people across Poland.
It will go to parliament's upper house, where PiS also has a majority, on Friday. President Andrzej Duda, a PiS ally, will have to sign it before it can become law.
During the debate, Poland's human rights ombudsman, Adam Bodnar, told parliament that the legislation, together with two other bills that will change the way judges are appointed, would "deprive citizens of the right to an independent court". "We are planting an explosive under our judiciary," he said.
PiS says the changes are needed to make courts accountable and to ensure state institutions serve all Poles, not just the "elites" it says are the support base for the centrist opposition. But critics say the legislation is part of a creep towards authoritarianism by the government, which espouses nationalist rhetoric coupled with left-leaning economic policy.
Since being elected in 2015, PiS has tightened government control over courts and prosecutors, as well as state media, and introduced restrictions on public gatherings and the activity of non-governmental organisations.
Last week, parliament passed another bill which ends the terms of current members of the National Council of the Judiciary, one of the main judicial bodies, and gives parliament powers to choose 15 of its 25 members.
STANDARDS AND VALUES
Political opponents, rights groups and the EU say the changes undermine the separation of powers between the executive and the judiciary, a fundamental democratic principle. While PiS remains broadly popular among many Poles, particularly poorer and older voters from the countryside, there have been widespread protests against the plans.
European Council President Donald Tusk, a former Polish centrist prime minister and arch-rival of PiS, said on Thursday he had asked Duda for an urgent meeting about the "political crisis" in the country. Tusk said in a statement that PiS moves on courts were backward, went "against European standards and values", harmed Poland's reputation and risked marginalising the country.
"The European Union is not only money and procedures. It is first and foremost values and high standards of public life. That is why a wave of criticism of the government is rising in Europe and in the whole West," Tusk said.
A senior aide to Duda, Krzysztof Szczerski, said Tusk should instead focus on explaining Poland's stance in Brussels. "The president is surprised that there has been such increased engagement in this matter by European institutions because everything is in accordance with the Polish legal order," Szczerski told Reuters in an emailed statement.
In Hungary, Prime Minister Viktor Orban, another nationalist critic of Brussels, wrote a letter to his Polish counterpart to express Budapest's support. "We stand by Poland, and we call on the European Commission not to overstep its authority," Hungarian Foreign Minister Peter Szijjarto said in a statement.
The bill passed on Thursday calls for replacing all Supreme Court judges except those elected by a judicial panel that is to be chosen by the parliament. The Supreme Court's tasks include validating elections. Tusk called on Duda - whose signature is required to enact the law - to find a different solution.
PiS has offered no concessions despite the pressure, instead presenting the criticism as unacceptable foreign meddling in the domestic affairs of the country, which overthrew communism in 1989 and joined the EU in 2004.
Get the best of News18 delivered to your inbox - subscribe to News18 Daybreak. Follow News18.com on Twitter, Instagram, Facebook, Telegram, TikTok and on YouTube, and stay in the know with what's happening in the world around you – in real time.
| Edited by: Aakarshuk Sarna
Read full article