GET Stock

Quotes


Russian TV reporter Punched in The Face During Live Broadcast
A passer-by who was shouting abuses delivered a right hook to the journalist's face after he was told to be quiet.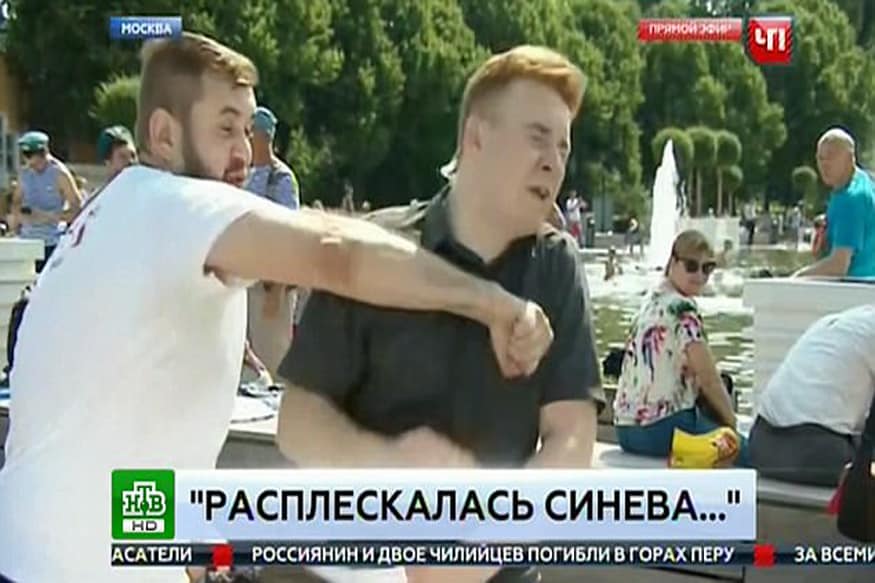 The passer-by comes into shot and punches the Russian reporter in the face live on air. (Video grab)
Moscow:
A man walked up to a journalist broadcasting live from a Moscow park on a popular Russian television channel and punched him in the face.
The journalist was reporting on Wednesday for the NTV channel from the park, which was filled with former paratroopers lazing in the sun as Russia celebrated the annual Airborne Troops Day. He was approached by a burly, bearded man in a tee-shirt and shorts, spewing curses at him.
The journalist, Nikita Razvozzhayev, asked the man to keep away. The man then delivered a right hook to the journalist's face. The network had to cut the broadcast.
В Парке Горького пьяный десантник напал в прямом эфире на корреспондента НТВ #видео pic.twitter.com/JP803oxC3P

— НТВ (@ntvru) August 2, 2017
The victim was describing the paratroopers as heroes in his report, saying: "Nobody celebrates their day like them." Russian media reported that it was just then that the attacker burst into the frame, shouting, "We'll take Ukraine."
After punching the reporter, seemingly for being told to quieten down, he says: 'Who are you to talk to me in that way.'
The cameraman picked up the aftermath of the reporter staggering while holding the side of his face. The attacker followed the reporter, continuing to shout and swear. "If you are going to talk to me like that I will f***ing beat you," he said.
As people watch on in horror in the background, the coverage cuts to a shocked-looking anchor.
The attacker, who Russian media said was drunk, was arrested shortly afterwards. Police described him as a known soccer hooligan.
Angry social media users blamed the incident on paratroopers, labelled in Russia as a rowdy bunch who drink in public places, bath in fountains and harass passers-by.
Also Watch
Read full article