12 Dead in Gun Attacks and Suicide bombing in Iran, IS Claims Responsibility
A man opened fire in the Iranian parliament on Wednesday and injured a guard, a witness said.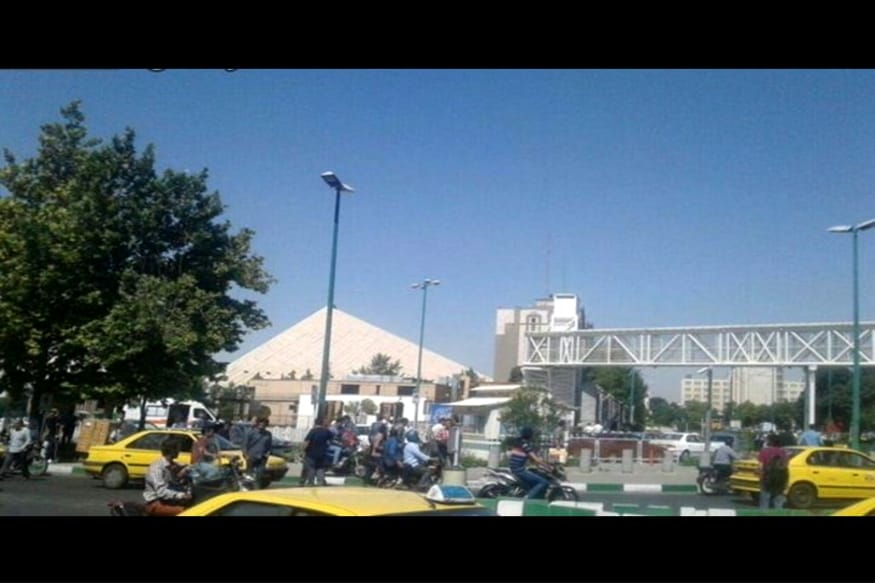 The scene outside Iranian Parliament in Tehran. (Image: TV Grab)
Tehran: Gunmen and a suicide bomber have carried out apparently coordinated attacks on Iran's parliament and the tomb of revolutionary founder Ruhollah Khomeini, state media said on Wednesday, with at least twelve people reported killed.
Islamic State claimed responsibility for both the attacks, the group's state news agency AMAQ said. "Fighters from Islamic state attacked Khomeini's shrine and the Iranian parliament in Tehran," the news agency said.
Meanwhile, Iran's Revolutionary Guards blamed on regional rival Saudi Arabia for the attacks.
"This terrorist attack happened only a week after the meeting between the US president and the (Saudi) backward leaders who support terrorists. The fact that Islamic State has claimed responsibility proves that they were involved in the brutal attack," a Guards statement said.
A security guard was killed when four gunmen burst into Tehran's parliament complex, while a gardener was reported dead when several armed assailants entered the grounds of Khomeini's mausoleum in the south of the city, according to the ISNA news agency.
At least eight people were wounded in the attacks, according to the reports.
An official at Khomeini's mausoleum in south Tehran said "three or four" people had entered via the western entrance and opened fire, killing the gardener and wounding several people, according to the Fars news agency.
Fars said a female suicide attacker blew herself up outside the shrine and published photos showing the explosion.
Four men armed with rifles and a pistol were reported to be inside the parliamentary complex, around 20 kilometres away in the centre of the city.
People gather outside Iran Parliament in central Tehran after the shooting incident #tehranshooting pic.twitter.com/OGZ90zchZS

— Press TV (@PressTV) June 7, 2017
Tasnim news agency said one of the men had later left the building and was firing in the street, but was forced back inside by police fire.
News agencies ISNA and Fars had earlier said three people had been shot after the gunmen entered via the north entrance, including at least one security guard.
The ILNA news agency said security forces were dismantling a bomb inside the Khomeini shrine and that firing was still going on around the site.
It was not clear if the assailants had been able to enter the actual mausoleum.
The city was on lockdown, with streets blocked and the metro closed, and journalists kept away from the shrine by police.
Interior Minister Abdolrahman Fazli told ISNA he had convened a special meeting of the country's security council.
Civilian injured in #IranParliament shooting incident pic.twitter.com/6jPcNQDLmo

— Press TV (@PressTV) June 7, 2017
Iran has been singled out as a target by jihadist groups, including IS, but has largely escaped attacks within its urban centres.
Iran, the predominant Shiite power, has been helping both Iraq and President Bashar al-Assad's regime in Syria to battle the Sunni extremist group.
IS is under increasing pressure in both countries, having lost significant territory in the face of offensives now targeting its last two major urban bastions, Raqa in Syria and Mosul in Iraq.
IS published a rare video in Persian in March, warning that it "will conquer Iran and restore it to the Sunni Muslim nation as it was before."
IS and other extremists consider Shiites to be apostates, and the video accuses Iranians of persecuting Sunnis over the centuries and into modern times.
First video emerges of the aftermath of Iran Parliament shooting incident#IranParliament pic.twitter.com/04WTu9PrnV

— Press TV (@PressTV) June 7, 2017
Militant groups are also known to operate in Iran's southeastern Sistan-Baluchistan province, which borders Pakistan and has a large Sunni community.
Jaish-ul-Adl (Army of Justice), which Tehran accuses of links with Al-Qaeda, has carried out several armed attacks inside Iranian territory in recent years.
Iran's supreme leader Ayatollah Ali Khamenei said on Sunday that attacks by IS in Europe and elsewhere showed that Western policies in the Middle East have backfired.
"This is a fire that (Western powers) themselves ignited and now has backfired on them," he told a gathering of senior officials in Tehran.
Iran has been at the centre of a larger Middle East crisis that has seen powerful Sunni nations like Saudi Arabia and UAE teamed up against the Shia state. Iran has been accused of trying to build up a larger Shia arc in the region by supporting embattled Syrian President Bashar Al Assad and the Lebanon-based pro-Palestinian militant organization Hezbollah. Its Arab neighbours and Turkey find themselves at the other end of the Syrian war with support extended to a spectrum of anti-Assad forces ranging from the secular Kurdish forces to the Islamist Free Syrian Army to Al-Qaeda affiliate Nusra Front.
Iran has also been at the cross-hairs of the new US administration led by Donald Trump that seems to have reverted to the George Bush policy of treating the Islamic Republic as one among the "Axis of Evil".
The Arab world's biggest powers had cut ties with Qatar on Monday, accusing it of support for Islamist militants and Iran, and reopening a festering wound two weeks after Trump's demand for Muslim states to fight terrorism.
Iran, long at odds with Saudi Arabia and a behind-the-scenes target of the move, blamed Trump's visit last month to Riyadh and called for the sides to overcome their differences. "What is happening is the preliminary result of the sword dance," tweeted Hamid Aboutalebi, deputy chief of staff to Iranian President Hassan Rouhani, referring to Trump's joining in a traditional dance with the Saudi king at the meeting.
The hawkish tone on Tehran and on terrorism that Trump brought in his visit to Muslim leaders in Riyadh is seen as having laid the groundwork for the diplomatic crisis.
Earlier, the Trump administration had said it was launching an inter-agency review of whether the lifting of sanctions against Iran was in the US' national security interests while acknowledging that Tehran was complying with a deal to rein in its nuclear program.
In a letter to U.S. House of Representatives Speaker Paul Ryan, the top Republican in Congress, U.S. Secretary of State Rex Tillerson said Iran remained compliant with the 2015 deal, but said there were concerns about its role as a state sponsor of terrorism.
Under the deal, the State Department must notify Congress every 90 days on Iran's compliance under the so-called Joint Comprehensive Plan of Action (JCPOA). It is the first such notification under U.S. President Donald Trump.
Get the best of News18 delivered to your inbox - subscribe to News18 Daybreak. Follow News18.com on Twitter, Instagram, Facebook, TikTok and on YouTube, and stay in the know with what's happening in the world around you – in real time.
Subscribe to Moneycontrol Pro and gain access to curated markets data, trading recommendations, equity analysis, investment ideas, insights from market gurus and much more. Get Moneycontrol PRO for 1 year at price of 3 months. Use code FREEDOM.
| Edited by: Puja Menon
Read full article