Sikhs, Hindus Original Residents of Afghanistan, Not Indian Migrants: Afghan Envoy
At least 19 people, were killed on July 1 when a suicide bomber targeted a convoy of Sikhs and Hindus on their way to meet Afghanistan president Ashraf Ghani in Jalalabad.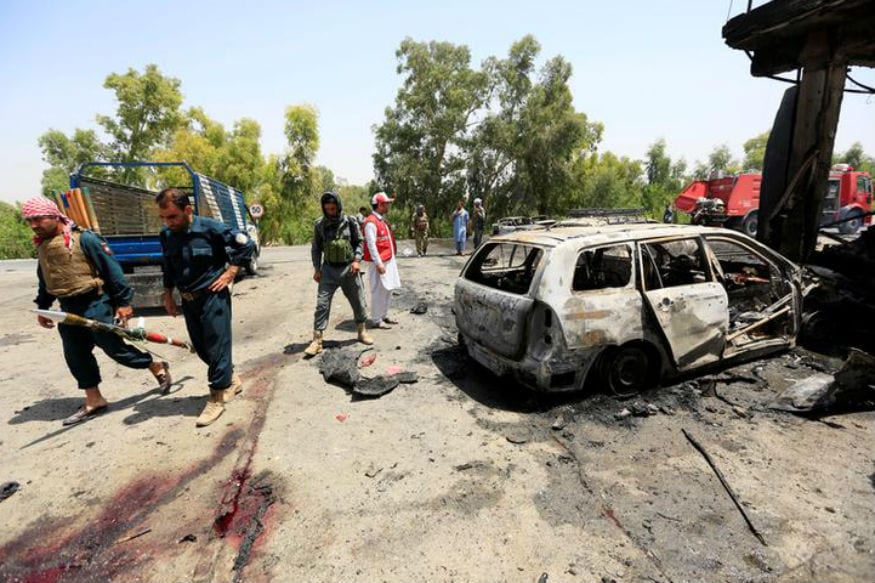 Afghan policemen inspect the site of a suicide attack in Jalalabad city, Afghanistan July 10, 2018. REUTERS
Washington: Hindus and Sikhs in Afghanistan are its original residents and not migrants from India, the Afghan Ambassador to the US has said here at a memorial service for the minority community members killed in a terrorist attack in Jalalabad recently.
At least 19 people, were killed on July 1 when a suicide bomber targeted a convoy of Sikhs and Hindus on their way to meet Afghanistan president Ashraf Ghani in Jalalabad. Eighteen Hindus and Sikhs were killed in the terror attack claimed by the Islamic State.
"This occasion is one that brings us together to recognise a community that has deep roots in Afghanistan," Afghanistan Ambassador to the US Hamdullah Mohib said at the memorial service held at his embassy in Washington DC on Sunday.
"For many, they often think of the minority Hindus and Sikhs as migrants from India. But in reality, the Hindus and Sikhs of Afghanistan are the original residents of this country," the top Afghan diplomat here said.
Sena Lund, president of the New York-based Afghan Hindu association, read out the names of the 18 slain leaders, while Asha Kapoor of the local Asamai Hindu Mandir recited a speech in Dari, the official language of Afghanistan, to commemorate the victims.
In his brief remarks, Puneet Kundal, the deputy chief of mission at the Indian embassy here, condoled of the loss of lives in the "dreadful violence".
"The very fact that you are organising this event here today is a representation of the sentiments that the government of Afghanistan feels for these communities," Kundal said.
Tulsi Gabbard, the first Hindu lawmaker in the US Congress, in a statement read on the occasion said that this brutal attack was yet another example of the fear, bigotry and hatred that sadly exists in the world.
"During the Taliban regime, Hindus and Sikhs were forced to wear yellow patches to identify themselves in public, furthering extreme prejudice, and eventually forcing many to seek asylum in India," she said.
"These fear tactics and attacks attempt to divide us, but we cannot give into this hate. We must confront hatred with love, fear with understanding and darkness with light. We must continue to stand up to bigotry and hatred in Afghanistan, here at home and around the world," Gabbard said.
Ambassador-at-Large for International Religious Freedom Sam Brownback said the loss of these community leaders was a terrible blow, not only to Afghanistan, but also to the international community.
"The Sikh and Hindu communities have a long and distinguished heritage and this horrific attack will not diminish that. Our office will continue to monitor the conditions faced by religious minorities in Afghanistan. I stand with you and will work toward an Afghanistan that is peaceful and secure for all its people," he said.
Sounds of sacred traditional Sikh hymns, sung by leaders of the local Washington gurdwara and National Sikh Campaign, as well as verses from the Bhagavad Gita, recited by Pandit Ram Kumar Shastri of Silver Spring, Maryland's Asamai Mandir, filled the air.
A packed hall of mourners from the Hindu and Sikh communities sat alongside officials from the Afghan embassy, Indian embassy, and US State Department facing a mural depicting the ancient relics of the Buddhas of Bamiyan.
"We at the Hindu American Foundation pledge to be with you every step of the way as Hindus and Sikhs seek full enfranchisement in Afghan society," said Jay Kansara of the Hindu American Foundation, which helped organise the event by the Afghan Hindu Association.
Get the best of News18 delivered to your inbox - subscribe to News18 Daybreak. Follow News18.com on Twitter, Instagram, Facebook, Telegram, TikTok and on YouTube, and stay in the know with what's happening in the world around you – in real time.
| Edited by: Naqshib Nisar
Read full article