41 Killed, Dozens Injured as Massive Fire Ravages South Korea Hospital
Video footage and pictures showed a helicopter flying above the building in Miryang, engulfed by heavy grey smoke and surrounded by multiple fire trucks.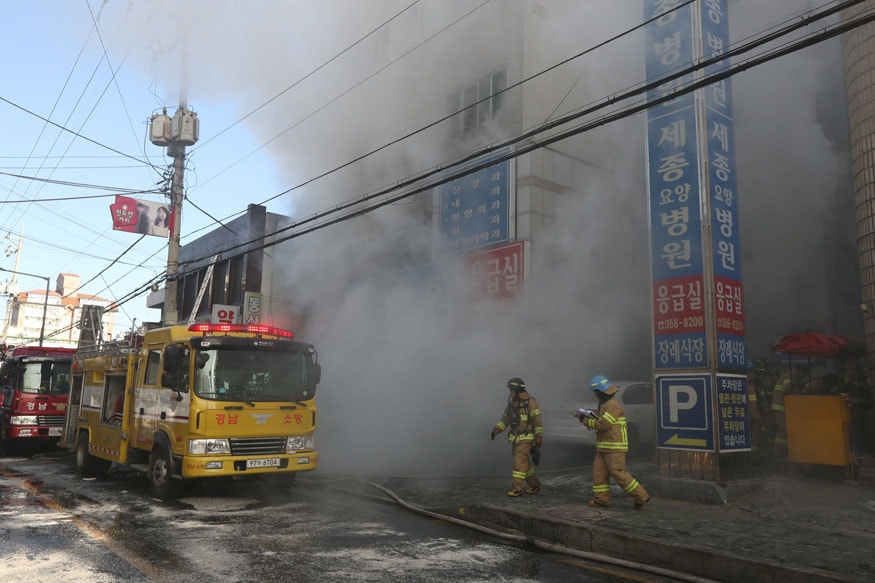 Smoke rises from a burning hospital in Miryang, South Korea (Reuters)
Seoul: The death toll from a hospital blaze in the South Korean city of Miryang jumped to 41, Yonhap news said on Friday, in the country's worst fire disaster in more than
a decade.
More than 70 people were also injured in the second devastating blaze in just a month in one of Asia's most advanced countries and its fourth-largest economy.
Videos posted on social media showed a patient hanging on to a rope dangling from a helicopter above the hospital in Miryang, and another crawling out of a window to climb down a ladder.
The six-storey structure housed a nursing home as well as the hospital, and the National Fire Agency said 33 people had been killed, with 13 critically injured.
Another 61 suffered light injuries, a spokesman said, adding the death toll could rise further.
"Two nurses said they had seen fire suddenly erupting in the emergency room," said fire chief Choi Man-Woo, but the cause of the blaze was not immediately known.
All the patients had been brought out, he said, adding that evacuating 15 patients from the intensive care unit on the third floor took longer as firefighters had to wait for medical staff to supervise the process.
All victims came from the hospital, he said.
"Many victims were from the first and second floors of the hospital... some died on their way to another hospital," he said.
Video footage and pictures showed the building engulfed by heavy dark smoke and surrounded by multiple fire trucks.
Survivors were brought out wrapped in blankets, and firefighters picked their way through the blackened shell of the building after the blaze was extinguished.
Around 200 people were in the Sejong Hospital building when the fire broke out, police said.
South Korean President Moon Jae-In expressed regret in an emergency meeting with advisers to discuss response measures, and urged utmost efforts to minimise casualties, his spokesman said.
Moon ordered the cause of the fire to be swiftly identified "to prevent confusion among families", added Park Soo-Hyun.
The fire came only a month after 29 people were killed in an inferno at a fitness club in the South Korean city of Jecheon -- a disaster blamed on insufficient emergency exits, flammable finishing materials and illegally parked cars blocking access to emergency vehicles.
Friday's fire is South Korea's worst since 2008, when a blaze at a warehouse in the city of Incheon killed 40 workers.
The worst fire ever in modern South Korea was an arson attack on a subway station in the southeastern city of Daegu in 2003 that left 192 people dead and nearly 150 injured.
| Edited by: Ananya Chakraborty
Read full article
Countdown To
Elections Results
To Assembly Elections 2018 Results