GET Stock

Quotes


Powered by


Terror Groups Banned in Pakistan Are Alive and Active on Facebook
More than 1.6 lakh people follow these groups and more than 350 updates were shared by these groups in April alone, the story went on to say.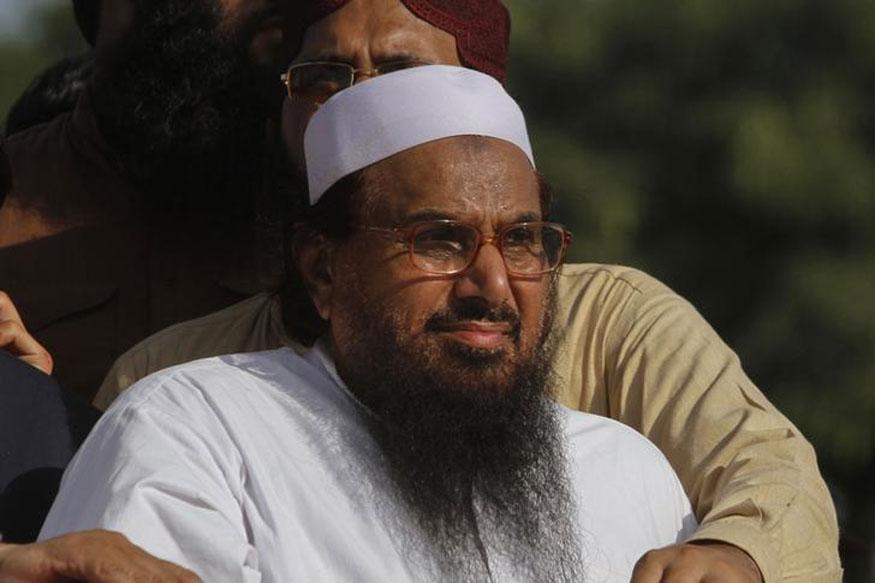 Mumbai terror attack mastermind and Jamaat-ud Dawah (JuD) chief Hafiz Saeed. (Image: Reuters)
New Delhi: Most of the banned terror groups in Pakistan are alive and active on Facebook. An investigation carried out by Pakistan newspaper Dawn has found out that of the 64 banned outfits, 41 have dedicated pages and groups on Facebook.
Among these outfits are Lashkar-e-Taiba (LeT) and Jaish-e-Muhammad (JeM), which have repeatedly carried out attacks against India and killed hundreds of its citizens.
Some other Facebook groups like Tehreek-e-Taliban Pakistan (TTP) the biggest terror group in Pakistan, Lashkar-e-Jhangvi (LeJ) the most violent anti-Shia outfit, the 313 Brigade considered to be Al Qaeda's arm in Pakistan, and ISIS were also found.
Among the outfits with the largest presence was Jeay Sindh Muttahida Mahaz (JSMM), a separatist group fighting for the seperation of Sindh from Pakistan which is alleged to be close to Research and Analysis Wing (RAW).
ALSO READ | New Pak Terror Chief Hafiz Abdul Makki Mocks 'Puppet' Pakistan Army
Both Sunni and Shia sectarian groups were found to have been running propaganda, some even showing graphic content, to their users in Pakistan. Most of these pages were found to be written in Urdu, suggesting that information available in those groups were meant for local consumption.
A majority of the users following these groups, the Dawn reporter, 'appeared to be based in larger urban centers such as Karachi, Lahore, Peshawar and Quetta.'
More than 1.6 lakh people follow these groups and more than 350 updates were shared by these groups in April alone, the story went on to say.
The outfit with the largest presence on Facebook was found to be Ahle Sunnat Wal Jamat (ASWJ), a banned outfit hostile to the minority communities including the Shias. The outfit had more than 200 dedicated groups and pages, more than 20 pages with over 500 followers.
Some of the banned Pakistani groups with significant presence on Facebook were found to be –
1. LeT
There are nine groups and seven pages dedicated to LeT. Formed in 1990 by Hafiz Saeed, the group has carried out attacks not just in Kashmir but in other parts of the country as well. Most notorious of these were the 26/11 attacks in Mumbai, in which 166 citizens lost their lives.
2. JeM
Over 30 active Facebook pages and groups are dedicated to this outfit. The outfit was founded by Masood Azhar in 2000 after he was exchanged for Indian hostages from hijacked Indian Airline fight IC 814. The group has carried out several attacks in Kashmir.
3. TTP
The biggest terror group in Pakistan was responsible for the December 2014 brutal attack on Army Public School, in which seven TTP terrorists killed 144 people, 132 of whom were children.
4. 313 Brigade
This group is considered to be Al Qaeda's military arm in Pakistan. Its chief Ilyas Kashmiri is said to have been a former Pakistan army commando. The group carried out attacks against Indian army across the LoC also but after Kashmiri was killed in a drone strike in 2010, the outfit reportedly fell silent. The outfit has been associated with multiple assassination attempts on Pervez Musharraf and has members drawn from other outfits like LeT, LeJ and JeM. The group is said to be active in Syria right now.
5. LeJ
A total of eight pages and groups are dedicated to this outfit. It has declared an open war against Shias and other minority communities and was held responsible for the abduction and murder of Daniel Pearl. The founding members of the outfit were also involved in attack on the Sri Lankan cricket team in Lahore.
Also Watch
Read full article