The Latest: Trump Set To Spend Election Night At White House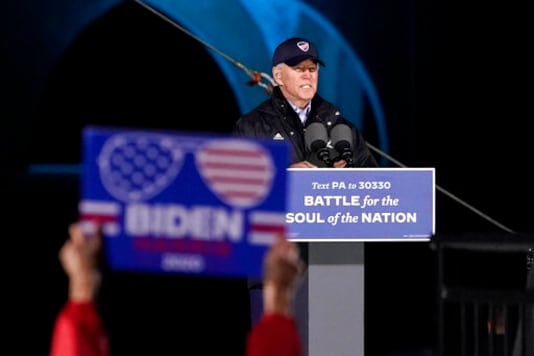 Democratic presidential candidate former Vice President Joe Biden speaks at a drive-in rally at Franklin Delano Roosevelt Park, Sunday, Nov. 1, 2020, in Philadelphia. (AP Photo/Andrew Harnik)
The Latest on the presidential campaign (all times local):
Last Updated: November 02, 2020, 23:30 IST
FOLLOW US ON:
WASHINGTON: The Latest on the presidential campaign (all times local):
12:50 p.m.
Democratic vice presidential nominee Kamala Harris is talking up Joe Bidens labor credentials during a stop in northeastern Pennsylvania.
If she and Biden win the White House, she said, we will probably have the most pro-labor administration weve seen in a long time.
Harris made her remarks in Luzerne County, her first of three stops in battleground Pennsylvania on Monday. The region was once a major hub of anthracite coal mining, and the county backed Republican Donald Trump in 2016 after previously supporting Democrat Barack Obama.
Harris is pitching Bidens plan to expand skills training and suggesting theres no false choice between tackling climate change and saving jobs. Harris says a Biden administration will work to make the country the worlds top maker of electric vehicles.
She was direct about Pennsylvanias importance. She says, Pennsylvanias gonna determine the outcome of this election.
___
HERES WHAT YOU NEED TO KNOW ABOUT THE PRESIDENTIAL RACE:
President Donald Trump and Democratic challenger Joe Biden have one last chance to make their case to voters in critical battleground states on Monday. The Republican presidents final day has him sprinting through five rallies, from North Carolina to Wisconsin. Biden is devoting most of his time to Pennsylvania.
Read more:
Trump threatens to fire Fauci in rift with disease expert
Legal armies ready if cloudy election outcome heads to court
2020 Watch: Will loser of the election accept the result?
Expect a lot more of the same if Trump wins a 2nd term
Biden looks to restore, expand Obama administration policies
AP FACT CHECK: Trumps errant final pitches on virus, energy
6 questions going into the presidential election
AP Explains: The election result may be delayed. Thats OK.
___
HERE'S WHAT ELSE IS GOING ON:
12:40 p.m.
Joe Biden is delivering a working-class economic pitch as he makes a late play for Ohio.
At a drive-in rally Monday at an airplane hangar in Cleveland, Biden said President Donald Trump sees the world from Park Avenue, but Wall Street didnt build America the middle class built America!
Biden told the crowd hes got a chip on his shoulder, noting some suggest the fact he doesnt have an Ivy League degree has got to mean I dont belong because I went to a state university. But he added that its about time someone with a state university degree becomes president, telling the audience, Because youre gonna be there! The crowd cheered and rang cowbells, with some seated in their cars leaning heavily on their horns.
Biden also spoke about manufacturing jobs lost in Ohio and his plan to boost those jobs by incentivizing companies and the federal government to make more products in the U.S.
Ohio is a perennial swing state, and no Republican has won the presidency without it. While Trump won it by about 8 percentage points in 2016, Bidens aides believe he has a shot here because of his appeal to blue-collar workers and suburban voters in the state.
___
12:15 p.m.
President Donald Trump is projecting confidence and declaring at a North Carolina rally that were going to win anyway despite investigations he says were launched as part of an attempted takedown.
Opening the first of five campaign rallies on the eve of Election Day, Trump openly wondered what the political landscape would have looked like had it been legit.
He was referring to the special counsels investigation into ties between his 2016 presidential campaign and Russia and his impeachment by the Democratic-run House. Special counsel Robert Mueller found multiple links between the Russian government and the Trump campaign, but ultimately did not establish that the Trump campaign conspired with Russia to interfere in the election.
Trump says its all fake stuff.
The president spoke in Fayetteville, North Carolina. His other stops Monday are in Pennsylvania, Michigan and Wisconsin.
Hes closing the night in Grand Rapids, Michigan, the same place he closed the 2016 run.
___
12:10 p.m.
Ohio Sen. Sherrod Brown says Joe Bidens not doing enough anywhere in the campaign, but hes doing as much as you can and thinks the Democratic presidential candidate can win Ohio.
Brown spoke to reporters Monday before Bidens drive-in rally in Cleveland. He noted that Biden has spent most of his campaign time in Michigan, Pennsylvania and Wisconsin because those are the core states he expects to deliver him an Electoral College win. But he said Biden can tamp down any efforts to delegitimize the election by winning Ohio.
Brown says he and the rest of the Democrats in the Ohio delegation had been lobbying the Biden campaign to send him for weeks. Polls show a close race in the state.
As the president lobs baseless claims that the election is rigged, Brown says, Winning Ohio will undermine all of Trumps shenanigans and antics after the election when he calls it rigged. While other states could take days to count the large volume of mail ballots, Ohio is quick to call the election, he noted, and could give a sign of an overwhelming Biden lead on election night if he wins.
___
9:05 a.m.
Joe Biden is defending Dr. Anthony Fauci after President Donald Trump suggested hed dismiss the nations top infectious disease expert after Election Day.
The Democratic presidential nominee tweeted Monday: We need a president who actually listens to experts like Dr. Fauci.
Biden has sought to keep the presidential campaign focused on the federal response to the coronavirus

pandemic, which has killed more than 231,000 people in the U.S. Trump has used the races final hours to accuse Biden of wanting to force the country back into a lockdown to slow the spread of the virus.
During a rally that started late Sunday in Opa-locka, Florida, the Republican president expressed frustration that the surging virus cases remain prominent in the news, sparking chants of Fire Fauci from his supporters.
Trump replied, Dont tell anybody, but let me wait until a little bit after the election.
Biden is traveling to Ohio and Pennsylvania on Monday, trying to keep open multiple pathways to an Electoral College victory. Trump plans a whirlwind five rallies, from the battlegrounds of North Carolina to Wisconsin.
___
8:55 a.m.
President Donald Trumps press secretary says Trump expects to spend election night at the White House watching results roll in.
White House press secretary Kayleigh McEnany was asked on Fox News Channels Fox & Friends on Monday where the president planned to celebrate. She said Trump and some aides will be together … at the White House for election night.
Trumps campaign had planned a traditional campaign party at his Washington, D.C., hotel. But Trump said last week that he was considering other options, including staying at the White House, because the District of Columbias coronavirus

protocols would restrict the size of the gathering.
The Trump campaign last month pushed out fundraising emails in the Republican presidents name offering donors the chance to enter a drawing to join Team Trump at the Election Night Party in his favorite hotel, in Washington, suggesting he would use his hotel as the backdrop for reacting to election results.
Disclaimer: This post has been auto-published from an agency feed without any modifications to the text and has not been reviewed by an editor
Tags:
First Published: November 02, 2020, 19:27 IST
Next Story