The Latest: Trump To Face Voters' Questions In NBC Town Hall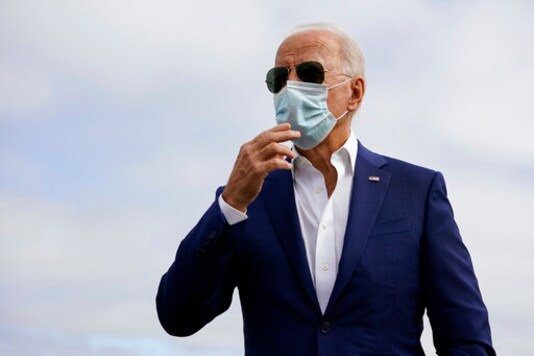 Democratic presidential candidate former Vice President Joe Biden speaks to members of the media before boardin his campaign plane at New Castle Airport, in New Castle, Del., Tuesday Oct. 13, 2020, en route to Florida. (AP Photo/Carolyn Kaster)
The Latest on the 2020 presidential race (all times local):
Last Updated: October 15, 2020, 13:19 IST
FOLLOW US ON:
WASHINGTON: The Latest on the 2020 presidential race (all times local):
2:10 p.m.
President Donald Trump is expected to announce that he will present the Medal of Freedom to Dan Gable, a renowned wrestler and coach from Iowa.
Trumps decision to award one of the nations highest civilian honors to Gable comes during a tight race in a state in which Gable is a sports legend. He was a champion wrestler at Iowa State University, and as a coach, led the University of Iowa to 15 NCAA team titles. He also won the gold medal in the 1972 Olympics.
Trump told the local ABC station in Des Moines on Wednesday that he would be presenting the award to Gable today or shortly thereafter. Sen. Chuck Grassley, R-Iowa, also tweeted that congratulations were in order for Gable.
The Presidential Medal of Freedom is awarded to people who have made exceptional contributions to the security or national interests of America, or to its culture or other significant endeavors. Trump has presented the award to several athletes during his nearly four years in office.
Trump is scheduled to hold a campaign rally at the Des Moines International Airport on Wednesday night.
___
HERES WHAT YOU NEED TO KNOW ABOUT WHATS HAPPENING IN THE PRESIDENTIAL RACE:
President Donald Trump is being forced to play Electoral College defense with a trip to Iowa, a state he won handily in 2016 but where Democrat Joe Biden is making a late push. Biden doesnt have any public campaign events scheduled Wednesday.
Read more:
Democrats, Republicans stretch for hard-to-get districts in House races.
AP FACT CHECK: Trump falsifies Biden stance on fracking.
NBC sets Trump town hall.
HERES WHAT ELSE IS GOING ON:
11:48 a.m.
President Donald Trump is describing the choice for voters in the Nov. 3 election as a choice between the socialist nightmare and the American dream.
Trump is promising a COVID-19 vaccine before the end of the year and claiming that if the left wins power they will shut down the economy and prolong the pandemic.
Trump was speaking Wednesday to economists from Washington, New York, Pittsburgh and elsewhere in a video address from the White House.
The pitch is comparable to the message Trump is delivering at rallies as the election campaign enters its final three weeks.
Trump, his voice raspy at times, called for those at lower risk of severe illness to the novel coronavirus to return to more normal economic activity. He says lockdowns are needlessly destroying lives.
He says hell push for more infrastructure investment in a second term, though Republicans and Democrats have struggled over how to pay for better roads, bridges and mass transit. He says hell continue to push for tax cuts while Democrats want to raise taxes.
__
7:55 a.m.
In lieu of a formal debate, President Donald Trump has agreed to answer voters questions during a town hall program sponsored by NBC News on Thursday night.
The event will be held outdoors at the Perez Art Museum in Miami.
NBC News says it has a statement from National Institutes of Health clinical director Dr. Clifford Lane indicating he and White House coronavirus task force member Dr. Anthony Fauci have reviewed Trumps medical data and concluded with a high degree of confidence the president is not shedding infectious virus.
Trump tested positive for the coronavirus Oct. 2. He spent three days at the Walter Reed military hospital. He resumed public appearances over the weekend and resumed campaign travel Monday.
A formal matchup between the Republican president and Democrat Joe Biden that was scheduled for Thursday in Miami by the nonpartisan Commission on Presidential Debate was canceled. The commission shifted the format from a town hall to a virtual meeting, and Trump declined to participate.
Biden is participating in an ABC News town hall Thursday in Philadelphia.
Disclaimer: This post has been auto-published from an agency feed without any modifications to the text and has not been reviewed by an editor
Tags:
First Published: October 14, 2020, 17:36 IST
Next Story