Theresa May Under Fresh Pressure to Step Down as British PM
Grant Shapps, co-chair of the ruling Tory party between 2012 and 2015, claims having the backing of nearly 30 party MPs including former Cabinet ministers.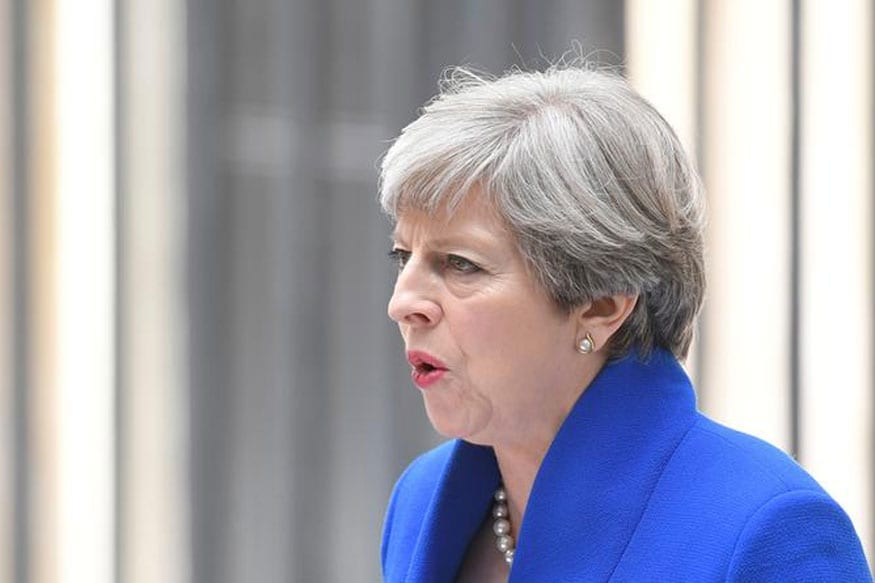 File photo of Theresa May (Image: Reuters)
London: Theresa May has come under fresh pressure from within her own party to step down as British prime minister as it emerged on Friday that a former Conservative party chairman is leading an attempted coup against her.
Grant Shapps, co-chair of the ruling Tory party between 2012 and 2015, claims having the backing of nearly 30 party MPs including former Cabinet ministers.
He plans to spend the weekend taking that number up to the required 48 MPs to write to the chairman of the Conservative Party's powerful 1922 Committee of backbench MPs to trigger a leadership contest within the party.
"I think it's time we actually tackle this issue of leadership and so do many colleagues. We wanted to present that to Theresa May privately. Now I'm afraid it's being done a bit more publicly," Shapps told the BBC.
While 61-year-old May's own Cabinet has rallied around her, Shapps accused them of trying to overlook a series of blunders that made May's leadership of the party and the country untenable.
Calls for the British premier's resignation have been growing ever since a doomed general election in June, which lost the Tories their overall majority in Parliament.
Most recently, calls for May to step down have been revived as a result of a disastrous speech at the annual Conservative Party conference in Manchester.
Her key policy messages were all lost in a series of mishaps, including an interruption by a prankster, her own coughing fit and, to make matters worse, a faulty party message sign falling off on stage letter by letter.
"I think a growing number of my colleagues realise the solution isn't to bury our heads in the sand and hope things will get better. We have spoken to people from the Cabinet and ones who privately agree, I'm sure today publicly they will say otherwise," said Shapps during a series of media statements on the issue.
He said the group of MPs supporting him included members across policy divides and covered Brexiteers and those who supported remaining in the European Union (EU).
But at the same time there are party colleagues who have jumped to May's support and accused Shapps of stirring up trouble when an "overwhelming majority" want her to carry on as premier.
"The truth is the overwhelming majority of Conservative MPs, the truth is the entirety of the Cabinet, the truth is the overwhelming majority of people, want the prime minister to concentrate on doing the job that 14 million people elected her to do earlier this year," said UK environment secretary Michael Gove, who had been one of the leadership contenders for the Conservatives alongside May when David Cameron exited 10, Downing Street after the Brexit vote last year.
Gove's intervention came as UK home secretary Amber Rudd made a very public appeal in 'The Daily Telegraph' asking May to continue despite the "trio of mishaps" that blighted her conference speech.
"We, Theresa May's government, want to set out a better path, one that actually leads to a prosperous, secure and united country. We can do that, and we will under her leadership. She should stay," she wrote.
Charles Walker, the vice-chairman of the influential Tory backbench 1922 Committee, also came out strongly against the Shapps-led coup attempt.
He said, "No 10 must be delighted that it's Grant Shapps leading this alleged coup. Grant has many talents but one thing he doesn't have is a following in the party, so really I think this is going to fizzle out to be perfectly honest".
May, meanwhile, is recovering from her cold and cough that ruined her party speech at home in her Maidenhead constituency before spending the weekend at the prime minister's country retreat in Chequers.
Next week, on Wednesday, the 1922 Committee of backbench Tory MPs will meet for the first time since the party conference for what could be a crucial moment for the party's future and May's own leadership.
Get the best of News18 delivered to your inbox - subscribe to News18 Daybreak. Follow News18.com on Twitter, Instagram, Facebook, Telegram, TikTok and on YouTube, and stay in the know with what's happening in the world around you – in real time.
| Edited by: Ananya Chakraborty
Read full article