Top Secular Leader Among 20 Killed in Suicide Blast at Election Rally in Pakistan
The attack targeted a campaign event organised in the city of Peshawar by the Awami National Party, which has been targeted by Islamist militants in the past over its vocal opposition to extremist groups like the Taliban.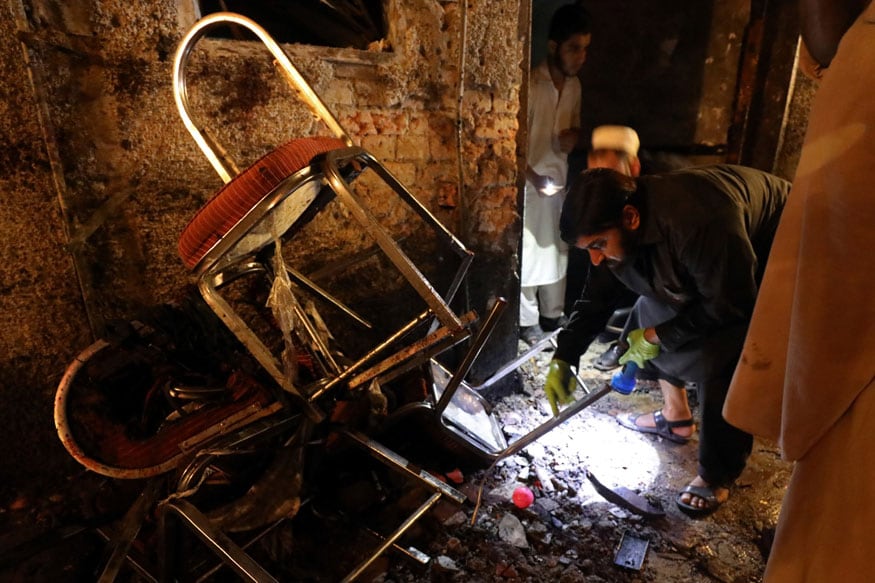 A police officer in plain clothes collects evidence from the site after a suicide attack during an election campaign meeting in Peshawar, Pakistan. (Image: Reuters)
Peshawar: A senior secular leader of the Awami National Party (ANP) and 19 others were killed when a Taliban suicide bomber blew himself up in an election rally in Pakistan's northwestern Peshawar city, the second terrorist attack on a political rally ahead of the July 25 general elections.
The powerful blast, which also injured 66 people, took place shortly before midnight last night when ANP leader Haroon Bilour, who was contesting elections from PK-78 constituency in Peshawar city, along with other party workers had gathered for a corner meeting in the congested Yakatoot area.
The blast occurred near Bilour's vehicle.
Bilour was the son of the late ANP leader Bashir Bilour, who was also killed in a similar suicide attack when a Taliban bomber blew himself up at a party meet in Peshawar in 2012.
The death toll was initially reported at 13 but it rose to 20 overnight, Lady Reading Hospital's spokesperson Zulfiqar Ali Baba Khel said.
The attack was claimed by banned Tehrik-e-Taliban Pakistan (TTP).
Mohammad Khurasani, a spokesman for the TTP, identified the suicide bomber as Mujahid Abdul Karim, who targeted ANP leader Bilour.
Bilour had suffered serious injuries in the blast and was shifted to the hospital where he succumbed to his injuries.
"I t was the revenge of killing and imprisonment of scores of Mujahidden (militants) during ANP regime," Khurasani said, adding that the secular ANP party would remain on target list of TTP.
Bomb disposal squad chief Shafqat Malik said eight kg TNT explosive was used in the blast.
Bilour was laid to rest today in Syed Hasan Pir Graveyard after thousands of people, including ANP leaders and activists, attended his funeral at Wazir Bagh in Peshawar. A three-layer security plan had been derived for the funeral procession.
Peshawar Capital City Police Officer Qazi Jameel said the provincial police chief has constituted a five-member Joint Investigation Team led by deputy inspector general of the Counter-Terrorism Department to probe into the incident and submit its report within a week.
Pakistan's Chief Election Commissioner (CEC) Sardar Muhammad Raza strongly condemned the attack. "This shows the weakness of our security institutions and a conspiracy against transparent elections," he said.
The Election Commission has postponed the polls in PK-78 constituency. The new schedule will be announced later.
The ANP is a mainstream national party headed by Asfandyar Wali Khan, the grandson of nationalist leader Abdul Ghaffar Khan commonly referred to as Bacha Khan among the Pushtuns.
Wali said that the party would observe three days of peaceful mourning, adding that the ANP would participate in the polls, come what may.
"It will not be a good sign for the country if party workers shun the policy of patience," he said.
The Khyber Pakhtunkhwa Bar Council has also announced a three-day mourning in light of the attack, with lawyers beginning the boycott of court proceedings today.
Pakistan Tehreek-e-Insaaf and Pakistan Peoples Party have suspended their political activities in Khyber Pakhtunkhwa for a day to express solidarity with the Bilour family.
Army Chief General Qamar Javed Bajwa expressed his grief and shock at the death of Bilour and others in the blast.
"We are fighting against nexus of inimical forces which aren't willing to absorb a peaceful and stable Pakistan. We remain undeterred and shall defeat them," he said.
This was the second terrorist attack on an election rally in Pakistan ahead of the general elections.
Earlier this month, seven people including a candidate of the Muttahida Majlis-i-Amal were injured in an explosion during an election rally near Takhtikhel also in the Khyber Pakhtunkhwa province.
The ANP, which governed the Khyber-Pakhtunkhwa province from 2008 to 2013, has been targeted by the TTP for carrying out operations against militant outfits in the troubled northwestern region of Pakistan and being secular in its ideology.
The militants killed hundreds of ANP leaders and supporters in attacks around the 2013 election.
The National Counter Terrorism Authority (Nacta) on Monday had told a Senate standing committee that some leading political leaders faced death threats from militant outfits ahead of the July 25 general elections in Pakistan.
The leaders include Pakistan Tehreek-e-Insaaf chief Imran Khan, the son of Mumbai attack mastermind Hafiz SaeeH
d, Asfandayar Wali Khan, and senior leadership of other parties.
Get the best of News18 delivered to your inbox - subscribe to News18 Daybreak. Follow News18.com on Twitter, Instagram, Facebook, Telegram, TikTok and on YouTube, and stay in the know with what's happening in the world around you – in real time.
| Edited by: Ahona Sengupta
Read full article