Top US Diplomat Tillerson in Mexico to Soothe Ties
US Secretary of State Rex Tillerson meets with Mexican leaders on Thursday to try to calm a row over President Donald Trump's trade and immigration policies.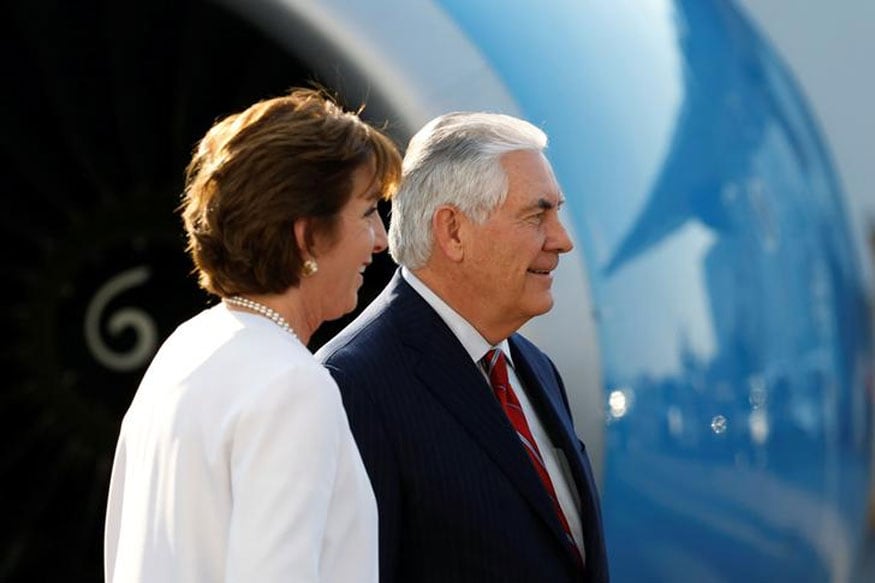 U.S. Secretary of State Rex Tillerson walks with U.S. ambassador Roberta Jacobson after he arrived at Benito Juarez international Airport in Mexico City, Mexico February 22, 2017. REUTERS/Carlos Jasso
Mexico City: US Secretary of State Rex Tillerson meets with Mexican leaders on Thursday to try to calm a row over President Donald Trump's trade and immigration policies.
Trump has outraged Mexico by vowing to build a wall along the border to keep out migrants, whom he branded rapists and criminals during his presidential campaign.
His government on Tuesday issued new orders to the authorities to begin arresting and deporting illegal immigrants, many of them Mexicans.
Trump has also threatened to put up barriers to Mexican exports, shift jobs from that country back to the United States and even halt remittances by US-based Mexicans back to their families.
Now he has sent Tillerson and Homeland Security Secretary John Kelly to Mexico City to smooth over tensions -- and discuss with Mexican Enrique Pena Nieto how to curb cross-border migration and drug-trafficking.
"It's significant that the president is sending the secretaries to Mexico so early in the administration. It's symbolic of the meaningful relationship that our two nations have," White House spokesman Sean Spicer told reporters on Wednesday.
"These are important meetings regarding the president's agenda to improve the quality of lives for both people of Mexico and the United States by combating drug traffickers and finding ways to bolster both our economies through a broader relationship that promotes commerce and legal immigration."
Tillerson and Kelly were scheduled to meet with Pena Nieto at 1900 GMT after talks with Mexico's ministers of foreign affairs, finance and government.
Trump's stance on Mexico has driven the countries' relations to their lowest point in years.
Pena Nieto canceled a planned meeting with Trump in Washington last month over the US leader's vow to make Mexico pay for the wall.
US government officials said Tillerson and Kelly will aim to convince Mexico that it values their bilateral ties.
Spicer insisted Mexico and Washington have "a very healthy and robust relationship with the Mexican government."
But Maureen Meyer, an expert at the Washington Office on Latin America, a US human rights advocacy organization, said "relations have been severely strained by the Trump administration's rhetoric and actions."
"Secretary Tillerson has an opportunity to set relations on a more sound footing based on mutual respect," she said in a statement.
The US immigration authorities have arrested hundreds of people across the country as part of Trump's pledge to crack down on illegal immigrants.
Kelly on Tuesday issued new orders to step up the detentions.
Speaking in Guatemala on Wednesday before traveling to Mexico, Kelly said "my sincere advice to any citizen considering moving to the United States in crossing our boundaries irregularly -- migration -- my best advice is to not do it."
Get the best of News18 delivered to your inbox - subscribe to News18 Daybreak. Follow News18.com on Twitter, Instagram, Facebook, Telegram, TikTok and on YouTube, and stay in the know with what's happening in the world around you – in real time.
| Edited by: Huma Tabassum
Read full article