Pakistan Narrowly Avoided Osama-like Raid By US Navy Seals Last Month
The US-Canadian couple and their three children, who were born in captivity, were freed after Pakistani military launched an operation with the help of American assistance after the stern warning. The Pakistani officials had acted within hours.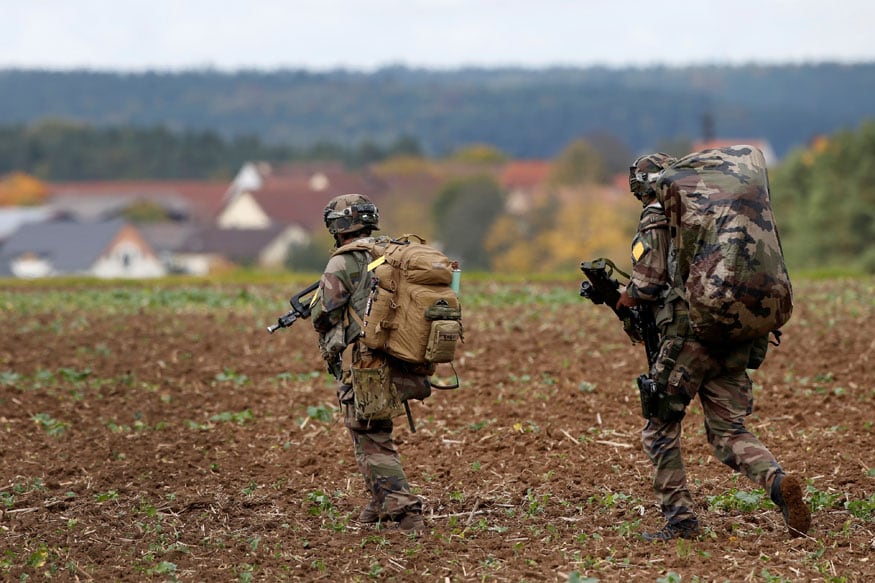 Soldiers are pictured during an exercise of the U.S. Army's Global Swift Response 17 Media Day near Hohenfels, Germany, October 9, 2017. (REUTERS/Michaela Rehle)
The United States' Navy SEAL Team was ready to mount a raid deep into Pakistani territory to free an American citizen and her family if the Pakistan government did not act against the Haqqani network - the terror outfit that had kidnapped the family five years ago.
It would have been another humiliating episode for the Pakistani government, reminiscent of the raid that killed Osama Bin Laden in 2011. The operation against Osama was conducted by the same Navy SEAL commandos without the knowledge of the Pakistani government.
Officials said that if the Pakistani government did not act decisively to free the family, it would have confirmed their suspicions that it was working in tandem with the Taliban-linked Haqqani network, the New York Times reported.
Caitlan Coleman (31), Joshua Boyle (34), her Canadian husband; and their three children, who were born in captivity, were freed last week after Pakistani military launched an operation with American assistance. The Pakistani officials had acted within hours after the stern warning from US authorities.
The NYT, citing unnamed senior US officials, reported that Navy SEAL Team 6 was mobilized to conduct a rescue operation, but it was called off later.
A CIA drone had reportedly caught the Haqqani network move the family from its camp in northwest Pakistan last month after which the raid was planned.
The risky operation, however, was called off at the last moment as some in the United States government were not certain that the people spotted by the drones were in fact the kidnapped family. There were also concerns about the tough terrain.
After the plan was put on hold, the US military decided to put pressure on the Pakistan government. US President Donald Trump was also briefed that if Islamabad failed to cooperate, the SEALS would go in.
Trump, who has been highly critical of Islamabad, praised Pakistan's cooperation with the US government over the freeing of the hostages, saying it represented "a positive moment" for US-Pakistan relations.
In recent days, senior US officials have been more pointed about Islamabad's alleged ties to militant groups, who are battling against US and US-backed forces in a stalemated 16-year-old war in neighbouring Afghanistan. Some U.S. officials say Pakistani safe havens have helped prolong the conflict.
Pakistan fiercely denies such ties, and it touted the operation as proof of the strength of the alliance.
| Edited by: Mayur Borah
Read full article