US Missile Attack on Syria: How 60 Tomahawks Pounded Key Airbase
Some 60 Tomahawk missiles were launched from US Navy warships in the Mediterranean Sea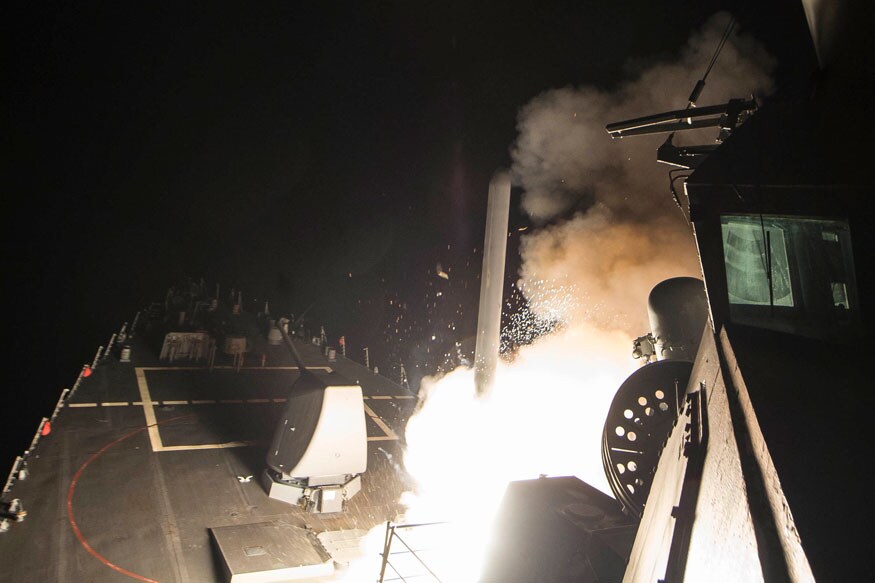 In this image provided by the US Navy, the USS Ross (DDG 71) fires a tomahawk land attack missile Friday,(April 7, 2017) from the Mediterranean Sea. (Image: US Navy via AP)
The US military has launched cruise missile strikes ordered by President Donald Trump against a Syrian airbase controlled by President Bashar al-Assad's forces in response to a deadly chemical attack in a rebel-held area.
Here's what we know about the strikes:
- Some 60 Tomahawk missiles were launched from US Navy warships in the Mediterranean Sea
- A target was identified as an airbase in Homs which is controlled by Syrian President Bashar al-Assad's forces
- The US strikes hit the government-controlled Shayrat air base in central Syria, where US officials say the Syrian military planes that dropped the chemicals had taken off.
- The US missiles hit at 8:45 pm in Washington, 3:45 am Friday morning in Syria.
- Syrian state TV reported a US missile attack on a number of military targets and called the attack an "aggression".
- Donald Trump ordered the missile strikes just a day after he pointed the finger at Assad for this week's chemical attack, which killed at least 86 people, including 27 children, in the Syrian town of Khan Sheikhoun. The Syrian government has denied it was behind the attack.
- The US military action has put the new president at odds with Russia, which has air and ground forces in Syria after intervening there on Assad's side in 2015 and turning the tide against mostly Sunni Muslim rebel groups.
- The missile strikes came hours after Russia warned the United States that there could be "negative consequences" if Washington took military action against Syria.
- US officials tells AFP on condition of anonymity, that Russia was informed before the missile strike.
Also Read: Trump Blasts Assad's Airbase With 60 Missiles in Retaliation to Chemical Attack
Get the best of News18 delivered to your inbox - subscribe to News18 Daybreak. Follow News18.com on Twitter, Instagram, Facebook, Telegram, TikTok and on YouTube, and stay in the know with what's happening in the world around you – in real time.
| Edited by: Swati Sharma
Read full article