US Senator Marco Rubio Cautions PM Narendra Modi on 'Religious Freedom'
In a tweet from his official Twitter handle @SenRubioPress, Rubio said, "I welcome Indian PM Modi to the US. Strong US-India ties are in our long-term interest, but religious freedom must also remain a priority."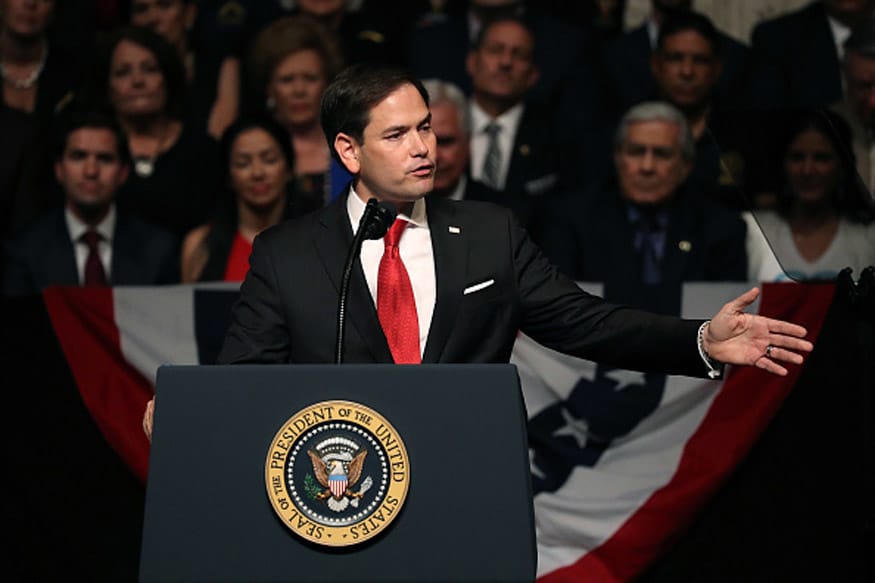 File photo of US Senator Marco Rubio. (Getty Images)
New Delhi: United States Senator Marco Rubio, who represents the state of Florida in the Upper House, welcomed Prime Minister Narendra Modi to the US but cautioned the Indian head of state to ensure "religious freedoms" remain a priority for his government.
In a tweet from his official Twitter handle @SenRubioPress, Rubio said, "I welcome Indian PM Modi to the US. Strong US-India ties are in our long-term interest, but religious freedom must also remain a priority."
Rubio's comments came as the meeting between Modi and US President Donald Trump was a warm one, with the two leaders exchanging hugs. Both Modi and Trump stressed on the need to fight terrorism, which was followed up by the US State Department designating Hizbul Mujahideen commander Syed Salahuddin, a Pakistani national, as a "Specially Designated Global Terrorist (SDGT)".
This comes at a time when a spate of lynchings targeting Muslims has sparked outrage in India and has prompted protests. Muslims across the country shared pictures of them wearing black bands while offering Eid prayers with the hashtag #BlackEid.
Rubio, who belongs to Trump's Republican Party, had made a run for the White House in 2016 but lost the Republican ticket for President to Donald Trump. Rubio echoed the views of former President Barack Obama, who after his visit to India in 2015 had said, "Michelle and I returned from India — an incredible, beautiful country, full of magnificent diversity — but a place where, in past years, religious faiths of all types have, on occasion, been targeted by other peoples of faith, simply due to their heritage and their beliefs — acts of intolerance that would have shocked Gandhiji, the person who helped to liberate that nation."
Get the best of News18 delivered to your inbox - subscribe to News18 Daybreak. Follow News18.com on Twitter, Instagram, Facebook, Telegram, TikTok and on YouTube, and stay in the know with what's happening in the world around you – in real time.
| Edited by: Aditya Nair
Read full article