US Shows Red Card as World Comes Together to Endorse Special Report on Global Warming
Right before the formal release of this special report, as authors and government representatives sat for a final round of meeting in South Korea's Incheon city, a leaked note revealed that US has distanced itself from the report.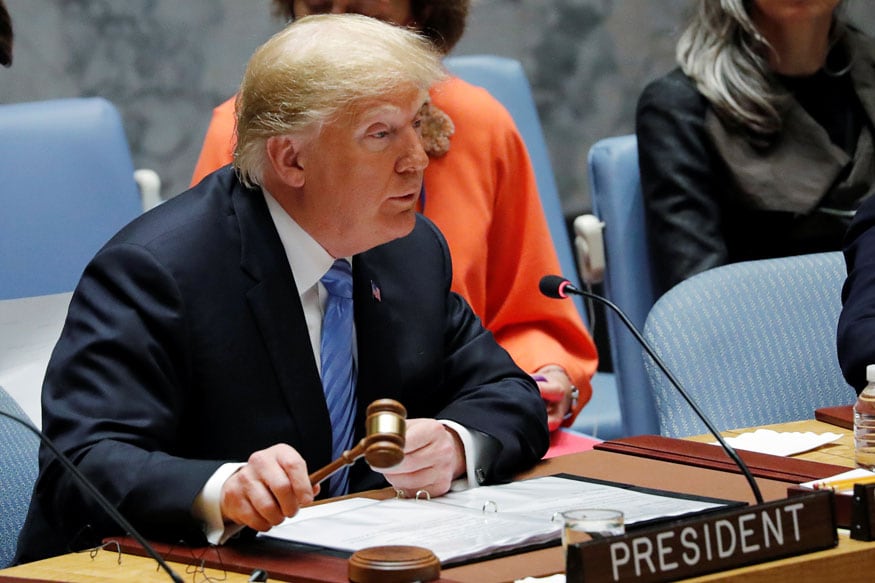 File photo of US President Donald Trump. (Image: Reuters)
Just before the release of the Intergovernmental Panel on Climate Change's (IPCC) special report on the impacts of global temperature rise on Sunday, the United States has made it clear that it does not endorse this report.
The IPCC report is a highly researched and reviewed document prepared by scientists and organisations across the world.
Right before the formal release of this special report, as authors and government representatives sat for a final round of meeting in South Korea's Incheon city, a leaked note revealed that US has distanced itself from the report.
While the US "appreciated" the "hard work" of scientists and authors along with the engagement of other panel members, it did not endorse the findings and content of the report.
The IPCC report is always passed with the consensus of member nations. So experts and several climate negotiation observers believe that though US negotiators didn't endorse the report, its release indicates that even the members of the Trump administration can't deny the truth and reality of climate science.
"Since this is a consensus based report, all countries have to accept the contents of it. United States has accepted as well, though they have issued a statement that they don't endorse the report. This appears to be nothing but a meaningless gesture of an empty rhetoric - the kind we've come to expect from this administration," says a statement released by Climate Trends, a think tank working in the field of climate change and negotiations.
Though China is the biggest carbon emitter today, US is also in the docks for emitting maximum carbon and greenhouse gases in the space, which leads to global warming. Experts believe that the current politics of US under the leadership of Donald trump is not surprising and it simply reaffirms the fact that the country remains isolated, whereas the world is more united than ever.
"A wave of wildfires, droughts and hurricanes this year have meant that rich countries are starting to feel the brutal impacts of climate change. Their people have a right to expect leadership from their governments to protect them from those impacts. No country can isolate itself from the climate reality and the only way to solve this crisis is through cooperation, fairness and bold action. Powerful countries would do well to remember this," says Harjeet Singh, Global Lead on Climate Change for ActionAid.
It is no secret that the Trump administration has been trying to dilute this special report over the last few weeks. During the final meet of authors and government representatives at Incheon, US worked and lobbied to make alterations and deletions in the findings of the report. The important part of the report which US wanted to influence most was summary of Policymakers (SPM). This will set the stage for further climate change negotiation and determination of the goals set by every nation to combat global warming.
After the historic Paris agreement in 2015, all member nations of United Nations Framework Convention on Climate Change (UNFCC) wanted this report to be published by 2018. This special report of IPCC will help the countries to understand the implications of a 1.5 degree and 2.0 degree temperature rise and prepare for the situation accordingly.
US had announced that it would pull out of the Paris agreement soon after Donald Trump assumed office in 2017 and reiterated its position to exit the pact as soon as possible. While the formal process to come out of the global agreement is lengthy and technical, Trump's denial to believe in climate change has put pressure on developing and poor countries that need resources to combat the adverse effects of climate change like sea level rise (SLR), erratic weather pattern, excessive rain and prolonged and frequent droughts. Small island nations have been appealing to keep the temperature rise below 1.5 degree of the pre-industrial level as SLR is threatening their very existence.
India, too, faces the brunt of climate impacts as it has more than 17% of population of the world with just about 2% of the landmass. India has more than 10,000 big and small glaciers (and many of them are receding due to global warming) and a vast 7,500 km-long coastline along which more than 250 million people live and depend on the seas for their livelihood. The impacts of climate change will put a huge financial burden on the poor and developing countries as they will have to face more disasters and migration issues.
India has been advocating the reduction of greenhouse gas emission by developed countries and pledged to take steps for mitigation and adaptation. India has set a high target to deal with climate change, which includes an addition of 1,75,000 MW of clean energy by 2022 and 33% cut in its carbon emission intensity. India has also pledged to have additional forest and plant cover by 2030, which would absorb 2.5 to 3.0 billion ton of carbon.
| Edited by: Sanchari Chatterjee
Read full article
Countdown To
Elections Results
To Assembly Elections 2018 Results