US Triggers China Tariffs, Fuels Fears of Escalating Trade War
Beijing has said it would immediately respond with an equal amount of tariffs of its own against U.S. autos, agricultural and other products, but it did not say at midday on Friday if its countermoves had kicked in.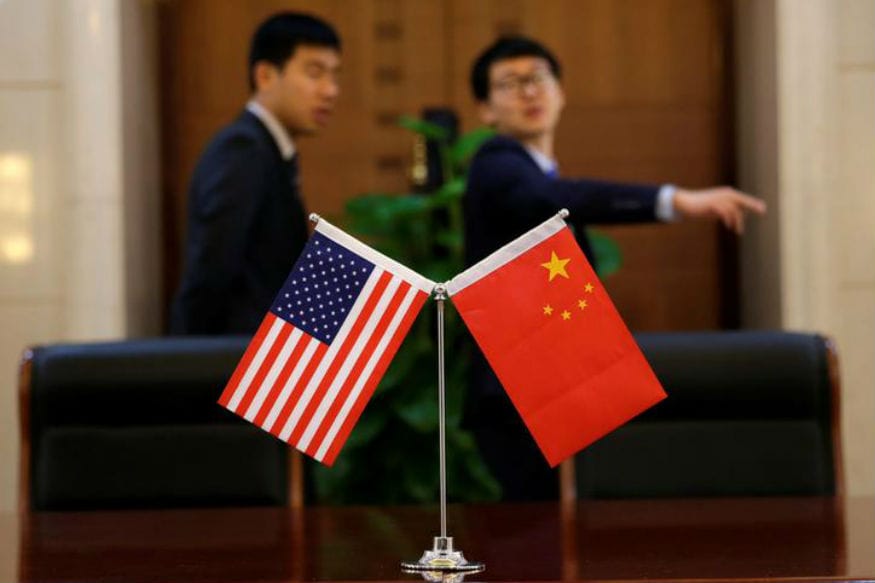 Representative image (Reuters)
Singapore: US tariffs on $34 billion in Chinese imports took effect as a deadline passed on Friday, and with Beijing having vowed to respond immediately in kind, the two biggest economies were set on a risky path toward a full-blown trade war.

The Trump administration has warned it may ultimately target over $500 billion worth of Chinese goods, or roughly the total amount that the United States imported from China last year.

Beijing has said it would immediately respond with an equal amount of tariffs of its own against US autos, agricultural and other products, but it did not say at midday on Friday if its countermoves had kicked in.

Market Reaction:

MSCI's broadest index of Asia-Pacific shares outside Japan pulled off early lows and was little changed by midday. The index has lost 8.8 percent since June 7 on fears of a trade war.

The Shanghai Composite index, which recently tumbled into correction territory, fell 0.3 percent in morning trade.

US&P mini futures edged up 0.2 percent.

Commentary:

Cheng Gong, Chief Researcher, Anbound Consulting, Beijing:

"The impact of the China-US trade dispute will be bigger on China due to the structure of its economy and the high reliance on exports. But it won't be extremely large ... there won't be any panic or a big crisis in China.

"Based on the current attitude of the Chinese government, China will take all kinds of counter-measures (against the US)

They showed strong disagreement to our values and there could be endless conflicts and frictions, this is very worrying and why some scholars are predicting a new cold war."

"The chance that the issues giving rise to the trade war will be resolved in a short time is essentially zero. It's not possible. The trade war will continue across different sectors and economic interactions."

Reagan Li, Investment Manager, V-Investment, Shanghai:

The trade dispute has "messed up corporate strategies, worsening already fragile fundamentals. Some stocks look cheap now, but could be even cheaper, when no one wants to buy them."

Chen Feixiang, Professor Of Applied Economics, Antai College Of Economics And Management, Shanghai Jiatong University:

"We can probably say that the trade war has officially started. I think this has less to do with trade and more to do with politics. Neither country is targeting goods that trade at the largest volume or goods that are most profitable. The U.S. is targeting the Chinese high-tech industry and the Chinese are targeting Trump voters. This is not a typical trade war.

"If this ends at $34 billion, it will have a marginal effect on both economies, but if it escalates to $500 billion like Trump said, then it's going to have a big impact for both countries. In the short term, it will be mostly a psychological impact."

Marc Busch, Professor Of International Business Diplomacy, Georgetown University, Washington DC:

"The escalation of tariffs can only have one positive outcome: to renew each side's enthusiasm for negotiations. China and other U.S. trade partners are worried about American unilateralism, and the United States and other Chinese trade partners are deeply concerned about China's regime for intellectual property. In terms of next steps, the tariffs on both sides should be dropped as part of a package deal, including the resumption of negotiations over a U.S.-China bilateral investment treaty, and a commitment by Washington and Beijing to advance non-optional WTO plus provisions in their preferential trade deals going forward."

Yun Xiong, Partner, Leiton Capital, Shanghai:

"I don't think the market fully realises the consequences. They think it's priced in. But when they see trade data and FX reserve data in a couple of months, they will realise."

Sean Callow, Senior Forex Strategist, WESTPAC, Sydney:

"Markets have had plenty of time to price in these tariffs, and for every investor who is worried about where this trade battle is heading, there is another who points out that this stage of the trade measures is not likely to have a large impact on corporate profits or growth in either the U.S. or China.

"A short-term response in USD/CNY also seems unlikely now that the PBOC has publicly declared that it is, after all, still valuing currency stability, after a couple of weeks when it didn't look like it.

"But it seems far too optimistic to simply brush aside this phase of U.S.-China tariffs. Trump's 18 June statement threatening tariffs on up to $400 billion of additional China imports hangs over today's fully anticipated actions. We should take this threat very seriously, given Trump's long-standing views on trade, his protectionist promises on the campaign trail and polling indicating his voter base remains with him into the November mid-terms."

Ken Cheung, Senior Asian FX Strategist, Mizuho Bank, Hong Kong:

"The market has already digested (the news of tariff implementation). Unless there is an escalation, the yuan is unlikely to have a sizable decline."

Xu Yiyi, Fund Manager, Huann Fund Co, Shanghai:

"Cash is king and investors should stay on the sidelines watching. The impact from the first round of tariff levies is limited. But what about the second round, the third round, if Trump does what he said he would do?"

Tommy Xie, Economist, OCBC Bank, Singapore:

"I think probably China has no choice but going ahead with the retaliation package, but I doubt it will become full blown.

"It's probably in Trump's interest to drag the process to November, that's why he can come out with any number he wants.

"I don't know how he is going to do that. So I guess it is probably his strategy to 'threat and drag'.

"The initial impact on China's economy should be limited as $50 billion is not that much for the economy."

Frederic Neumann, Co-Head of Asia Economics Research, HSBC, Hong Kong:

"On the positive side, one could argue that China is a crucial supplier to the rest of the world of a lot of goods and so imposing tariffs on Chinese exports does not necessarily mean Chinese exports go to zero. Americans probably still would want their iPhones ... and in some sense the increase in prices would be borne by the importer.

"On the negative side, you have the impact on confidence and investment. The uncertainty around it would certainly escalate the impact.

"But it is very clear that if you impose tariffs on all of China's exports that would have very far reaching repercussions.

"There are a bunch of studies by credible global institutions that show that roughly if you impose a 10 percent tariff on global trade then global GDP might decline by 2 percentage points. That's a material impact.

"The China-US relationship is such a large component of global trade that we really have a global impact and that has implications that are difficult to foresee. There are all these feedback loops that have to be taken into account.

"China's economy is actually relatively closed. It is a massive continental-sized economy nowadays. People seem to think it's another one of the Asian tigers but it is a different beast, it has vast internal markets and vast savings like Europe, Japan and the United States.

"China could in the near term scale up fiscal stimulus quite considerably. If you compare (public debt) with global metrics there's really no limit for a near-term fiscal boost. And then you have the monetary side.

"They're going to take fiscal measures that will accelerate the structural changes they have in mind anyway, to get away from investment and exports: tax cuts for consumers, more subsidies for high-tech investments.

"By and large I'm still fairly relaxed about this. It's a drag on growth. I don't think it's as disruptive as often described. China's position is strong enough to avoid a hard landing in the current scenario."

Catch the Biggest Newsmakers and the Biggest Newsbreaks on CNN-News18, your favourite English TV news channel. Keep watching CNN-News18 at just 50 Paise per Month. Contact your cable /DTH operator Now!
*Rental / capacity fee of Rs.130/- as charged by cable / DTH operator may apply. **GST extra.


Read full article
Countdown To
Elections Results
To Assembly Elections 2018 Results